Lincoln County prepares for possible flooding
Lincoln County Emergency Management is making plans for spring flooding.
"As Spring approaches and regional temperatures increase, there is increased potential for flooding in some areas of Lincoln County," said Stephen Malik, Public Information Officer for Lincoln County Emergency Management. "According to U.S. National Weather Service information sources, the Star Valley area has low-to-moderate potential for runoff-based flooding as of late February. All other areas of Lincoln County remain at low risk at this time."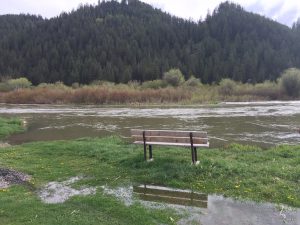 According to Malik, keeping tabs on the flood potential is key to being prepared.
"This potential will change month-to-month depending on factors such as temperature change, additional snowfall, or rain-on-snow events," he said. "Because of the increased amounts of snow this year in the lower-elevation areas of Star Valley, we do expect spot flooding and sub-water intrusion as the snow melts. This can happen anywhere, even if your home is not located near a waterway."
Lincoln County Emergency Management offered the following information to help area residents prepare for the spring run-off season.
• How to prepare
"It is the responsibility of the homeowner to take mitigation measures for their home and property, and to ensure that actions taken do not put neighbors are higher risk," said Malik. "Early mitigative actions can help to prevent or limit the amount of flooding into your home."
These actions include:
•clearing snow and ice from window wells around your home,
• clearing paths or channels for snow melt water to flow away from your home,
• and keeping ditches or other watershed features clear of debris.

"If you have a basement, keep important items raised off the floor or in an above-ground part of the home, and consider sump pumps to pump water out again if it enters," said Malik. "It is recommended that you purchase pumps or other needed equipment earlier in the season to avoid shortages due to panic buying during flood events."
"Keeping household cleaners, wet/dry vacuums, fans, heaters, and other similar items on hand can also help you more quickly deal with minor flooding in living spaces," Malik said. "Quick and thorough cleanup will help to prevent long-term problems including mold and bacterial growth, as well as mitigating damage to items in the home."
"Speak to your insurance provider in advance to ensure that you have adequate insurance coverage should you experience flood-related damage," Malik added. "Standard homeowner's insurance does not cover flooding from water originating outside the home."
• Role of Emergency Management
"Lincoln County Emergency Management is primarily responsible for keeping critical infrastructure protected, and aiding in restoration of services if interruptions occur," Malik said. "Lincoln County Emergency Management coordinates with County Commissioners and departments, industry representatives, and stakeholders to mobilize needed resources for protection, prevention, and mitigation during flood events."
Critical infrastructure includes, but is not limited to:
• major transportation routes,
• power, utilities, and emergency services.
"During flood events, Lincoln County Emergency Management may provide resources such as sandbags to assist homeowners in protecting their property," Malik said. "In major flood events that significantly affect large or multiple areas, Lincoln County Emergency Management will also coordinate with local, regional, and State agencies to provide emergency sheltering or other services as needed."
• Public Health and safety considerations
"Flooding brings with it some additional public health considerations, both during and after the event," said Malik. "During snow melt, water can create temporary channels out of fields as it makes its way downhill, coming into contact with any debris, chemicals, pesticides, or animal products that are in its path. As the water flows and forms small streams, children may be tempted to play in it. This water can contain harmful chemicals or bacteria that were picked up from surrounding areas."
"During the height of the runoff season, waterways may gain substantial volume and speed, causing dangerous conditions for people and animals that find themselves caught in it," Malik continued. "This is complicated further if there is debris or other materials in the flood plain around the waterway itself."
"If roadways are submerged under significant water, do not drive through the area, as you may not be able to see any damage to the roadway that has occurred," Malik stressed. "This can put you and your vehicle at risk of injury or damage."
• Additional Resources
General information about flood safety and preparedness can be found online at the following:
• ready.gov/floods
• floodsmart.gov
• weather.gov/riw/
• facebook.com/lcphwy
Tagged:
Emergency Management
Lincoln County Wyoming
Springtime flooding