Lincoln County Prevention talks attraction to/dangers of vaping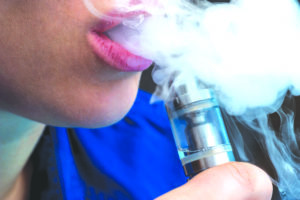 Vaping has come under a firestorm in recent weeks.SVI Media was able to talk with Lincoln County Prevention Specialist Brittney Ritter about vaping and why the practice is grabbing headlines around the nation.
Below is the printed version of a question and answer session.
Why is vaping in the news right now? What is the big deal?
"Vaping, or the use of an electronic cigarette device, is definitely a topic of discussion no matter where you live," said Ritter. "These devices have been the most commonly used form of tobacco product among youth since about 2014."
"During 2011 to 2015, the use of e-cigs among youth increased by 900 percent! There were two short years where use declined, but in 2017 the rates began to climb again," Ritter continued. "In 2018, it was reported by the CDC that 3.6 million U.S. youth, including 1 in 5 high school students and 1 in 20 middle school students were current users of e-cigarettes. It is truly an epidemic."
What do people need to know about vaping?
"Electronic Nicotine Delivery Systems were originally manufactured in Asia about 12 to 14 years ago," Ritter said. "They were created as a cessation tool to aid adults in the quitting process of traditional tobacco use."
"In 2007, these devices entered in the U.S. market," Ritter continued. "Tobacco companies have done a phenomenal job at marketing these new devices. Unfortunately, the adult tobacco using population is not the primary consumer of these products. In fact, youth are the biggest customers when it comes to using electronic devices. It is quite evident that flavors such as cotton candy, bubble gum and sour patch kid would appeal to a typical teen. Vape juice products taste and smell good making them enticing to the young population."
"The vapor emitted by electronic cigarettes is actually an aerosol," Ritter explained. "This aerosol is not harmless. The majority of the e-cig liquids that are used in these products contain some level of nicotine. Nicotine is addictive and harmful to the human body. The human brain isn't fully developed until about age 25. Exposure to nicotine before this age can harm the development of the brain. When young people use nicotine, they are at greater risk for development of addiction to other drugs."
"Scientist have discovered that the aerosol inhaled by the user and secondhand exposure to bystanders contains harmful substances such as heavy metals, volatile organic compounds and ultrafine particles."

What are some of the illnesses that are being linked to vaping? Why is it such a health concern?
"Lung injury and death are being associated with the use of Vape products," Ritter said. "As of October 15, 2019, there have been 1,479 lung injury cases reported among 49 states and 33 deaths from 24 states. There is no particular substance, product, or device linked to all cases, but all patients have reported vaping in the weeks to month prior to the illness."
What vaping trends are you seeing in Lincoln County/Western Wyoming?
"Among Western Wyoming we are seeing the normal trends with vaping that coincide with the nation," Ritter said. "The most popular device that our youth use is the JUUL. It is an electronic device that resembles a USB drive. It's small, sleek and easy to hide. At first glance, a person would not be able to tell the difference between a JUUL and a USB drive. A typical JUUL pod contains the same amount of nicotine as a pack of cigarettes. In 2018, 36 percent of Wyoming youth used electronic devices."
Why is vaping attractive/seen as an "healthy" alternative to smoking?
"Vaping has been marketed as a healthy alternative to traditional tobacco. Tobacco companies have done a great job at manufacturing vape products that taste and smell good. They don't stink like traditional tobacco," Ritter said. "These products do not contain all of the same substances as regular tobacco products, therefore the consumer thinks they are 'healthier.' However, studies have proven that electronic cigarettes are not harmless and do contain harmful substances."
What is your organization doing to help with the vaping epidemic?
"Lincoln County Prevention is working to educate our communities on the reality of Vape," said Ritter. "Media campaigns have been developed to help people understand the reality of these products. Additionally, community trainings have been facilitated as opportunities to learn about the epidemic. These educational opportunities are available to any group/organization who may be interested."
How can community members become involved with the prevention of/education about vaping?
"To become involved in our prevention efforts, the public is welcome to attend our monthly coalition meetings," Ritter said. "The meetings are held on the fourth Monday of each month at the Sheriff's Office [in Afton], beginning at noon."
For any additional information or questions, feel free to contact Brittany Ritter, Community Prevention Specialist, Lincoln County Prevention ATODS; (307) 877-9056 extension 2092.
Let us know what you think!
Tagged:
Lincoln County Prevention
vaping