◆ Insect damaged timber will be focus of new harvest progam.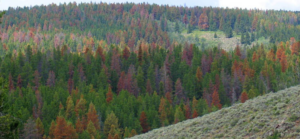 Lincoln County continues to work with the U.S. Forest Service on a variety of projects in western Wyoming and most recently the commissioners teamed up with Sublette County under what is called a good neighbor authority program.
A detailed meeting early in January with Greys River District Ranger Justin Laycock, Wyoming State Forester Bill Crapser and an attorney representing the Wyoming County Commissioners Association focused on forest health and timber management.
"Sublette and Lincoln, working together, can put a program together," explained Commissioner Jerry Harmon.
He said the commission will move forward on a series of agreements, based on approval of the state forester.
Harmon acknowledged the early work of Commissioner Bob King for initiating the early discussion with Sublette County.
Asked about the insect damaged Timber on the Briger-Teton National Forest Harmon emphasized, "That's the point, we want to go after the bug killed timber."
He said the first area will include the dead timber in the Murphy Creek region.

Harmon acknowledged the recently approved Tri-Basin Timber sale, schedule to take place in the summer of 2020. "We sold the timber sale in Tri-Basin," said Harmon. "We need to keep the ball rolling."
He added, "Many areas have been identified to be cleaned up."
The Lincoln County Commission commended Greys River District Ranger Justin Laycock for his cooperation with the recent work. "Justin Laycock has been very good to meet with us and very good to work with us," Harmon acknowledged.
Harmon explained the new projects will take another year to complete as the process has to be coordinated through National Environmental Policy Act, (NEPA.)
"Getting started this summer is important," Harmon said, referencing the Tri-Basin Sale. "Then Murphy Creek will be in two years."
Additional areas will follow in the coming years, according to the commissioner. "We're looking at small sales and big sales."
Tagged:
Bob King
Jerry Harmon
Lincoln County Wyoming
Murphy Creek
National Environmental Policy Act
Sublette County Wyoming
Tri-Basin Lumber Sale