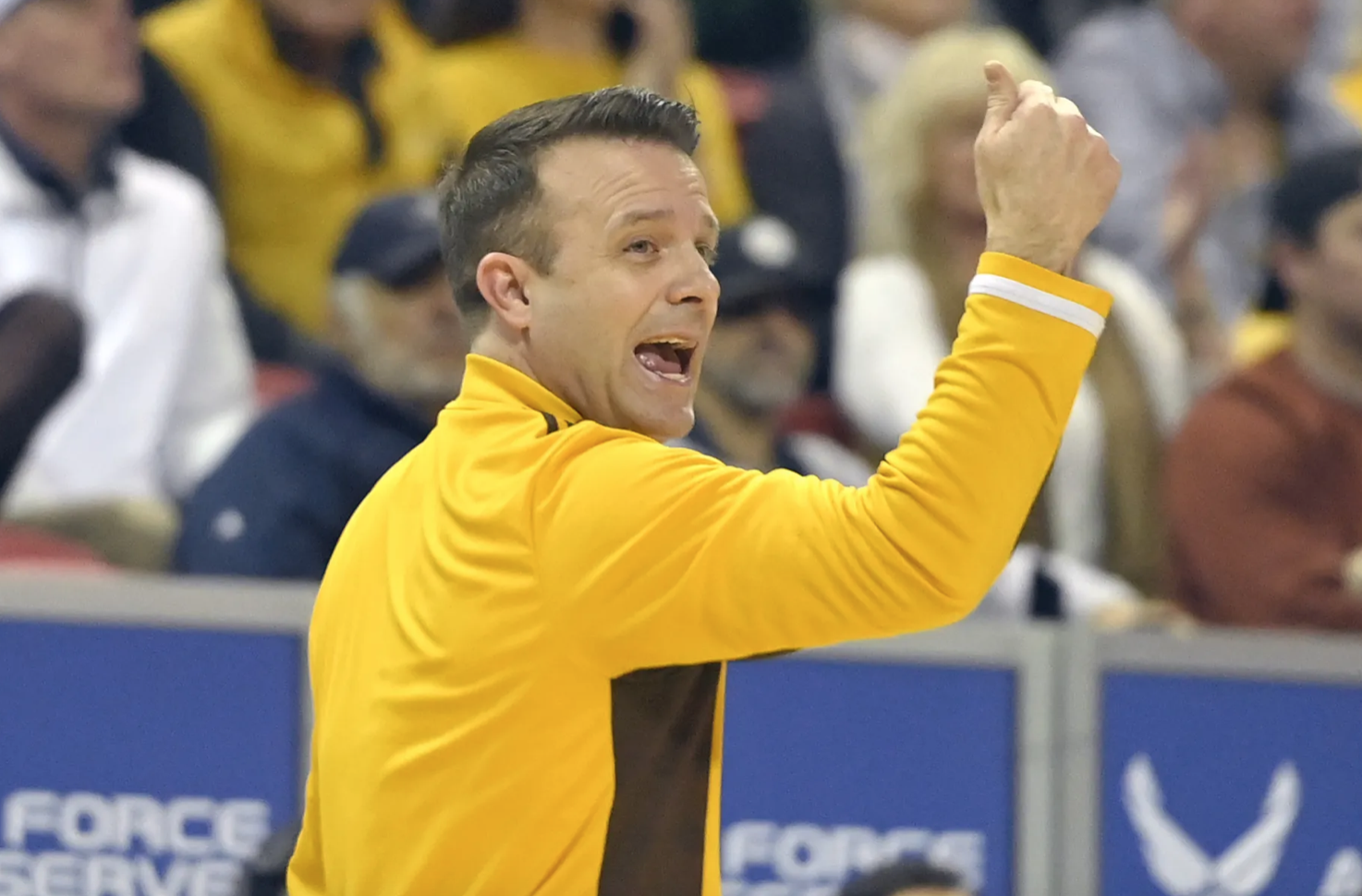 • The Pokes still have two open scholarships
Nick Seeman
Assistant Athletic Director, Communications
University of Wyoming Athletics
University of Wyoming head men's basketball coach Jeff Linder announced a portion of the Cowboy basketball recruiting class on Tuesday. The group of eight newcomers features five transfers and three freshmen. Wyoming has two scholarships remaining for next season.
The signing class features transfers from two NCAA-Division I programs, an All-American from Division II and an NAIA National Player of the Year. The freshman class features two players from Missouri and one from Florida.
"It has been a very productive two months and really liking where we are at right now with this group of signees alongside our returners that have been working hard in the weight room and on the court this offseason thus far," UW head coach Jeff Linder said. "I'm excited about this class and for us to go out and sign and good mixture of transfer and freshmen."
Transfer Signees
Sam Griffin – Guard – 6-3 – 185 Pounds – Miami, Fla. (Tulsa)
Griffin brings great experience to the Cowboys with 1,497 career points. He has hit 244 three-pointers in his career in 115 games. Griffin spent the last two seasons at Tulsa appearing in 58 games with 49 starts. Last season, Griffin averaged a team-best 15.2 points per game. He also added 2.7 rebounds and just over two assists per game. He recorded a career-high 29 points against Oregon State. He connected on 63 triples for the season and shot an impressive 84 percent from the free throw line. In 2021-22, Griffin added 14.6 points per game connecting on 67 three pointers. He scored 20 or more points in a game eight times. Prior to Tulsa, Griffin played two seasons at UT Arlington. As a sophomore he added 13.3 points per game. As a freshman he recorded 9.4 points per game on the season.
 He is a graduate of Westminster High School. He was a First Team All-State selection and earned All-County honors. He averaged 23 points per game as a senior and scored a combined 49 points in the semifinals and finals of the state championship. He led his team to three-straight state championship titles. 
Linder on Griffin
"Sam is a talented, do-it-all guard, who can score and facilitate for others in a variety of ways.  He is a proven scorer and playmaker at the high Division I level that we originally recruited out of high school.  Sam is a player who lives in the gym and is always working and finding ways to improve his game.  He gives us immediate scoring and playmaking threat at the guard spot, with the ability to impact Mountain West games from day one.  Can't wait to have Sam light up the crowd in the Arena-Auditorium."
Kobe Newton – Guard – 6-2 – 175 Pounds – Portland, Ore. (Fullerton College)
 Newton comes to Wyoming from Fullerton College. He recorded 170 three-pointers in two seasons. This past season, Newton led his team in scoring at 13.7 points per game. He also led his team to a State Championship. He shot 39 percent from behind the arc for the season and averaged 2.7 per game. In the State title game, Newton went 7-of-9 from behind the arc and recorded 25 points, which tied a season high.  He hit 90 threes on the season. He added 3.5 rebounds per game and added 61 assists on the season. As a freshman, Newton added 13.3 points per game and hit 3.1 three-pointers per game and had 80 on the season.
He is a graduate of Westview High School in Portland, Oregon. He averaged 16 points, six rebounds and five assists per game as a senior, earning him All-6A Metro League honors. Newton helped Westview reach the postseason in each of his three seasons with the program.
Linder on Newton
"We can't wait to get Kobe on campus and get to work with him. He comes to us from one of the best junior college programs in California in Fullerton College and won a state championship this past season.  His Junior College coach, Perry Webster, is one of the best junior college coaches in the country. He's another player from a winning program headed to Laramie. Kobe is a versatile guard with the ability to shoot the ball at a high level.  Kobe knows how to effect winning and will be a great addition to Cowboy roster."
Oleg Kojenets – Forward – 7-0 – 232 Pounds – Kaunas, Lithuania (Nebraska)
Oleg Kojenets (Oh-Leg Co-yah-nets) played two seasons at the University of Nebraska. He appeared in 18 games in 2022-23 and redshirted during the 2021-22 season. As a redshirt freshman last season, Kojenets added 10 points and 13 rebounds in his 18 games, which most of his action coming in Big 10 play. He had a career-high three points against Maryland and added a career-high three rebounds in a win over Iowa.
Kojenets was a three-star recruit by both 247Sports and Rivals. He was rated No. 208 nationally and the No. 26 center nationally, in the 2020-21 247Sports Composite. He played his senior season at Western Reserve Academy in Hudson, Ohio. Kojenets was selected to the U19 National Team for his native Lithuania in the U-19 Basketball World Cup. Prior to coming to the United States, he played for Zalgiris Kaunas' U-18 team at the 2020 adidas Next Generation Tournament, averaging 6.8 points on 50 percent shooting and 4.0 rebounds per game as the team finished with a 3-1 mark. He also represented his country at the 2019 FIBA U16 European Championships in Udine, Italy.  In that event, Kojenets averaged 9.1 points, 6.3 rebounds and 1.7 blocked shots per game while shooting 49 percent from the field. Oleg comes from a basketball family, as both parents played collegiately at UNC Wilmington. Aleh was a 6-foot-11 center who played in 114 games during his four-year career at the school and helped the program reach the NCAA Tournament as a senior in 2000. After college, he played professionally oversees for more than a decade. Jurgita, was a 6-foot-6 center who still ranks third in school record books in both blocks in a season (71, 1998-99) and career (122, 1997-2000). She also holds the school record with 10 blocked shots in a game at UNC Wilmington.
Linder on Kojenets
"Oleg possesses great size, mobility, and skill for a seven-footer. He comes from a basketball family and has played at a high level with the Lithuanian National Team, at Western Reserve Academy, and at the University of Nebraska. In addition to his basketball acumen, he is also a high character teammate and a high-level student. We are thrilled to welcome Oleg to Wyoming."
Akuel Kot – Guard – 6-2 – 165 Pounds – Amarillo, Texas (Fort Lewis College)
Kot spent four seasons at Fort Lewis College in Durango, Colo. He earned First Team All-American honors from the NABC last season. He was also named All-RMAC twice in his career and named the MVP of the RMAC Tournament last season. He averaged 23.4 points per game last season to rank fourth in NCAA II. He cored 20 or more points in 20 games and scored 30 or more eight times. He recorded 45 points in a contest last November. He set a program record with 801 points last season shooting 52 percent from the field and 85 percent from the free throw line. He also added 3.2 rebounds per game and had 39 steals. Kot ranked eighth in the nation last season with 249 made field goals. He also made 226 free throws to rank second in the nation. He scored 1,712 points in his career at Fort Lewis to rank fifth all-time at the school. As a junior, Kot averaged 16.6 points per game and shot 43 percent from behind the arc.
He was a graduate of Palo Duro High School. He averaged 25.3 points per game his senior season, helping his team to a district title and the Class 5A regional semi-finals. He earned him District 3-5A MVP honors.
Linder on Kot
"We are ecstatic to welcome Akuel to the Cowboy basketball program.  Akuel possesses a smooth game with the natural ability to score the ball in a variety of ways from all three levels. Akuel's improvement, year-by-year while at Fort Lewis College, shows that there is still room for him to improve and excel at the Division I level.  Akuel's impact on winning and the ability to create scoring opportunities for himself and teammates is something we look forward to adding to the program.  Akuel will be a favorite this season in the Double-A!"
Mason Walters – Forward – 6-9 – 225 Pounds – Jamestown, N.D. (University of Jamestown)
Walters spent four seasons at the University of Jamestown in Jamestown, N.D. He was named the NABC NAIA National Player of the Year in 2022-23. He was also named a First Team All-American three times. Last season, Walters was second in the nation in scoring at 26.6 points per game. The forward shot 63.8 percent overall – ranking among the top 20 in the NAIA and 82.7 percent from the foul line. He also averaged 9.4 rebounds per game and blocked 63 shots. He scored 904 points in 2022-23 and recorded 347 field, which both led the NAIA. Walters is Jamestown's  all-time leading scorer with 2,662 points and rebounder with 1,239 rebounds. He recorded 114 three-pointers and shot 37 percent from behind the arc. He averaged 22.4 points per game and 10.4 rebounds per game and 2.2 assists per game for his career.
Walters is a graduate of Jamestown High School. He was voted the winner of the 2019 North Dakota Mr. Basketball Award by the North Dakota Associated Press Sportscasters and Sportswriters Association. Walters averaged 21.1 points, 11.7 rebounds and 1.3 blocks per game during his senior season. He finished his prep career with 1,187 points and 612 rebounds. He was a Class A Boys Basketball All-State First Team selection his senior.
Linder on Walters
"Signing a player with the career accolades of Mason Walters is exciting for our staff.  Mason not only absolutely dominated his competition at the University of Jamestown and in NAIA, but he also won at a high level while there.  Mason's character and drive will make the transition to D1 as smooth as possible.  He is a highly skilled forward whose ability and feel for the game allows for great versatility from him in the front court.  We look forward to Mason having great success for the Pokes this upcoming season."
Nigle Cook – Guard – 6-6 – 180 Pounds – Deland, Fla. (DME Academy)
Cook attended DME Academy in Daytona Beach, Fla., as it is one of the nation's top prep programs ranking in the Top-10 Nationally. DME is the same school that Keegan Murray the second pick in last season's NBA Draft attended. Last season, he helped DME defeat IMG Academy in a contest that featured two of the nation's top teams. He also held offers from Villanova and Albany.
Linder on Cook
"We're beyond excited to welcome Nigle to the Cowboy basketball family.  Nigle is a prospect that we tracked throughout his senior year at DME Academy.  He's a rapidly improving and highly talented guard with great size and length for his position.  His ability to shoot the ball with tremendous range, really opens the floor for him to use his athleticism.  Both the present and the future are bright for Nigle in the Brown & Gold."
Kael Combs – Guard – 6-4 – 190 Pounds – Nixa, Mo. (Nixa HS)
Combs was a standout basketball and football player at Nixa High School. He was a Class 6 All-State selection and named the COC player of the Year. He was also the District 5 Player of the Year and the News-Leader Player of the Year. Combs also earned Springfield Tip-Off Club Player of the Year. He stuffed the stat sheet as a senior averaging 23.4 points per game on the season along with 6.9 rebounds per game and 6.1 assists. He shot an impressive 44 percent from behind the arc. He had 46 points, 11 rebounds and eight assists in a contest last season. He scored 36 points in the final three quarters of his last high school contest of his career at Nixa. He held offers Missouri State in basketball and numerous MAC schools in football.
Linder on Combs
"Kael is an outstanding point guard that has the ability to impact games in more ways than one. His ability to score and make the game easy for others with his passing ability is what makes him exciting. He has what a lot of players don't and that's the ability to play at his own pace."
Cam Manyawu – Forward – 6-9 – 215 Pounds – Kansas City, Mo. (Staley HS)
Manyawu (Man-Yao-ooh) is a native of Kansas City, Mo. And played at Staley High School leading his team to a state title last season with an impressive 30-2 record. He ranked as a three-star prospect by 247Sports.com. He was the ninth best prospect in the State of Missouri and the 53rd best power forward prospect in the nation. He earned First Team All-State honors last season and played in the Kansas City Metro All-Star game. He was recruited by Indiana State, South Dakota, Oral Roberts among others.
Linder on Manyawu
"Cam comes from a high-level high school program. He is a kid that will represent Wyoming basketball at the highest level both on and off the court. He had a big impact on Staley's state championship run this year. We're excited about his future."
Let us know what you think!
Tagged:
Akuel Kot
Cam Manyawu
Jeff Linder
Kael Combs
Kobe Newton
Mason Walters
Nigel Cook
Oleg Kojenets
Sam Griffin
University of Wyoming basketball