Man convicted of murder in wife's shooting
By CJ Baker, Powell Tribune
Via- Wyoming News Exchange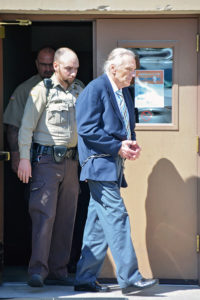 POWELL — Rejecting Dennis Klingbeil's claims that he accidentally shot his wife in the head last year, a Park County jury convicted the 77-year-old Wapiti resident of first-degree murder on Friday. 
The 12 jurors deliberated for only about 2 1/2 hours before unanimously returning a guilty verdict, finding that Klingbeil killed Donna Klingbeil "purposely and with premeditated malice" on Aug. 5, 2018. 
"He robbed Donna of the rest of her life and he robbed Donna's family of the rest of her life," Special Deputy Park County Prosecuting Attorney Mike Blonigen told jurors in his closing argument on Friday. 
Klingbeil now faces the prospect of life in prison. Whether that life sentence comes with or without the possibility of parole will be up to District Court Judge Bill Simpson at a future hearing. 
Klingbeil took the stand in his own defense during the five-day trial, contending he shot 75-year-old Donna Klingbeil by mistake after abandoning a suicide attempt. As Klingbeil and his defense team told it, he'd pointed a loaded pistol at his own head, then somehow triggered the weapon while lowering it. 
But Blonigen — a veteran Wyoming prosecutor brought on for the murder case — cited physical evidence and Klingbeil's own statements to argue the killing was no accident. 

The pathologist who performed the autopsy of Donna Klingbeil's body concluded that the pistol had been fired right next to her head — and that the bullet went through on almost a straight line. 
"How does that happen accidentally?" Blonigen asked jurors. "The simple answer is, it doesn't." 
Blonigen also argued that Klingbeil's actions after the shooting weren't those of an innocent man. It took some time before Donna Klingbeil completely succumbed to her injuries, but Dennis Klingbeil never tried to help her and did not call for help, Blonigen said. Instead, Klingbeil attempted to overdose on a mixture of medications and called his son in Florida. In that phone conversation, 
"He doesn't say, 'I had this terrible accident with your mom, the gun just went off,'" Blonigen recounted. "No, he said, 'I shot Donna in the head.'"
Klingbeil's son called the Park County Sheriff's Office, which dispatched deputies to the couple's home along U.S. Highway 14/16/20 in the Wapiti Valley. Both Dennis and Donna Klingbeil were alive, but unresponsive. Donna Klingbeil would die at a Billings hospital a few hours later while Dennis Klingbeil would recover over the course of a few days at West Park Hospital in Cody. Klingbeil was arrested and booked into the Park County Detention Center as soon as he was well enough to be discharged, and he has remained in custody since then. 
In a call he later placed to a family member from jail, Klingbeil explained that he "just snapped." 
Blonigen offered the comment as evidence of Klingbeil's guilt, but the defense contended it was a reference to Klingbeil effectively blacking out. He has struggled to recall details from the night in question, though Blonigen called that "convenient." 
In his closing argument, defense attorney Rives White said the limited evidence in the case indicated that Klingbeil had planned only to kill himself that night. 
In shooting and killing his wife, "What does he gain?" White asked. "There's no motive here." 
The prosecution argued the shooting was the culmination of a long-running dispute over how to divide the couple's millions of dollars of real estate assets, which included apartments in Cody and Florida, where they wintered. According to Donna's son, she'd talked about divorcing Dennis over the issue. 
White said a deal had been reached in the days before the incident, but a problem with the documents led to the argument reigniting on the afternoon of Aug. 5, 2018. Both Klingbeils consumed intoxicating amounts of alcohol as the day went on. 
Around 6 p.m., Donna spoke with her son in Illinois by phone and she wanted to come visit him, as Dennis was talking about ending his life. 

"[I'm] going to put an end to this tonight," Klingbeil reportedly said when he got on the line. 
White contended that was a reference to Klingbeil's plans to commit suicide that night; Klingbeil told jurors he'd made two previous attempts before abandoning them. 
Donna called 911 around 7:40 p.m., eventually telling a dispatcher that the couple was going through documents and everything was OK. 
Then some time around 9 p.m., Klingbeil called his son in Florida to say he'd shot Donna. The son, in turn, called Park County authorities at 9:51 p.m.
White argued that prosecutors didn't have enough evidence to convict Klingbeil. He specifically argued that the state hadn't shown Klingbeil purposely or maliciously killed his wife. 
"What do you know beyond a reasonable doubt? Not much," Rives White told jurors, arguing that that "all we have is Mr. Klingbeil's story." 
For his part, Blonigen argued to jurors that, "you do not reach reasonable doubt because he killed the only other eyewitness." 
The prosecution did offer the jury the option to convict Klingbeil of two lesser charges. If they were unconvinced that Klingbeil committed firstdegree murder, jurors were instructed by the court to consider second-degree murder (if they felt he acted "purposely and maliciously, but without premeditation") or manslaughter (if they felt he acted "without malice … involuntarily, but recklessly"). 
Blonigen contended that Klingbeil's own account was effectively an admission to manslaughter, but White asked jurors to return a verdict of "not guilty, not guilty, not guilty" on all three possible charges. 
The jury, however, quickly returned a guilty verdict for murder in the first degree, never reaching the other two options. 
After the verdict, defense attorney Donna Domonkos told Judge Simpson that Klingbeil was ready to immediately proceed to sentencing, but the judge declined to do so. Simpson said he wants Wyoming Department of Corrections staff to first prepare a standard presentence investigation report that lays out details about the crime, the defendant's background and sentencing recommendations; it typically takes the department a month or two to prepare the report. 
"This case and the jury verdict is serious enough that the court should have as much information as possible," Simpson said. 
The death penalty can be a possibility in certain first-degree murder cases, but the Park County Attorney's Office announced in December that it would not pursue an execution. That leaves Simpson with only two sentencing options: life imprisonment without parole or life imprisonment according to law. Given Klingbeil's advanced age, the distinction between the two may only be on paper.
Let us know what you think!
Tagged:
Dennis Klingbeil
District Court Judge Bill Simpson
Donna Klingbeil
Park County Sheriff's Office
Powell Tribune
West Park Hospital