Medicaid expansion clears House committee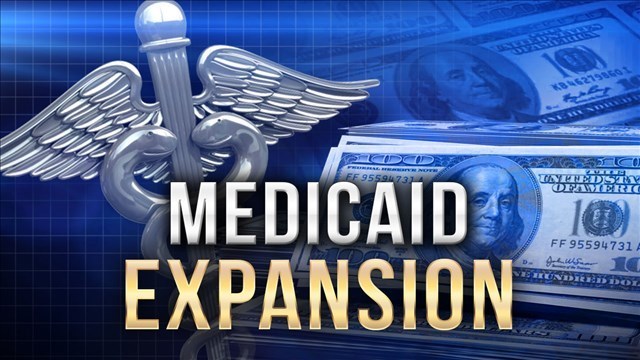 By Jasmine Hall
Wyoming Tribune Eagle
Via- Wyoming News Exchange
CHEYENNE —A bill that would extend Medicaid coverage to more people for the next two years was given its first approval Thursday morning in the House Revenue Committee, but not without stipulations.
House Bill 80, which is titled "Medical treatment opportunity act-Medicaid reform," was passed out of the committee by a 6-3 vote after nearly two hours of testimony.
It authorizes the Wyoming Department of Health director, insurance commissioner and governor to enter into negotiations to obtain either a state plan amendment or other federal authorization for the expansion of Medicaid coverage.
Under the bill, the Medicaid expansion can't be administered during any time period in which the increased federal medical assistance percentage is less than 90%, nor when the regular federal medical assistance percentage is less than 55%.
WDH Director Stefan Johansson informed committee members that the 55% match is the result of a 5% match increase incentive through the American Rescue Plan Act, and is only applicable for two years. If the incentive were to end, the expansion would be at risk as the bill is currently written, because the match would be 50%.
This section of the bill was not amended, but there were three separate changes before the vote. Although Rep. John Bear, R-Gillette, was one of the three state representatives who ultimately voted against the bill, two of his amendments passed.
The Wyoming Freedom Caucus chairman successfully added language banning the use of Medicaid expansion funds for "puberty blocking, neutering or chemical drugs, or surgery for the treatment of gender dysphoria," as well as an appropriation of $3 million in federal funds to market the cancellation of the program to those affected, in the case it did end.
The third amendment was brought forward by House Revenue Committee Chairman Rep. Steve Harshman, R-Casper, which would follow along the lines of the Hyde Amendment. It has prevented federal Medicaid funding from being used for abortion services, except in cases where the pregnancy endangered the patient's life, or was the result or rape or incest.
HB 80 is the latest of several attempts to expand the health care program for low-income residents in the past decade. It has continually been voted down by state representatives and senators. Even Harshman said he had voted no in the past before seeing the positive impact it could have on residents, as well as the savings it would provide the state.
Rep. Ember Oakley, R-Riverton, also weighed in before her vote, and said the time had come, as it was the will of the people.
"From Wyoming and from the community, I've received hundreds and hundreds of emails. People are certainly interested, and the vast majority are in support of this," she said. "I think we're there."
While there was discussion on whether the impact would be negative or positive for the state during public testimony, the Wyoming Department of Health laid out the numbers in its executive summary.
The agency estimated that if Medicaid were expanded to non-disabled childless adults under 138% of the Federal Poverty Level, there would be 19,000 new members by the end of the first biennium. This figure is close to the original 2011 estimate, but the agency projects a wider range of 12,000 to 27,000 people at the 24-month mark.
An initial biennial appropriation of $22 million from the state general fund was recommended for expansion, as well as $177 million in federal funds. However, the 5% incentive from ARPA would equate to $54 million in savings the first two years, and there would be a net $32 million worth of general fund savings to the state.
WDH Director Johansson broke down the revenue offsets for Wyoming, but he also said his agency hoped to remain as neutral as possible.
"These are emotional topics," he told lawmakers. "I hope it's clear, from my perspective, I really made an effort, especially over the past several years, not to put my thumb on the scale. This is a policy decision, and there's good discussion and important discussion on both sides of the issue."
Following his presentation and questions from the committee, Harshman gave 30 minutes to each side to speak on behalf of the bill. He said three people could provide public testimony throughout the entire time, or 30 people. It was up to the interested parties to divide their time out.
Arguments were first made in opposition to the bill by three stakeholders, including newly elected Rep. Sarah Penn, R-Lander, who is a nurse practitioner. They voiced concerns that the federal program placed pressure on private insurance costs, didn't cover the full extent of medical costs for health care providers and limited the number of patients seen.
"A charge for a chest X-ray is $153. Medicare reimburses 25 bucks — not so good. Medicaid reimburses $17.82, and that includes the fee for the radiologist to read that image," Penn said. "One-hundred and fifty-three dollars is a very fair and reasonable price, considering the equipment and the manpower and the training that goes into taking that, and to say that a reimbursement of $17.82 is acceptable, I would disagree with that, and it's crippling our system."
She also said while there may be savings of up to $32 million from the expansion, it still costs the taxpayers money to pay for the Medicaid match at the federal level. She asked why the state would consider having a partnership with a federal government that is in debt and continues to print money.
"Medicaid is a stage-four terminal cancer," she said. "We cannot be enticed to allow this in our state."
Another state representative — but not from Wyoming — made an appearance.
Republican Montana lawmaker Ed Buttrey carried his state's Medicaid expansion bill in 2015, and he testified in support of the Medicaid reform bill before the House Revenue Committee.
Buttrey spoke to the data they've collected since expanding the program, and said they wanted to use the program to provide a pathway out of poverty for low-income Montanans. He said he believes that a healthy workforce is a productive workforce, and they found that more than 70% of the population taking advantage of the expansion was working, and workforce participation further increased around 6% to 9%.
There were substantial gains in substance abuse treatment opportunities, reductions in crime and economic upturn prior to the pandemic. Health improved overall among enrollees, and emergency department use went down 13% in Montana.
"We also saw uncompensated care reduced over 50%," Buttrey said. "There was over a $200 million savings to our hospitals, and especially to our rural critical access hospitals."
The success depicted in the data extended beyond the patients. The program expansions cost Montana around $80 million a year, but the state's costs are recovered annually at between 120% to 160% due to savings and revenue.
"If anyone is going to tell you that Medicaid expansion is financially unaffordable in Montana, they're just flat out wrong," he said.
Many other pleas were heard for and against the bill, but it came down to the committee members' decision.
Reps. Tony Locke, R-Casper, and Tomi Strock, R-Douglas, joined Bear in voting no, and shared their perspectives beforehand. Comments were made that Wyoming had different values than states such as California and New York, and if they didn't say no to Medicaid expansion, they would be the same.
Locke said he recognized the small business owner who testified he was struggling to provide health insurance for their employees, but the lawmaker said he would also mention the owner likely has difficulty hiring workers.
"Once they taste those federal dollars, they stay on those," he said.
Strock added that she worried about the news that the U.S. hit the debt ceiling just a day before. She said if they didn't change their ways, they're not going to have a country.
Those in support countered that Wyoming is dependent on the federal government for many other things, such as 95% of roads and water development costs. Freshman Rep. Liz Storer, D-Jackson, said Medicaid expansion could make a real difference in people's lives, and residents had spoken up for it.
In the end, it was Harshman who had the final word. He said he has considered Medicaid expansion for nearly a decade, and he previously cast his vote in a committee and killed the bill in a year it would have passed. His decision was partly due to fear, but he said fear and faith both believe in a future that hasn't happened yet.
The Casper legislator has searched for other mechanisms to support the uninsured population, but he said there's no other option.
He also pointed to the population that it will impact most, which is women ages 25 to 35, two thirds of whom are working, and seniors between the ages of 58 and 65 before they qualify for Medicare. Not only did he tell lawmakers it would improve their lives, he said it would also save them.
"Regardless of what side of this issue you're on, right, we're still all in Wyoming," he said in conclusion. "It's a beautiful place, and we're in the greatest country ever created, the United States. So, we've got a lot of blessings as we leave here. And most people are good, whether in Pennsylvania or New York or California or Wyoming. Most people are good — always keep that in mind."
Let us know what you think!
Tagged:
American Rescue Plan Act
House Bill 80
Rep Tony Locke
Rep. Liz Storer
Rep. Steve Harshman
Rep. Tomi Strock
Wyoming House Revenue Committee
Wyoming medicaid expansion