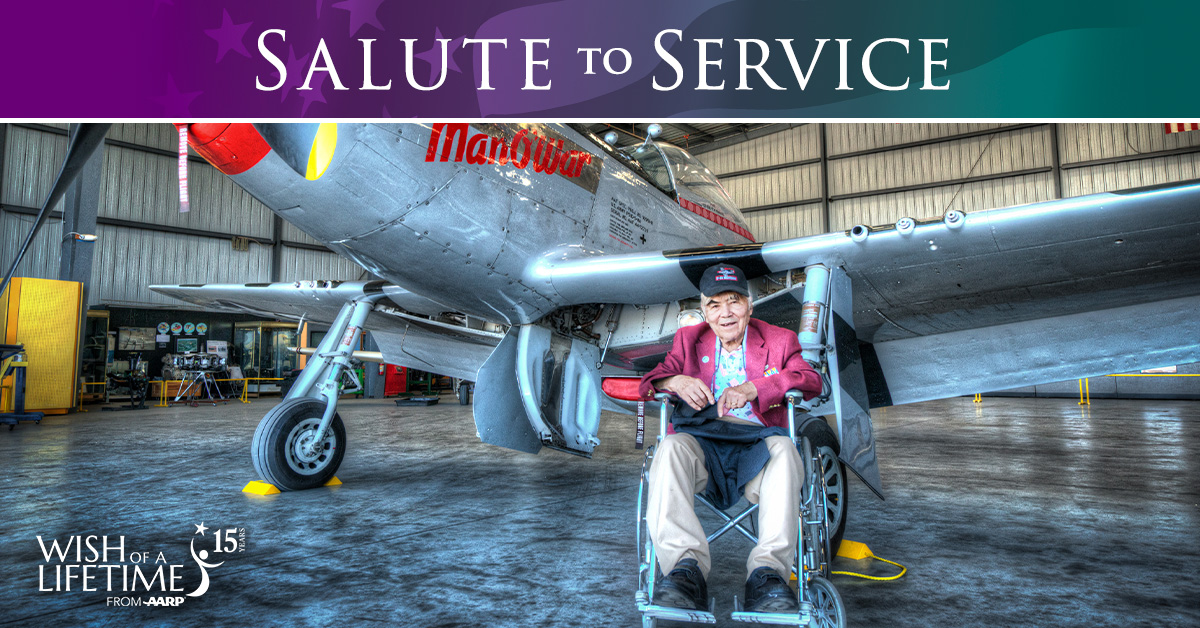 CHEYENNE – AARP Wyoming is looking for nominations to send US Military Veterans aged 65 and over, living in Wyoming to Washington, DC to visit the nation's capital, as well as see the monuments and memorials built in honor of our veterans' service and sacrifice.
To nominate a veteran for these four-day trips, click here. 
The trips to DC are fulfilled through Wish of a Lifetime, a charitable affiliate of AARP that grants life-changing wishes to older adults and inspires people to redefine aging in America. The Wyoming Voyage of Valor is a Wyoming-specific trip that brings 20 veterans and their companion to Washington in May of 2024. AARP Associate State Director for Local Advocacy and Outreach Jennifer Baier says if there is enough interest, another trip to Washington may be added.
"We saw Wish of a Lifetime was doing wishes to send veterans to Washington DC on its Facebook page," Baier says. "We called Wish of a Lifetime and told them our Honor Flights had ceased to exist. Partnering with Wish of a Lifetime from AARP is going to make visiting monuments, reconnecting with loved ones, and fulfilling lifelong dreams of visiting DC a reality for Wyoming Veterans and their families."
Nominations are due by February 1, 2024 and the 20 veterans will be selected by Wish of a Lifetime. Nominees need to be over age 65, and military veterans, but do not need to be combat vets, nor do they need to be highly decorated veterans. Wish of a Lifetime will address logistics, such as specific days for the trip, based on weather and the most convenient airport for Wyoming's Voyage of Valor to originate from once nominations are received.
For more information, contact Baier at:  jbaier@aarp.org.
Tell Your Favorite Veteran Thank You.
With Veterans Day just days away, AARP Wyoming offers a way to send a message of thanks, encouragement or support to a Wyoming Veteran. Click here to send the noteand have it delivered via AARP Wyoming's Facebook pages during the month of November.
Those interested in sending a note to a Wyoming military veteran can do so by clicking here. The note will then be posted on AARP Wyoming's Facebook page in November. AARP will make sure those sending their note of thanks or encouragement are aware of when their note will appear so they can tag their veteran on Facebook.
AARP and Military, Veterans, and Their Families
AARP has more than 3 million veterans in its membership and has made issues facing veterans, military members, and their families a priority. To that end, the organization has produced a free military caregiving handbook available by clicking here. The guide offers helpful resources and caregiving checklists, facts about veteran and military caregivers, and five key issues to address in your caregiving journey.
AARP also offers the free Watchdog Alert Veterans Addition guide, which is available by clicking here. The guide outlines the fact 1-in-3 current or former military members have been targeted by disability or benefit scams and how veterans and military families can avoid being scammed. More free resources can be found at aarp.org/veterans.
On March 1, Wyoming Governor Mark Gordon signed a proclamation declaring Wyoming a Hidden Heroes State, which recognizes the caregivers of veterans across Wyoming while highlighting some of the available resources for military caregivers.
The Hidden Heroes campaign is a collaboration between AARP and the Elizabeth Dole Foundation to bring attention to the untold stories of military caregivers and seeks solutions for the challenges and long-term needs they face. The Hidden Heroes effort also attempts to inspire individuals, businesses, and others to take action on supporting military caregivers in their communities and establish a national registry, encouraging military caregivers to register at hiddenheroes.org to better connect with helpful resources and support.
Let us know what you think!
Tagged:
AARP
Honor Flight
Wish of a Lifetime
Wyoming military veterans