Officials still seeking information about rest area death

The following is a release from the Bonneville County Sheriff's Office –
On Friday May 13, Bonneville County Sheriff's Deputies responded to the Lane Clark Rest Area on Hwy 26 east of Ririe, ID (approx. MP 356) where it was discovered 36-year-old Morey P. Pelton had been killed.  Since that time Detectives have been following up on multiple tips and information as well as analyzing available camera footage from the area.
As the investigation continues, Deputies still wish to talk to anyone who may have stopped at the Lane Clark Rest Area between 8pm on May 12 and 6:30am on May 13 regardless of seeing or having contact with other vehicles or people during the time they were there.  Contact with a Deputy can be made by contacting Bonneville County Dispatch at 208-529-1200.
Tips and information about this Homicide can be reported anonymously through East Idaho Crime Stoppers online atwww.IFcrime.org, through the P3tips app on your mobile device, or by calling the Idaho Fusion Center tip line at 1-833-445-2092.  A $5000 reward has been offered for information leading to the arrest of individual(s) involved in this case.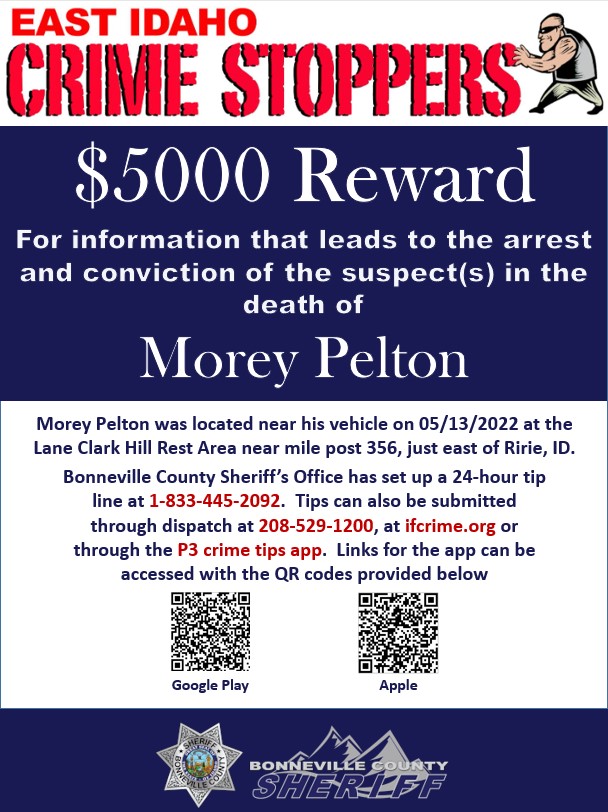 Let us know what you think!
Tagged:
Bonneville County Sheriff's Office
Hway 26
Lane Clark Rest Area
Morey P. Pelton
Ririe Idaho