• Star Valley Cross-Country team will run at El Monte Golf Course.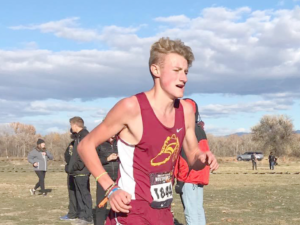 Some sports are an almost violent reminder of work that is not done over the course of an offseason. That first game or match can be an unkind representation of an athletic outing that some just may not be ready for.
For cross-country runners, they've already experienced that moment at some point whether it was the first day of practice last week or the first day three years ago but as the Star Valley Cross-Country teams compete this week the coaches hope to shake off any remaining rust clinging from any dormant summer days.
The course of choice to kick off the 2019 season is a new one for SVXC as the team will be running at the El Monte Golf Course in Ogden, Utah.
"We have not run this course before but a few of the boys were here to watch the Big Sky Championships a couple of years ago," said head coach Ty Draney. "So this will be a first for us."

Draney explained that the staff, which now includes former SVHS standout Trevor Ricks and Jen Lorch, are looking for fast times this Friday afternoon because the course is a three-mile duration rather than a typical 5k which is 3.1 miles.
"Times will look exceptionally fast," Draney chuckled. "So probably 30-35 seconds faster so we're excited to get things going."
One element that the Star Valley runners will have in common with their football counterparts this week is that Utah runners have been competing for at least two weeks.
"The Utah schools have had several competitions already so this will be a good rust buster for us," Draney added.
With the aforementioned lack of work being a clear sign of things, the opposite is also true. The Braves have clearly put in some major miles during the summer months, a fact that has not gone unnoticed by Draney.
"Obviously the amount of work that the upper-classmen boys have put in stands out," he said. "We don't have tons of depth but we're going to keep everyone healthy and get everybody rounded into form."
Draney also commented on the chemistry of this year's girls team.
"I really like the cohesiveness of the girls this year," he said. "We might have been missing that last year. It's a step in the right direction. "
Overall Draney and the staff is just plain ready to see where their runners stand.
"I'm excited to see what they are able to do and get on the grass and get racing," he added. "We''ll all have a better idea where we are by Friday evening."
• Cardinal Classic
In many cases, the bigger the school or the town, the bigger the race. That is not the case in the early season for the cross-country program. Perennial Idaho juggernaut Soda Springs hosts one of the region's most competitive races next week which draws an incredibly fast and deep field from the region.
The race takes place on Saturday September 7 at 8 a.m.
"The Cardinal Classic is going to be giant so all the big boys will be in town so that's where we're looking ahead," Draney stated. "Utah is one of the best states in the nation for cross-country arguably. They are just tough so anytime we can go down there we'll have our hands full. But to have all of those guys and others in Soda will be a great event."
Let us know what you think!
Tagged:
Cardinal Classic
El Monte Golf Course
Ogden Utah
Star Valley cross-country