Palisades Reservoir seeing increased crowds this summer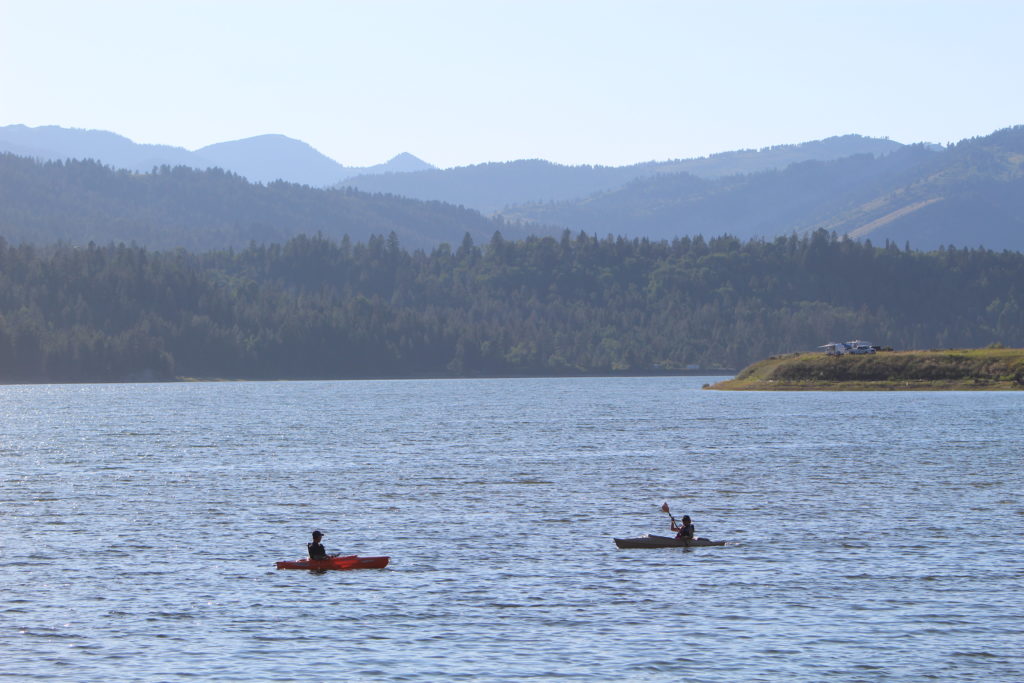 ◆ Palisades seeing increased crowds this summer.
The water is high and lake enthusiasts are enjoying every drop of it — that is the story of the summer and Palisades Reservoir.
Each day the reservoir's surface is alive with jet skis, kayaks, water skis, paddle boards, motor boats and even a few windsurfing enthusiasts.
"It's crazy busy," said Alpine Mayor Kennis Lutz. "At our boat ramp trucks and trailers are lined up waiting to get in and waiting to get out."
"It's the same story with Blowout," Lutz continued. "I was by there the other day and trucks and boat trailers were parked a half mile on this side of it and a half mile on the other side of Blowout. It's unbelievable. It really is."
According to Lutz, the increase in reservoir recreation is likely a combination of things.
"People are buying toys and RVs and motorcycles and dirt bikes and boats," he said. "It's tough to get any of those things right now because everyone is buying them and using them to recreate. People are looking to get outside and away from people. They've found our little area and they are really loving it. I would anticipate this growth to continue in the future."
In the past the Palisades Reservoir has had some busy days in the summer, usually over holiday weekends. This year, however, the fun on the lake is seven days a week.
"It's been good for the town," said Lutz. "We like to see the lake full and people using it."

• Water Operations
According to the Upper Snake River Office of Bureau of Reclamation, the Palisades Reservoir was at 93 percent of capacity.
"We had a pretty good snow pack, even though it was not evenly distributed across the region," said Jeremy Dalling of the BOR. "Then when we had that rainfall in late June, going into the Fourth of July Weekend, we were full and there was really no place to put that runoff."
The water managers turned the reservoir's discharge volume up to 20,000 cubic feet per second (high discharge) in order to make room for rain runoff. The reservoir discharge is currently at approximately 12,000 cfs (moderate discharge).
The reservoir may be 93 percent of capacity, but it is 124 percent of normal for this time of year, according to Dalling.
"We define normal as what the average has been for this time of year from 1981 to 2010," said Dalling. "So we have good water level for this time of year, comparable to what we had last year. We have had similar water storage for the last four or five years, so we are on a four to five year streak with having a good water supply and good water storage for this time of year."
According to Dalling, the water operations have shifted from water storage (spring) to meeting irrigation needs (summer).
The first crop in Idaho is now being harvested, Dalling explained.
"So we are seeing a decrease in demand for irrigation water at the moment," he said. "That demand will increase in the next week or so as those first crops are harvested and water is needed for the second crops."
Dalling anticipates drawing on the reservoir for the next two to three months.
Even with the irrigation demands, Dalling does not anticipate getting too far away from the 124 percent of normal for the reservoir. The plan is to have moderate discharge, he said.
"We want to encourage everyone to get out and enjoy these reservoirs and rivers," Dalling said. "Recreation is one of the reasons they are there."
Tagged:
Kennis Lutz
Palisades Reservoir
Town of Alpine
Upper Snake River Office of Bureau of Reclamation