PETA puts anti-leather brochures at Jackson Hole Airport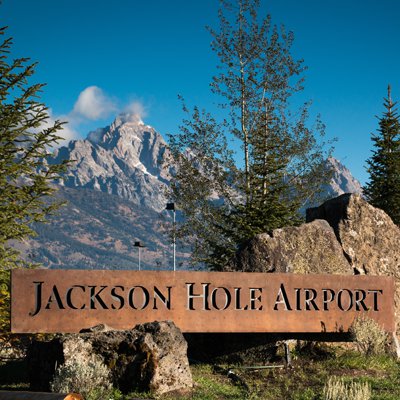 By Kate Ready
Jackson Hole Daily
Via Wyoming News Exchange
JACKSON —Holiday travelers bustling through the Jackson Hole Airport may notice a new ad from People for the Ethical Treatment of Animals denouncing the leather industry.
PETA said Wednesday that its effort to put the anti-leather brochure in the airport was met with resistance.
According to PETA, the airport initially denied its request to advertise but relented after a lawyer became involved to defend the nonprofit's First Amendment rights.
Airport Director Jim Elwood denied that the airport was resistant and said PETA "misrepresented the circumstances."
The anti-leather brochure now on the airport's brochure rack references cows being killed to create leather luggage. The brochure shows a cow's head and legs on a leather bag and reads, "Was she killed to make your carry-on?"
According to PETA, display of the material followed a months-long legal battle that started in June and was finally resolved in December.
"Airport officials tried for months to avoid running the animal rights message," a Wednesday press release from the animal rights nonprofit said, "until PETA's lawyers pressed them regarding what appeared to be blatant viewpoint discrimination in violation of the First Amendment — and now PETA's ad can be seen on hundreds of brochures available at the airport, just in time for the busy holiday travel season."
In its press release, PETA called it "a win for free speech."
Elwood disputed the representation that PETA had to battle the airport to showcase its message.
"It's disappointing PETA has framed the conversation that we were resistant," Elwood said. "We were trying to work with them. We simply have a brochure rack, and that's the extent of what we have for advertising. That was confusing to PETA, based on what I understand."
According to PETA, the Jackson Hole Airport first rejected its ad "without reason" last year. A public records request PETA submitted uncovered email exchanges between airport officials that PETA believed hinted at why the airport was "pushing back."
"I support their work, but dang it, why does that bag have to look so much like mine?" one message PETA reported read.
Others said, "[T]his can be offensive to some folks" and "I just walked past the cow hide chairs reading this email. … Not sure this message is quite right."
The airport reversed its decision in November after correspondence with PETA's lawyers, allowing the anti-leather message to be displayed.
Elwood said that airport employees are entitled to their opinion and that the comments were not negative but, rather, showed an "enhanced sensitivity" to how leather goods are made.
Elwood said other factors played into the drawn-out timeline PETA referenced, namely the future of the brochure rack and the reopening of the airport June 28 after runway reconstruction.
"We were trying to determine what the next steps of that brochure rack were," he said. "We'd lost a number of customers during COVID, so we were questioning the need for a brochure rack at all.
"That certainly impacted the timelines we're discussing here," he said. "Couple that with reopening the runway and the new security checkpoint — it all happened within a couple days of PETA's initial communication."
Elwood also said there were phone conversations with PETA that provide additional context.
"PETA implied there were other ads they might consider placing at the airport, so we were trying to see if they would send other options," Elwood said. "I said we'd like to see those, and it went back to them as we respectfully declined, but there was a phone conversation that PETA was open to offering other options to the one they sent."
Ultimately, he said, PETA elected not to send additional artwork options.
The airport doesn't discriminate in who can advertise on the brochure rack, Elwood said.
"That space is limited by numbers, and if there's space [in the rack] available, then it's available to them," he said. "PETA requested space and they got space. That's what's really missing from their press release."
Elwood said, "We're all trying to become more respectful, and I think the airport has repeatedly shown that."
The brochures arrived Dec. 14, were placed on the rack Dec. 18 and will remain there until June, Elwood said.
Sara Britt, the manager of PETA's Corporate Responsibility Department, said the Jackson airport was chosen because it's the biggest air hub in the state and Wyoming has a large cattle industry.
"Wyoming breeds and kills a huge number of cattle," Britt said. "Since leather is a co-product of the cruel meat industry, our ad reminds people that mutilating cows on factory farms, sometimes when they're still conscious, doesn't fly."
The brochure, titled "Cruelty Doesn't Fly, Choose Vegan," aims to bring awareness to the more than 1 billion cows, sheep and other animals killed for their skin each year worldwide. Much of the leather sold in U.S. stores comes from countries where animal welfare laws are nonexistent or largely unenforced, the brochure states.
The brochure details findings from investigations by PETA entities, such as that farm workers in Thailand and Cambodia "repeatedly bashed cows in the head with sledgehammers."
PETA reported that Brazil is the world's single largest source of animal hides and that a video exposé by PETA U.S. revealed that gentle cows and bulls were beaten, burned with hot irons and electroshocked.
Britt also called attention to the environmental footprint of leather products.
According to the Higg Materials Sustainability Index, cow leather has nearly 10 times the negative environmental impact of plant-based leathers, such as Piñatex, and nearly six times that of polyurethane, a synthetic vegan fabric.
"We plan to place these ads in as many cities as we can," Britt said. "This ad recently ran in the June 2022 edition of Business Traveler. In December 2021, we placed it in the Bozeman Yellowstone International Airport, a state that ranks No. 6 in cattle raised for their flesh."
Inside the brochure, travelers can find a list of companies selling vegan luggage at PETAApprovedVegan.com.
Let us know what you think!