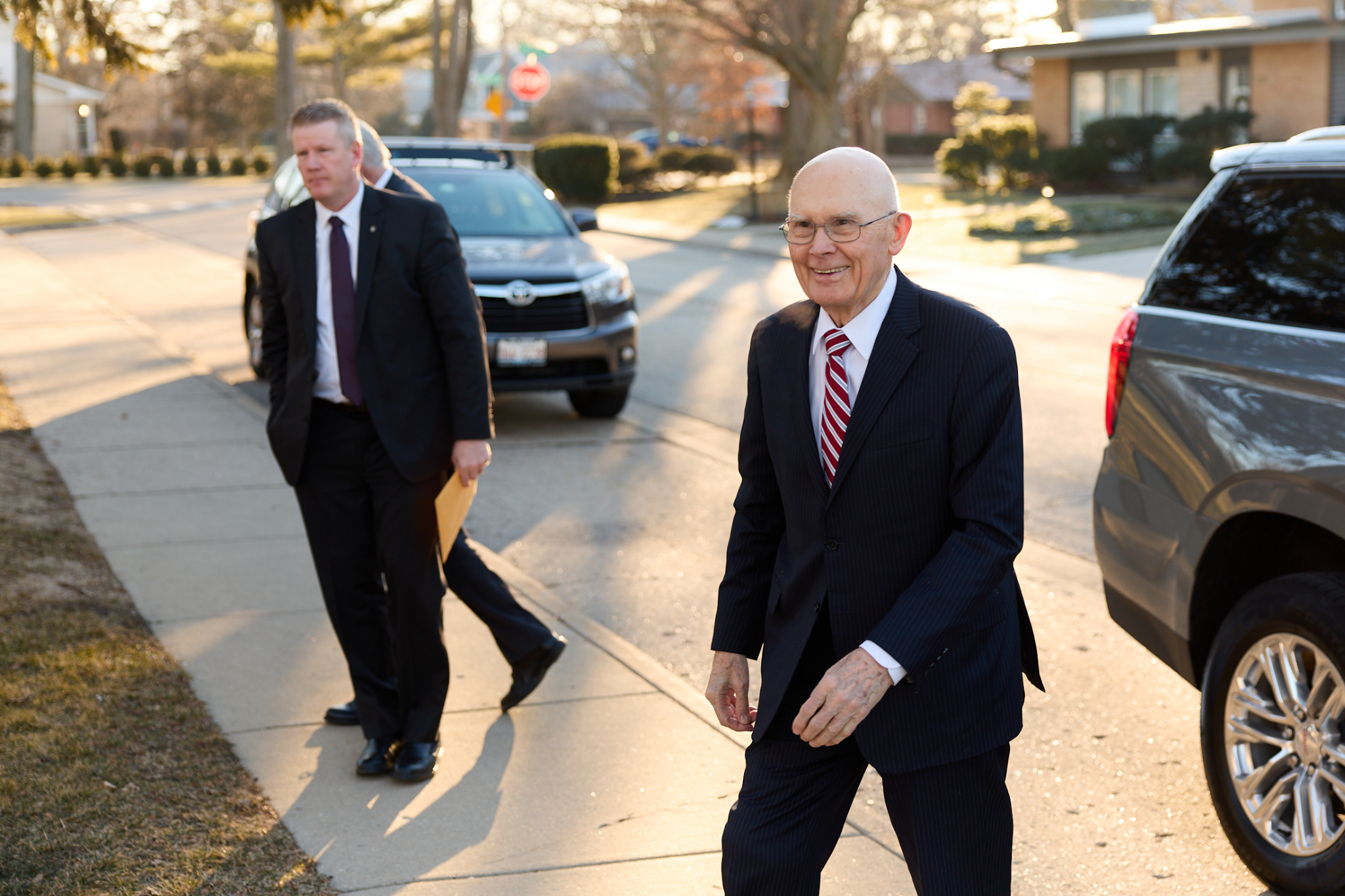 • The act's "necessary protections for religious freedom" are "a big step forward," the Apostle says
The Church of Jesus Christ of Latter-day Saints took the position it did on the United States Respect for Marriage Act (signed into law in December 2022) because of the law's "necessary protections for religious freedom."
So said President Dallin H. Oaks of the First Presidency at a Saturday morning meeting (February 11, 2023) with local Church leaders and their spouses in Chicago, Illinois.
The Respect for Marriage Act includes "valuable provisions to assure that no federal or state laws [can] be used to harm the religious or conscience rights of faith-based institutions or their members," President Oaks said. "In the end, the total law ensures that religious organizations, religious schools, and their staff do not have to perform or host same-sex marriages or celebrations. It protects the tax-exempt status of religious organizations. It protects the grants, licenses, contracts and accreditation of religious schools. And it specifically provides that its own provisions cannot be used to violate anyone's rights to religious freedom. Putting such protections in the federal law was a big step forward."
President Oaks, a former Utah state supreme court justice who previously practiced law for over three years in Chicago and taught for 10 years as a professor of law at the University of Chicago, said such religious freedom protections in federal law are "a big step forward."
"We will be alert to proposed future state action and legislation as we continue our defense of religious freedom," he said.
The Church has spoken in defense of religious freedom for many years. The faith has supported religious freedom and nondiscrimination bills at the state level in Arizona (2022) and Utah (2015) and at the federal level (2019). As a Church statement said in support of the federal legislation, "the nation is more united when diverse individuals and groups can work cooperatively to advance sound policy."
President Oaks is perhaps best known outside the Church for his many speeches in defense of religious liberty. In an address 14 months ago at the University of Virginia, he called for "a new, workable balance between religious freedom and nondiscrimination." He pointed people to a "better way" that focuses on the Christ-centered virtues of loving, listening, respecting, negotiating, persuading, balancing, tolerating, cooperating, reconciling, accommodating — any peaceful means that focus on the common good and "resolve differences without compromising core values."
Let us know what you think!
Tagged:
Christ-centered virtues
Dallin H. Oaks
Respect for Marriage Act
The Church of Jesus Christ of Latter-day Saints
University of Virginia