Senator Barrasso weighs in on energy
◆ "Coal is critical to the base energy that we need to power this country…."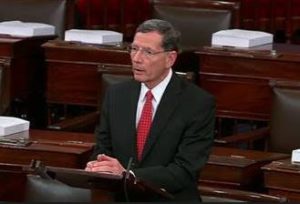 U.S. Senator John Barrasso spoke with SVI Media's Duke Dance this week on the Weekday-Wake-Up morning radio show. During the interview, Barrasso addressed the energy battle playing out on the national stage.
"Coal is critical to the base energy that we need to power this country," Barrasso said. "We have hundreds of years of coal in the ground. We cannot allow this resource to become stranded."
HERE THE FULL INTERVIEW BY CLICKING HERE
Barrasso spoke of carbon capture technology and work being done at the University of Wyoming School of Energy Resources. He spoke of how new technology allows for expanded use of coal and coal byproducts and is cleaner energy.
"There's a lot that can be done," Barrasso said. "We need the energy, we need all the energy."
In addition to coal, Barrasso spoke of how Wyoming has a wide range of energy resources available that include uranium, wind and solar.
"We just have to make sure that all or our sources of energy continue," he said.

According to Barrasso, if you really want to grow the "economy of this country, three things are needed."
"You need to cut taxes, and we have done that," Barrasso said. "You need to unleash American Energy [production], and you need to get rid of the stifling regulations."
According to Barrasso, the United States cannot maintain its global position without utilizing its energy resources,
"Coal is a big part of that," he said.
Tagged:
Senator John Barrasso
Wyoming coal
Wyoming energy