Skiing accident takes 14-year-old Darrell Hunting to SLC by air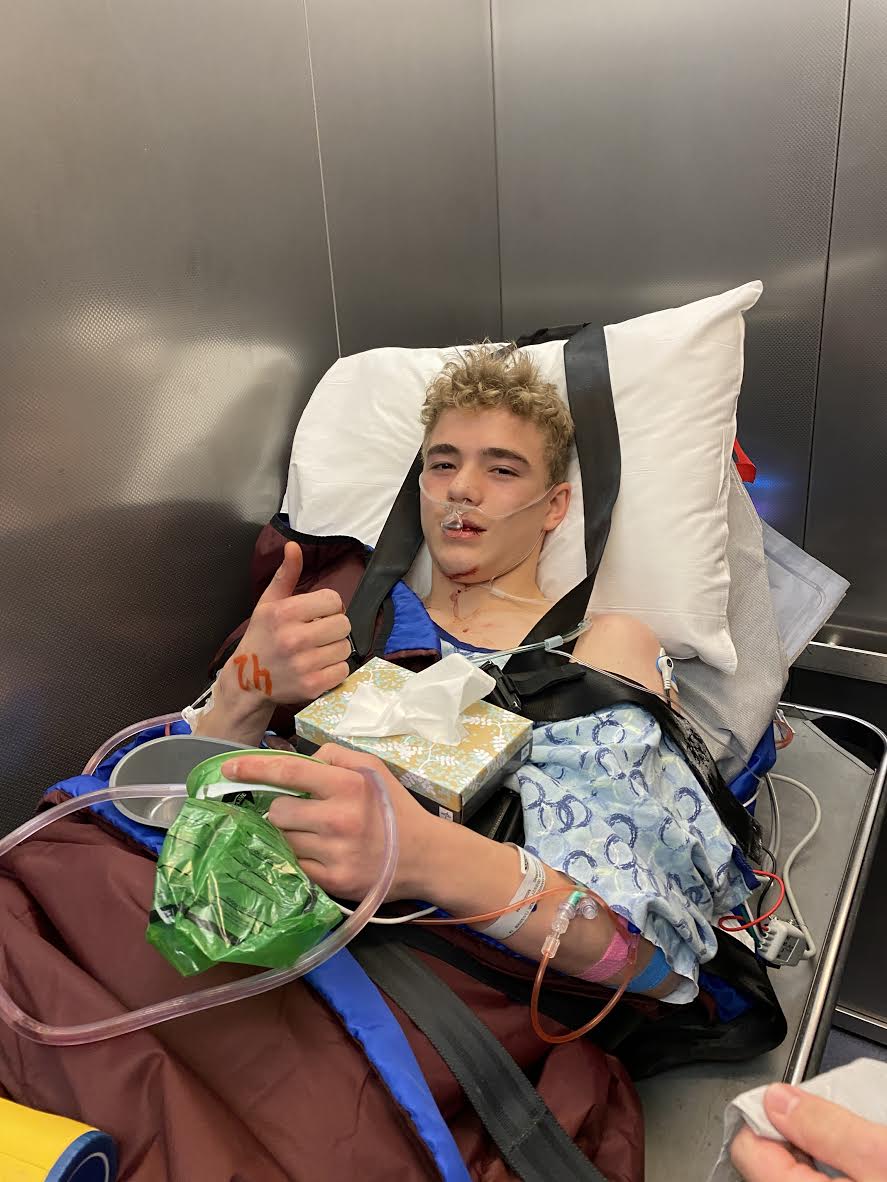 ◆ Darrell's medical team determined that he needed to be flown from Star Valley Health to Primary Children's Hospital for thorough care.
Darrell Hunting, son of James and Camille Hunting of Bedford and 8th grade student at Star Valley Middle School, sustained significant injuries in a skiing accident at Pine Creek Ski Resort in Cokeville on Tuesday, February 23. His injuries required a life-flight from Star Valley Health to Primary Children's Hospital in Salt Lake City.
SVMS 8th grade students who had earned the privilege of a Warrior Clan ski trip were spending their school day on the mountain. Darrell, his twin brother, Lane, and their friend, Damien Burgess, were on their 3rd run of the day. A typical 14-year-old boy, Darrell was looking forward to the hamburger he was planning to buy for lunch when they reached the bottom of the run. But things changed quickly when Darrell careened into a tree.
"Damien went for help and Lane stayed with Darrell," the Hunting's told SVI. "The ski patrol came and assessed his condition and brought him down the hill in a toboggan.  Karl Southam [James' cousin] and Scott Milne [a teacher at SVMS] gave him a blessing. Karl then drove Darrell to Star Valley Medical Center where we were waiting."
"I prayed on my way to the hospital, trying not to assume the worst," said Camille.  "As we helped Darrell out of Karl's car, it became immediately apparent that, even though he wasn't paralyzed, he was really hurt!  As the updates came in on his injuries, I kept thinking, 'OK!  We can deal with this.  We can do this!'"

"I went directly from helping work a crash to diverting to the hospital to wait for Karl and Darrell to arrive at the Star Valley Health ER," said James, who serves Lincoln County as a Sheriff's Deputy. "Not knowing what his injuries were was the hardest thing at that point.  After his arrival, it honestly was hard to see his injuries.  Even though you see these types of injuries on others, you don't ever prepare to see your own child injured."
Injuries to Darrell's young body included a mild concussion, six broken ribs on the right side, a jaw fracture, sinus fractures, a nasal fracture, bruising of his lungs, and a small puncture to his right lung. Three of his right teeth in the molar area were pushed up into his sinuses and the bottom front teeth were all displaced.
Darrell's medical team determined he needed to be flown to Primary Children's Hospital by helicopter.  PCH asked that a chest tube be inserted to maintain the pressure around his lungs during the flight.  James and Camille traveled to SLC by car. Camille's sister, Annette Robinson, a long- time Registered Nurse with the University of Utah Hospital system, was able to meet Darrell at PCH and attend him until his parents arrived.
"At first, I thought I would just get cleaned up, and get a Band-Aid on my chin, and I would be ready to go," said Darrell.  "When they said we were going to Primary's, I knew I was in trouble. I was really scared. The helicopter was cool, though."
On Tuesday evening, after Darrell arrived at PCH, a Pediatric Dentist popped his front teeth into place and put a thin wire retainer to hold them in place. Thursday, during a three-hour surgery, they pulled two of his teeth down out of his sinuses into place.  A third tooth was floating in his sinus cavity and the fished that tooth out of his sinuses, totally removing it.  They then created a flap to seal off the sinus and attached a thin metal bar to the fractured area to stabilize it. They also removed the chest tube during the surgery.  It is unsure if the teeth will take to their new positions or not and will probably need root canals and orthodontic work. All the other fractures in his face were stable and did not need to be set or wired.  The ribs will heal on their own.
"The thing that became very clear to us was that Darrell has a high pain tolerance," the Hunting's said. "He never complained of pain or of being uncomfortable.  It was really hard to gauge his pain. You would think his mouth was in a lot of pain, but when asked where the pain was, he would tell you it was in his chest and back.   And when they asked him to rate his pain, he always answered between two and six."
"We had a crazy week planned and it was geared around getting ready for our oldest son, Matthew, to arrive home from his two-year mission [for The Church of Jesus Christ of Latter-day Saints]," the Hunting's continued. "He had been serving in the four-corners area on the Navajo Indian Reservation in the New Mexico, Farmington Mission.  We were planning on picking him up on Wednesday evening in Jackson Hole. Afton had a school ski trip on Thursday and a basketball tournament in Cache Valley on Friday and Saturday (They took 2nd). Darrell and Lane were planning on going to State Wrestling with a friend on Thursday (Darrell was really bummed he didn't get to go watch).  We were also planning on following our son Johnny to Indoor State Track in Gillette, where he had qualified to compete in the 800-meter race on Saturday (He took 4th)!"
Friends and family all stepped in to ensure that the children were still able to meet their obligations and participate in their chosen activities. Darrell's older sister, Frances, traveled from college in Rock Springs to be with him and her parents in SLC. She was able to visit with him digitally and lift his spirits as the week progressed.
Matthew arrived home Wednesday evening and stayed there to help with the younger children. Recordings of the children's athletic events ensured that James and Camille could still support and participate in their other children's activities. The Hunting's felt so much support from the community and from all the medical professionals who attended Darrell. They are very grateful for SVH, the Air-Idaho Rescue flight crew and the medical team at PCH who were all knowledgeable, supportive, and thoughtful.
Darrell will be on a soft/liquid diet for nearly six weeks.  Physical activities and sports are off limits for three months, which is particularly disappointing to him because he had just started his club wrestling season and was looking forward to participating in SVMS track this spring.  His concussion status will need to be examined and he will need to be cleared for football in the fall.

Darrell was released from PCH and returned home last weekend. "He is chomping at the bit to get back into school," said the Hunting's. "He wants to be with his friends and is frustrated that he has to take it slow.  'I just want to go to school.'  (Not to study, but to be with his friends)."
"The immense love we felt from our friends, family and the Star Valley Community was overwhelming," said the Hunting's. "Simple texts letting us know that we are loved and being prayed for were constant.
The service, texts, emails and gifts from classmates, teachers, friends, and family meant so much to Darrell and us. Darrell is a pretty reserved kid, but he has been so open about his gratitude that he feels toward all the love shown to him.
Tagged:
Cokeville Wyoming
Darrell Hunting
Pine Creek Ski Resort
Primary Children's Hospital
Star Valley Health
Star Valley Middle School