SLC Police searching Uinta County Landfill for evidence in murder case
By Brian Glathar
Uinta County Herald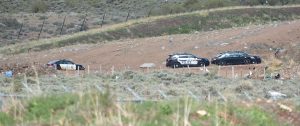 EVANSTON — Salt Lake City police are sifting through trash at the Uinta County Landfill today, searching for evidence in the murder of a 15-year-old Utah girl. Former Evanston resident Shaun French, 24, was arrested last week as a suspect in the homicide; he's also been charged with having unlawful sexual acts with a minor.
Salt Lake City Police Sgt. Todd Mitchell told the Herald that his team of 21 officers are hoping to find the evidence they're looking for today, but they'll return Wednesday if needed. Local officials were able to point officers in the direction where they believe French could have discarded evidence. Mitchell said they're searching for some very specific evidence but couldn't say what that evidence is.
However, "It's not like we're looking for a dead body," he said.
Mitchell said through their investigation, detectives determined French dropped off a load at he landfill just outside Evanston. He said that while he believes there is ample evidence in the case, the weight of the crime warranted the search at the landfill.
Tagged:
Salt Lake City Police
Shaun French
Uinta County Herald