Star Valley Health partners with DAISY Award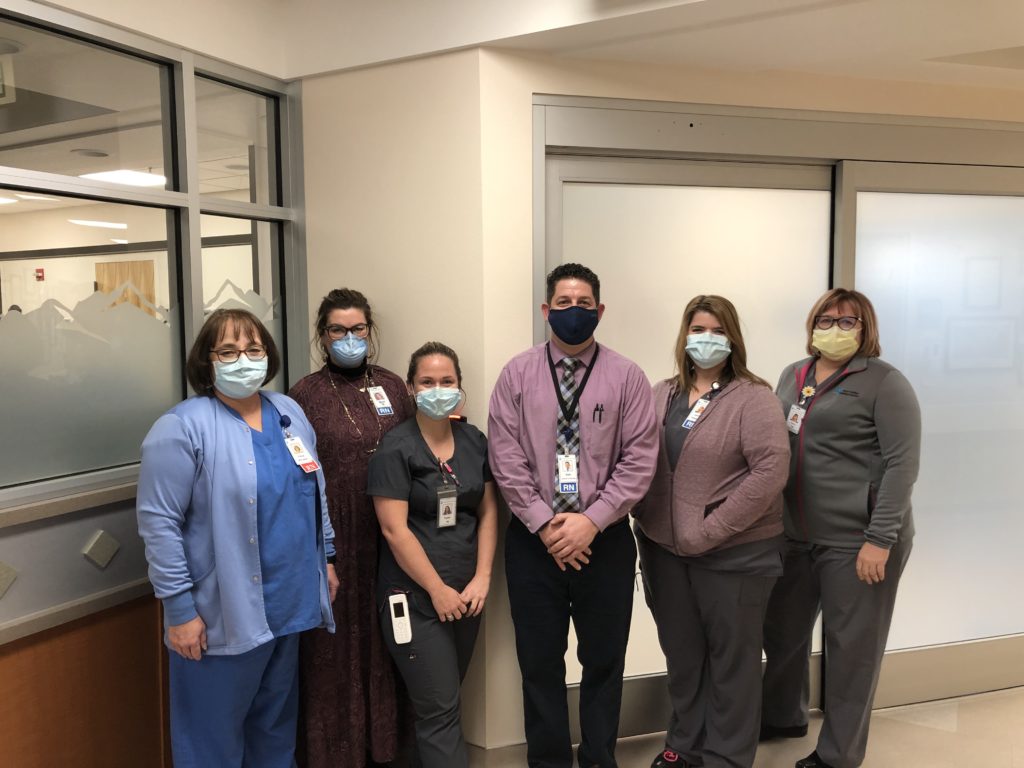 ◆ Program recognizes outstanding nurses.
A critical access hospital like Star Valley Health Medical Center doesn't have a lot of extra resources – especially during a pandemic. But compassion is a known quantity.
Where else might you find off-duty nurses and staff gathering on a Saturday to make safe the home of a soon-to-released patient?
It's for this reason Star Valley Health has recently partnered with The DAISY Foundation to recognize the extra miles nurses often go for their patients. Star Valley Health is now part of hospital systems in 50 states and some 28 countries that recognize the compassion of caring nurses with The Daisy Award.
The aim of the Daisy Foundation, said chief nursing officer Tori Probst in a telephone interview with SVI Media, is to partner "with healthcare organizations to provide recognition of those compassionate nurses who go above and beyond. That's the whole idea of the award."
According to the "Thank a Nurse" site on starvalleyhealth.org, the DAISY Foundation "was established by the family of J. Patrick Barnes after he died from complications of the auto-immune disease ITP in 1999. During his hospitalization, they deeply appreciated the care and compassion shown to Patrick and his entire family. When he died, they felt compelled to say 'thank you' to nurses in a very public way."
The Thank a Nurse site on starvalleyhealth.org goes on to encourage patrons to "say thank you by sharing your story of how a nurse made a difference you will never forget!"

The site then includes a nomination "page" where patrons can list the name or names of nurses with an explanatory anecdote and identifying information for verification.
Some 60 nurses, including LPNs, RNs and nurse practitioners in the hospital, care center and surgical center are eligible for this award. Although Probst said there is no hard and fast rule on how many nurses will receive the award, she explained that for now every six months a committee of CNAs, admissions clerks, techs and activities directors from the care center and others will go through all the nominations and choose two to be honored with a framed certificate and a statue.
But even those nominated are recognized, she emphasized. Any nurse nominated will receive a Daisy award nomination pin.
Already, Probst related, two nurses have been nominated in just the two months the award has been publicized within the hospital. "We always knew our nurses do such a great job. It's always nice to get that recognition from a nurse's standpoint."
And Kyle Roniger, director of nursing at Star Valley Health, agrees not only does it give proper recognition to good nursing, but it also helps put out the word about nursing careers midst a pandemic and a national nursing shortage.
"Nurses in healthcare deal with tough decisions and the more focus we can have on positivity it makes people feel more empowered in their jobs and want to take better care of their patients," Roniger said, in the same telephone call with SVI Media as Probst.
And care of patients has been key to the success of Star Valley Health over the years. Roniger related that a critical care access system like Star Valley Health doesn't have lots of extra resources, but they have nurses going above and beyond. He related accounts of nurses and staff teaming up to ensure a patient gets to an airport if they live outside the region. Or they give rides for patients whose caregiver perhaps doesn't drive.
Some of these services, Roniger recalled, has made it possible for patients to "go home and not stay here or in a long-term care facility."
After seeing co-workers make such sacrifices, and then hearing about The DAISY Foundation and the Daisy Award last fall through other regional hospitals, Probst reached out to the Foundation. Soon, Star Valley Health had its own Daisy Award program up and running.
To nominate a nurse for The Daisy Award, go to starvalleyhealth.org, click on "Patients & Visitors" and then click on "Thank a Nurse."
Tagged:
DAISY Award
outstanding nursing
Star Valley Health