Star Valley Health Receives the 2021 Women's Choice Award® as one of America's Best Hospitals for Emergency Care
Star Valley Health is on a roll. Their recent ground-breaking event for a clinic in Alpine was very well attended, featuring a who's who of local, state and national celebrities. They were acknowledged as a four-star rated facility by the Centers for Medicare and Medicaid Services (CMS). This week Star Valley Health received the coveted 2021 Women's Choice Award as one of America's best hospitals for emergency care. 
The Women's Choice Award is a trusted referral source for the best in healthcare. This award means Star Valley Health ranks in the top 8% of the 4,542 U.S. hospitals offering emergency care services. 
Star Valley Health is one of 477 award recipients representing the hospitals that have met the highest standards for emergency care in the U.S. by the Women's Choice Award.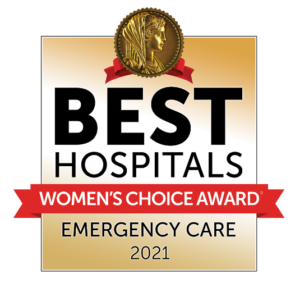 "We have found that recommendations are an important consideration used by women in selecting a hospital for themselves and their family. By helping women know which hospitals in their area provide the best critical care, we are able to help them make better decisions, especially when it comes to emergency situations," says Delia Passi, CEO and Founder of the Women's Choice Award. "Women make over 80% of healthcare decisions and have demanding lifestyles and we help simplify her life by making it easy for her to find the best care in those stressful emergency situations."
Hospitals are ranked using a unique methodology that features several health-care processes focused on time patients spend in the emergency department: total time spent in the emergency department, time from admission to a room, and percent of patients who leave without being seen.
The award is especially significant given that long waits and high crowding can negatively impact patient outcomes, including patients leaving without receiving medical treatment, longer overall length of hospital stay, and an increase in mortality rates. 
Criteria for selecting Star Valley Health as one of America's Best also included the percentage of patients who came to the emergency department with stroke symptoms who received brain scan results within 45 minutes of arrival.  
Also included this year were hospitals that performed well in responding to patients showing symptoms of severe sepsis, a very dangerous condition. The awarded hospitals represent those with emergency departments with average measure times in the highest 25th to 50th percentile in the country. Hospitals received additional credit if they have an accredited trauma center. 
"Star Valley Health is honored to receive the Women's Choice Award for Emergency Care in 2021. Women make the bulk of decisions regarding the healthcare services that they and their family utilize, both in general and emergency needs, and we are beyond pleased to have received their trust "stated Daniel Ordyna, CEO of Star Valley Health. "We will continue to work very hard to deserve their confidence in the healthcare services provided at Star Valley Health."  
For more information about America's Best Hospitals for Emergency Care, please visit https://womenschoiceaward.com/best-emergency-care
Let us know what you think!
Tagged:
CEO Dan Ordyna
Emergency Care
Star Valley Health
Women's Choice Award 2021