Area physician, Brad Washburn, volunteers expertise at World Ski Championships in Bulgaria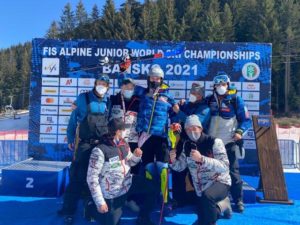 Local physician, Brad Washburn, accompanied the Men's US Alpine Ski Team to the Junior World Alpine Ski Championships in Bansko, Bulgaria March 3-10.
Washburn explained, "Last month I was contacted to provide medical coverage for the US Alpine Ski Team to the Junior World Championships in Bulgaria. This was a week-long event that was filled with some incredible accomplishments, including two gold medals in the Super-G and Slalom."
Both Cooper Puckett of Steamboat Springs, CO, and Ben Ritchie, of Waitsfield, VT earned gold medals, Puckett in the Super G and Ritchie in the Slalom. Washburn was elated to have had the incredible opportunity to be onsite during these US Ski Team achievements.
Washburn commented about his experiences in Bansko, "We were blessed that no one was injured, and the event was successful despite COVID restrictions. Traveling was certainly a logistical challenge, especially with US Citizens not officially allowed into Bulgaria at this time."
In 2015, Washburn was selected to be part of the US Ski and Snowboard Team physician pool. As a physician pool member, he travels with various teams, such as the alpine, freestyle, snowboard, and nordic teams to various locations around the world.

Once selected, physicians volunteer their time and pay out-of-pocket for their travel expenses. When Dr. Washburn received the call to go to Bansko, he had to put his practice and home life on hold while he flew from Salt Lake City to Frankfurt, then on to Sofia Bulgaria, and finally to Bansko. Once the athletes, coaches and doctors arrived in Bansko, they were kept "in a bubble "for appropriate COVID precautions.
While each day's work for the team is intense–-doctors are on call through the day and night to attend to the athletes, coaches and staff for any medical needs. The ability to work with the elite ski team in person and watch them in action was thrilling. Washburn describes his daily role as "being stationed on course in strategic locations to attend to athletes if injuries occur."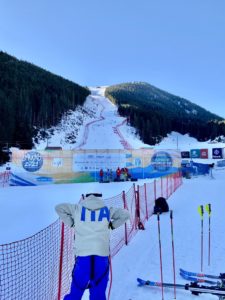 Injuries can vary from minor cuts and bruises to life-threatening injuries as they are skiing upwards of 80mph in some events. Washburn expressed admiration for the athletes and coaches, highlighting that the relationships he built while in Bansko were very fulfilling. "It is an incredible honor to help care for these gifted athletes, as they perform at such a high level. However, I honestly get equal satisfaction caring for local athletes of all ages and levels. The impact of the inability to participate in activities is often underestimated and seeing a patient return to sport after an injury is incredibly gratifying."
Washburn chose to go into orthopedic surgery because he has a genuine desire to help those who are limited by musculoskeletal problems. He wants to return them to an active, pain-free lifestyle. He said, "Recently I have stepped away from performing surgery for health and family reasons, but the transition to focusing on non-operative care, second opinions, discussing proposed surgical options has been incredibly fulfilling. I feel the most important part of a doctor-patient relationship is to take time to listen, and always be respectful of each person's individual needs, goals and expectations."
Dr. Washburn lives in Park City, UT and commutes to work at Mountain West Orthopedic Clinic in Evanston, WY, part of the Star Valley Health network of clinics. Skiing is something all the Washburns enjoy, including his three daughters, 4, 6, and 8. According to Dr. Washburn, "All three are already bombing down the hill leaving mommy and daddy behind. It is awesome!"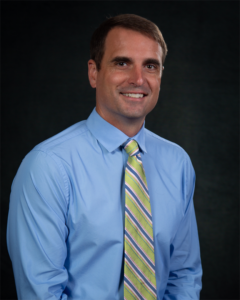 Let us know what you think!
Tagged:
Bansko
Brad Washburn
Bulgaria
MD
Mountain West Orthopedic Clinic
orthopedic surgeon
Star Valley Health
World Alpine Ski Championships