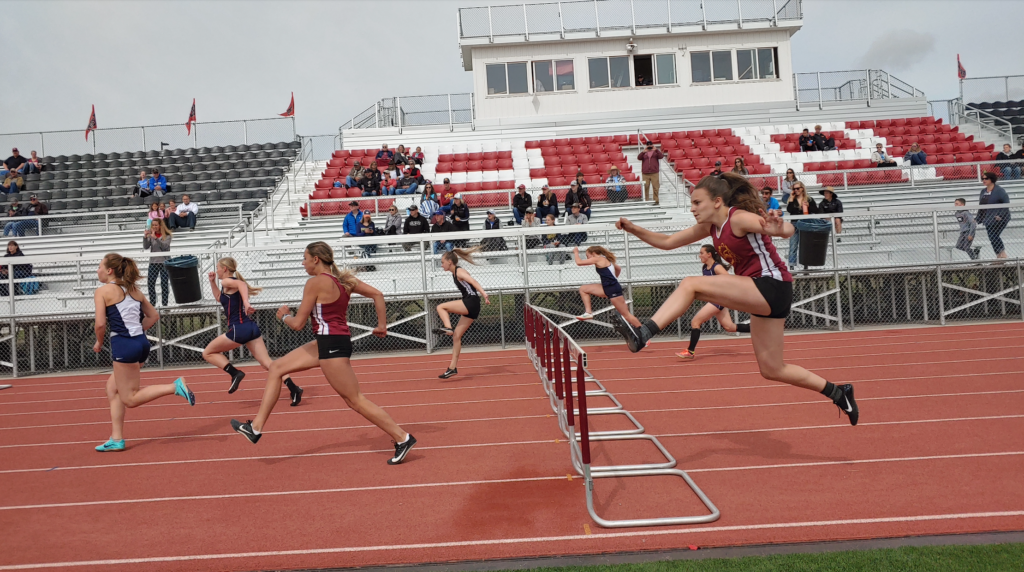 ◆ State Track & Field is this weekend in Casper.
For the first time in two years, the top track and field athletes from the Wyoming prep landscape will compete for individual and team championships at Kelly Walsh High School.
Many of those athletes qualified for the meet by being one of the top finishers at one of the Regional meets. Star Valley saw many athletes earn their trip to State this past weekend at the 4A West Regionals in Riverton where the girls team placed second and the boys team placed fifth.
"It went exceptionally well," stated Head Coach Ty Draney. "We talked about having a mix of experience and youth but leaning on the side of youth. So when you get multiple days one after another it was kind of mysterious as to how we might react. Sometimes with youth we joke that it's always spectacular good or bad, but we didn't lose any points that we through we might. We snuck in some people and it was a great weekend for us. If we can replicate that this week it will be a good weekend for us in Casper."
The Lady Braves finished with 116.0 team points. A big chunk of those came from the duo of junior Sara McKen and freshman Valerie Jirak who placed first and second respectively in both the 100 Meter and 200 Meter events.
Jacie Angell won the 1600 Meter race and placed second in the 800 Meter. Emily Gertsch won the Discus event.
The relay teams all fared well for the Lady Braves as well with runner-up finishes in both the 4 x 100 Meter and the Sprint Medley (200, 200, 400, 800).
The Braves finished with 62.0 team point, just 1.5 points behind Green River. Peter Visser won the 800 Meter event and Jesus Carrillo-Zarate won the Regional championship in the Pole Vault. Visser teamed up with Lane Oesch, John Hunting and Gabe Clinger to win the 4 x 400 Meter event as well.
The Braves could have scored more points with athletes "passing" through to State with pre-qualified marks or times.
"We passed Gabe through in the Long jump and Peter in the mile and two mile," Draney said. "It's always a little bit of a mix when you put all the teams together. Sometimes that can mean there are big swings in the run for a team title. We'd have to have a lot of help to win the thing but the kids are in a good spot and getting better every meet."
Draney pointed out that athletes are improving every single week.
"Ava Morgan ran a second faster than she did a week before and then the next day went half a second faster," he continued. "The learning curve is coming along nicely. We'll get over there and we'll try and put them in a position to be successful and we'll spend all the money we've been building up during the season."
The Wyoming State Championships begin at 3 p.m. on Thursday in Casper beginning with the 3200 Meter run.

4A West Regionals (Women)
@ Riverton
Name Event Time Place
Sara McKen 100 M 12.83 1st
Valerie Jirak 100 M 12.90 2nd
Sara McKen 200 M 26.19 1st
Valerie Jirak 200 M 26.29 2nd
Jacie Angell 800 M 2:24 2nd
Jacie Angell 1600 M 5:38 1st
Eve Mavy 3200 M 12:52 8th
Ava Morgan 100 Hurd 16.75 4th
K. Dandridge 100 Hurd 17.69 6th
Ava Morgan 300 Hurd 50.36 5th
Valerie Jirak 4 x 100 50.87 2nd
Sadie Hulse
Sara McKen
Kammi Merritt
Jacie Angell 4 x 400 4:15 4th
Sadie Hulse
Kammie Merritt
Ava Morgan
Jill England 4 x 800 10:40 5th
Emmalee Hale
Kaelle Opitz
Eve Mavy
K. Dandridge Medley 4:25 2nd
Kammi Merritt
Sara McKen
Jacie Angell
Valerie Jirak High Jump 5' 0" 4th
Sadie Hulse Long Jump 15' 6.25" 7th
Ava Morgan Tr. Jump 31' 3" 8th
Emily Gertsch Shot Put 32' 10.25" 5th
Shaely Kunz Shot Put 31' 11" 7th
Emily Gertsch Discus 111' 5" 1st
4A West Regionals (WMen)
@ Riverton
Name Event Time Place
Peter Visser 800 M 1:56 1st
John Hunting 800 M 2:01 7th
John Hunting 1600 M 4:50 7th
JD Morris 4 x 100 46.54 6th
Lane Oesch
Chase Stewart
Bo Simpson
Peter Visser 4 x 400 3:28 1st
Lane Oesch
John Hunting
Gabe Clinger
Noah Draney 4 x 800 9:20 8th
Preston Buehler
Henk Visser
Josh Strgar
JD Morris Medley 3:44 3rd
Lane Oesch
John Hunting
Jesus Carrillo-Zarate
Gabe Clinger High Jump 6' 2" 2nd
Carrillo-Zarate P Vault 12' 0" 1st
Lane Oesch Long Jump 19' 4" 7th
Gabe Clinger Tr. Jump 42' 6.75" 2nd
4A West Regionals (Women)
@ Riverton
School Points
Natrona County 174.5
Star Valley 116.0
Cody 113.0
Evanston 90.5
Riverton 71.5
Jackson 57.5
Rock Springs 40.0
Green River 35.0
4A West Regionals (Men)
@ Riverton
School Points
Natrona County 194.0
Evanston 128.0
Rock Springs 90.0
Green River 63.5
Star Valley 62.0
Cody 59.5
Riverton 51.0
Jackson 51.0