SVHS presents "Footloose" this weekend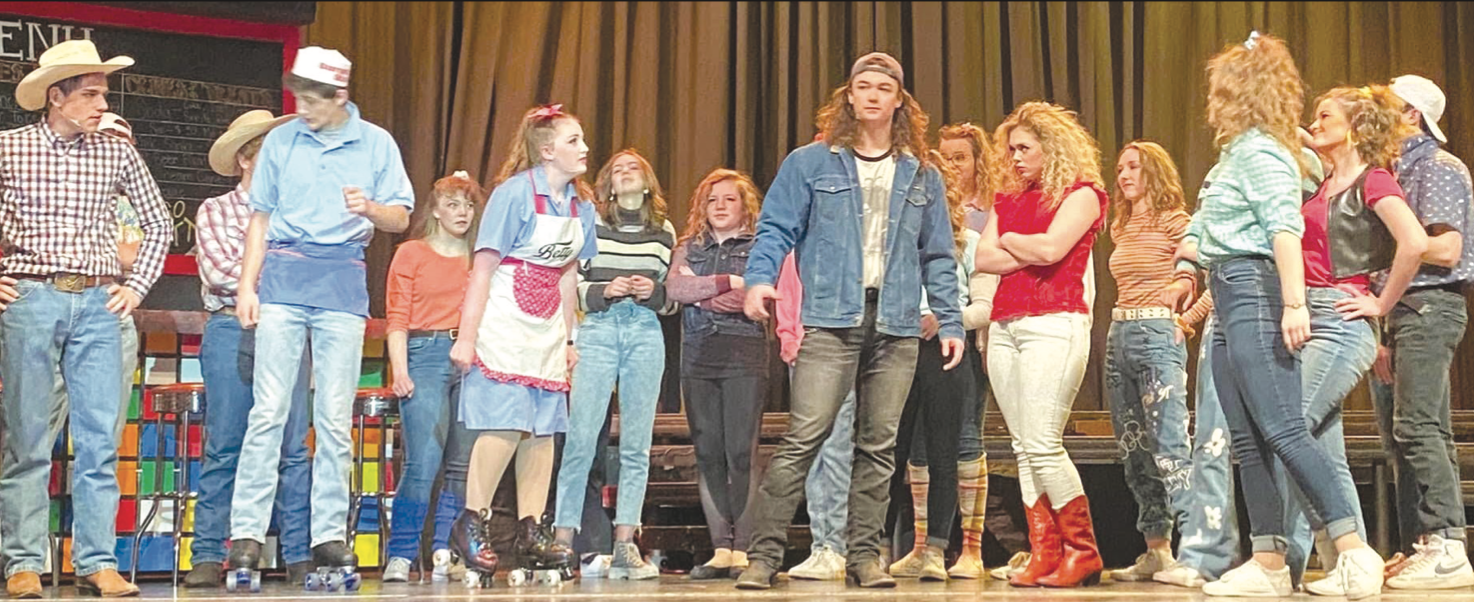 ◆ Performances are free and high energy.
Musical Dance Theater students at Star Valley High School are presenting "Footloose" this weekend. Performances are scheduled for Thursday, Friday and Saturday, March 17-19 at 7 p.m. with a matinee performance on Saturday at 2 p.m. All performances take place in the SVHS auditorium.
"Footloose" is set in Beaumont, a small rural community, where the Moore family wrestles with the pain of having lost a teen-aged son in a fatal car accident. Reverend and Mrs. Moore are looking for some explanation and maybe someone to blame for the lose of their child, and their other child, Ariel, is aching for their attention. Reverend Shaw has convinced the community that dancing is to blame for the alcohol that played a part in the death of his son, and no dances are lawful at the local high school. Newcomer, Ren Mccormack, connects with the student body and advocates for a prom to be held at the high school, which sends the entire community into a journey of conflict, resolution and healing.
Directors chose "Footloose" because of the challenge it offers to performers. "There is a lot of emotion in this show," commented Lynsi McAdams, Director of the show, in an interview with SVI News last week. "You see family relationships throughout the show and the changes that take place. I love all the changes that characters go through in the story. That's one of the reasons we wanted to do it. We wanted [the kids] to have the challenge of those emotional changes. It will make [the audience] feel something. Sometimes, you can sit and watch a show and just be like, 'Wow, that was so good,' but this show – not only is it fun, but it will make you feel something. It takes you on a journey – especially with [Reverend Moore], like that journey of losing your son. How do you recover from that? How do you move on? Everything in the story changes for the better and I love that. You get to see that change. Everyone should come and see it."

This show offers more dancing than shows SVHS has presented in the past. More dancing looks like 11 dance numbers – nearly twice the number of dances in a typical musical. "There is a lot more dancing and a lot more music," added McAdams. "The songs are very musically demanding, so learning music was so much harder than last year."
Directors and students have invested 10 hours each week in preparation for the show, with nearly 24 hours of rehearsal invested last week and another 24 hours this week. Learning the script, the music, the choreography, and the action has been extremely demanding, with directors and students also investing time at home.
"The cast is awesome," beamed McAdams. "They are working so hard. They pour their heart and soul into these shows. The reason the shows are so good is because the kids care so much and work so hard."
Most shows don't require 50 formal and semi-formal dresses and suits or tuxedos, but this one does, which caused the cast to reach out to friends and neighbors for help. "A lot of people from the community donated their prom dresses for costumes," said McAdams. "That's been huge. Everyone on the stage is wearing a prom dress or a suit [in one scene]. The community has been awesome with that."
Tami Nielsen, who is serving as choreographer and has helped with painting set, knows the kids have what it takes to pull off such a demanding show. "Every year, I throw harder stuff at the kids, and they just step up and match what I ask them to do," Nielsen bragged. "I say, 'You got this. You are Star Valley.' They know they have a legacy, and they step up to it."
She says it every year before the musical, and it remains true. "There are a lot worse things you could do on a Saturday afternoon or evening, but there's not many better things you can do," Nielsen commented with a wink. "It's free. It's high energy. It's kids in the community. Why would you not want to support that?"
Let us know what you think!
Tagged:
"Footloose"
Lynsi McAdams
Star Valley High School Musical