SVXC teams run at Lyman; host State preview race this Saturday
◆ Star Valley View Golf Course hosts teams at 10 a.m. Saturday.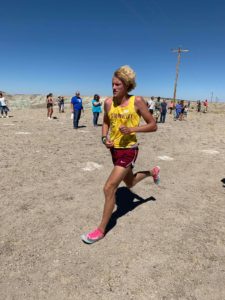 Temperatures pushed out a red flag warning and a smoky haze also settled into Southwest Wyoming on Saturday from fires in California which made a difficult course in Lyman even that much more of a challenge.
Peter Visser, Wyoming's top runner, battled to yet another first-place finish on an unfamiliar route. He finished with a time of 17:31. He was able to finish in front of Lander's K. Simonson who had a final time of 17:35.
Johnny Hunting carded a top-ten finish as well as he came in ninth overall with a time of 19:37. The Tigers also put S. Kistemann fourth overall and had all five scorers in the top 18 runners to claim the boys team title with a score of 48. Evanston was close behind with a third-place finish from S. Weaver leading the way and had a team finish of 54. The Braves were third in the seven-team field with 75 points.
Elena Jensen of Lyman controlled the girls individual race as she won with a time of 21:11, a full 90 seconds in front of second-place Jacie Angell of Star Valley. Emily Strasburg placed fifth for the Lady Braves as well.
It was a tight team race on the girls side with Lander, Evanston and Star Valley all within eight points of each other. The Tigers took the day despite not having a top-five finish but had all give scoring runners between 6th and 20th place for a total of 60 points. Lyman nipped Star Valley by just a single point 67-68.
"It was pretty tough course; really tough with the conditions and the heat," said head coach Ty Draney. "The biggest positive is that what we do is hard and in those conditions you learn what you're capable of. You push though the extra discomfort and we'll appreciate running on grass this weekend at our own invite. We're looking forward to moving on to the next one. "

This week the teams will be at home for what will serve as a 3A state championship preview race at Star Valley View Golf Course in Afton. The Wyoming High School Activities Association (WHSAA) made the decision last month to separate the three classes into three locations for the culminating race which means last year's all-class race in Afton will not be duplicated.
The local course features a difficult sustained climb in the second half of the race as well as what is called the "roller-coaster" as it uses the berms and hills of the Johnny Miller designed course to test the runners.
Races are expected to start at 10 a.m. in Afton. Spectators are welcome to attend as the event will follow the same 1,000 person capacity as all other outdoor events until at least September 15 as ordered by Governor Mark Gordon.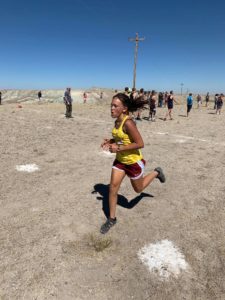 Lyman Invite (Varsity Girls)
Jacie Angell 22:41 (2nd)
Emily Strasburg 24:17 (5th)
Sara McKen 25:18 (18th)
Liberty Mavy 25:29 (23rd)
Eve Mavy 25:48 (26th)
Jill England 25:50
Kaia Barkdull 28:42
Gentry Hendricks 29:10
JV Girls
K. Opitz 29:03
A. Kallgren 30:09
J. Allred 31:08
J. Young 38:36
Team Score (Girls)
Lander 60
Evanston 67
Star Valley 68
Mountain View 85
Lyman 88
Green River 135
Rock Springs N/S

Lyman Invite (Varsity Boys)
Peter Visser 17:31 (1st)
Johnny Hunting 19:37 (9th)
Wyatt Dunn 21:09 (20th)
B. Hahn 21:27 (24th)
Noah Draney 21:41 (26th)
J. Strgar 22:48
H. Visser 22:56
J. Stahl 22:58
S. Schwan 24:39
W. Angell 25:41
JV Boys
B. Skinner 22:25
P. Buehler 23:13
C. Thygerson 23:45
A. Hyde 25:13
R. Helm 25:39
K. Allred 25:41
K. Hendricks 25:46
J. Heywood 27:48
C. Marshall 28:15
A. Clark 28:51
A. Aitken 30:22
R. Gibbons 37:15
Team Score (Boys)
Lander 48
Evanston 54
Star Valley 75
Lyman 80
Rock Springs 101
Mountain View 141
Green River N/S
Tagged:
Liberty Mavy
Lyman Invite
Peter Visser
Star Valley cross-country
Star Valley State Preview Meet
Ty Draney