Thayne Valley Market Makes Donation to Thayne Community Food Bank
◆ Nearly $1,000 will go towards helping area residents in need.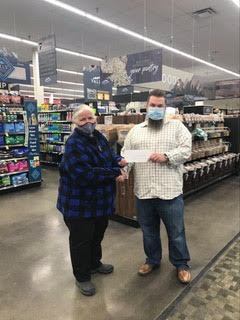 Thayne Valley Market, in partnership with Associated Foods' Feeding The Hunger Campaign, recently donated a check for just under $1,000 to the Thayne Community Food Bank.
Brandon Carlson, Store Director, told SVI that vendor partners like Kellogs and General Mills donated a portion of their sales over a two week period. Valley Market customers were also given the opportunity to donate at the register.
"Ever since the inception of Valley Market, the store owner, Kip Wilkes, has partnered with the food bank," said Carslon. "So when Associated Foods reached out to us and asked if we wanted to partner with them and with the food bank we absolutely took that opportunity."
The donation was happily received by Julie Buckley who chairs the Thayne Community Food Bank. Buckley said every penny of the donation will go towards helping local individuals and families in need. According to Buckley, every dollar donated is worth ten to fourteen times the amount in food, meaning the recent donation will purchase 10-14 thousand dollars worth of food.
"In other words that's a pretty big semi bringing in a whole bunch of food," said Buckley. "That is extended through our partnership with the National Feed America Food Bank program and then our regional program with Wyoming Food Bank of the Rockies."
Buckley also touched on the need for donations like these at local food banks, saying more and more people in need of help. "We continue to see some of our regular families that come on a regular basis, but we've certainly had an increase in numbers and have had new folks dropping in. We've seen an increase in seniors dropping in. So we are so thrilled that we can continue to keep our shelves full and meet the needs of the greater Thayne area."

Buckley said anyone in need can visit the Thayne Community Food Bank, which is located in the Thayne Community Center and open from 11:00 to 1:00 every other Friday. The food bank also hosts a veterans night every third Thursday of the month when veteran volunteers serve veteran patrons from 6:00-7:00 p.m.
"The need is still out there," Carlson concluded. "We ask the community to keep donating. If they can't donate here they can donate directly at the Thayne Community Center. We appreciate all the support from the community and our vendor partners."