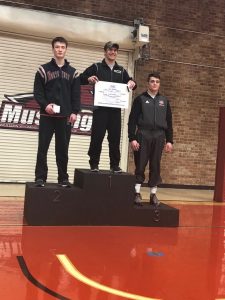 Former SVHS state champion wrestler, Jake Thompson, earned a wild card draw to the NJCAA Nationals in Council Bluffs, Iowa on Saturday.
Thompson is a member of the Western Wyoming Community College wrestling team which is ranked fourth in the nation.
Thompson earned the wild card draw after picking up three victories over ranked opponents this year at WWCC and placing third at the regional qualifier.
The head coach at WWCC is Art Castillo.
The NJCAA Nationals take place February 23-24 at the Mid-America Center in Council Bluffs. Jake is the son of Randy & Heather Thompson.
(Featured Photo: Jake and his brothers Ty and Joseph at the regional qualifier which was hosted by WWCC in Rock Springs)
Tagged:
Council Bluffs Iowa
Jake Thompson
NJCAA Nationals
Western Wyoming Community College