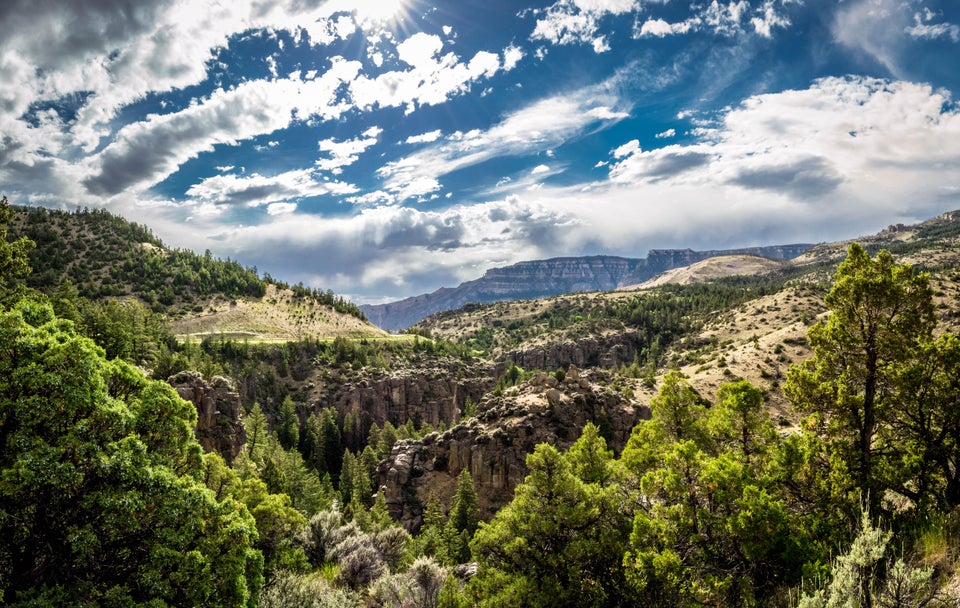 ———————-
By Stephen Dow
Buffalo Bulletin
Via- Wyoming News Exchange
BUFFALO — After months cooped up inside, travelers from across the country have made a beeline for the wide-open spaces of the Bighorn National Forest this spring.
"One thing we've noticed this year is that we had visitors earlier than usual and in places they don't always tend to go," said U.S. Forest Service public affairs officer Sara Evans Kirol. "That trend has kind of continued throughout the summer. We have heard from our rangers that they've run into people on back-country trails where they usually don't see anybody. We don't have any hard data, but the general feel and the anecdotal information point to more people in the forest overall. It definitely seems like people have a newfound interest in nature."
While the Forest Service doesn't have a tally of just how many more users are using the forest, nationally, recreation trade groups are reporting a huge uptick in consumer interest in camping. A recent survey by RV Industry Association found that 20% of U.S. residents surveyed have become more interested in RV travel than in flying, cruises and hotel or rental stays amid coronavirus concerns.
And RV sales are evidence of that newfound interest in camping. RV sales in some areas have increased by as much as170% over the same time period last year, according to the RV Industry Association.
District Ranger Traci Weaver said the forest has seen especially high traffic in areas such as Elgin Park, Circle Park and Ten Sleep Canyon. And while Weaver loves sharing all that the Bighorns have to offer visitors, increased traffic also brings increased risk for misuse of the forest's natural resources.
"Folks who are new don't necessarily understand the rules," Weaver said. "And not knowing the rules can lead to a lot of resource damage."

Indeed, national forest law enforcement have seen a notable increase in basic infractions – from litter to unattended campfires – in recent weeks, Evans Kirol said.
"Our officers have noticed that many of their encounters are with first-time users – people who are not necessarily familiar with the ethics and the rules and regulations," Evans Kirol said.
Most concerning has been the number of unattended campfires, according to Weaver. Over the weekend of June 20-21, rangers found 10 unattended campfires in the forest – a major hazard as fire season gets into full force in the coming weeks.
"We really need people to pay attention and not leave their campfires until they are cold to the touch," Weaver said. "I don't think anybody wants to be held responsible for starting a wildfire."
For similar reasons, fireworks are not permitted in the national forest, Weaver said.
Weaver is also concerned about visitors going off road with motorized vehicles, which could lead to irreparable damage to resources.
"If you see some tracks off a road, don't follow them," Weaver said. "That just does irreparable resource damage. Every time you insist on going down that path, you make it look more and more like a road, and it will see more usage, which just contributes to the cycle. That kind of behavior just causes a lot of resource damage in the long run."
It's too early to tell at this point if users will follow the forest's 14-day camping restrictions, Weaver said, but she's hopeful that visitors will respect that regulation.
Whether you're a newcomer or a longtime user, it behooves you to refamiliarize yourself with forest rules and regulations and best practices like "Leave No Trace" and "Tread Lightly" before venturing up the mountain, Evans Kirol said. The Forest Service's website, fs.usda.gov, is a good place to start, she said.
"It is important to do a little homework before you come," Evans Kirol said. "What is the ethic? What are the regulations? Knowing the answers to those questions and following those rules goes a long way toward making sure that the forest is a place people want to keep visiting."
Tagged:
Bighorn National Forest
Circle Park
District Ranger Traci Weaver
Elgin Park
Ten Sleep Canyon