Use of Taser at The Wort leads to complaint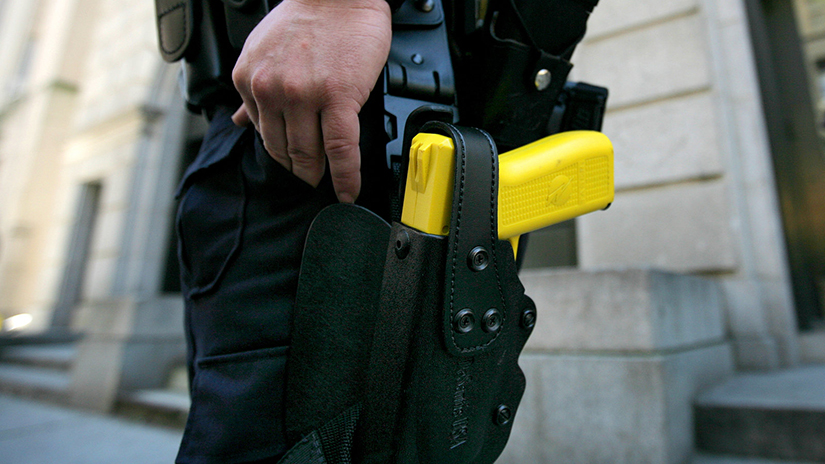 By Kate Ready
Jackson Hole News&Guide
Via- Wyoming News Exchange
JACKSON — The Jackson Police Department has completed an investigation into a complaint it received Jan. 4 from a witness who saw someone being shot with an electroshock weapon at The Wort Hotel on the evening of Dec. 13.
The results of that investigation have not been made public.
Officers shot Jackson resident Craig Brooks, 25, with a Taser and charged him with criminal trespass and interference with peace officers in Teton County Circuit Court after the incident. Police have cited Brooks' criminal charges not yet adjudicated as a reason not to release the use of force investigation or bodycam footage.
Brooks' public defender, Elisabeth Trefonas, viewed the bodycam footage and provided a written statement to the News&Guide. She said she felt the affidavit filed by Patrol Sgt. Jeromie Traphagan was an accurate representation of what happened that night.
"It is very unusual for law enforcement to use a Taser in this county," Trefonas said. "But the use of it does not appear egregious or excessive. Just very unusual."
Police Chief Michelle Weber said the department received Tasers in 2008, and since 2012 they had been deployed on five occasions.
The police department's narrative of that night, laid out in a probable cause affidavit in Teton County Circuit Court, states that at 10:14 p.m. Dec. 13, Traphagan was conducting foot patrol around the Town Square when he received a call of a disturbance at the Silver Dollar Bar on 50 S. Glenwood St.
Traphagan arrived on scene and met an assistant manager who reported the disturbance and pointed to Brooks, 25, as the person causing it.
"Brooks did not have an ID to verify he was old enough to be in the bar and therefore was told to leave," Traphagan's affidavit states. "[The manager] said he kicked Brooks out of the bar three times, but he continued to re-enter the bar with the assistance of his friends."
Traphagan explained to Brooks he had been told to leave by the manager. Traphagan described Brooks' demeanor in the affidavit as "confrontational and non-compliant."
At 10:17 p.m., Officer Jason Figueroa arrived while Traphagan was trying to arrest Brooks. Each officer grabbed one of Brooks' arms, explaining he was under arrest for trespassing.
"Once we gained physical contact with Brooks, he immediately began pulling his arms away from us while saying, 'Don't touch me,'" the affidavit states. Brooks continued to "resist arrest and orders to get his hands behind his back.
"At one point we held Brooks against a wall to limit his mobility and I attempted to get handcuffs on his left wrist," Traphagan said in his affidavit. "Brooks continued to push away from the wall and pull his arms to get away from us. During his active resistance, Brooks managed to get off the wall and started to gain control, so Figueroa and I ground stabilized Brooks."
Once Brooks was on the ground, Traphagan tried to handcuff him, but Brooks managed to stand up. He was "ground stabilized" again but would not comply with orders to get on his stomach for handcuffing.
At that point, Traphagan announced twice that Brooks was going to be shot with a Taser and to "get on his belly."
"I activated the Taser to Brooks' abdomen nearest his right hip," Traphagan wrote. "The arrest was affected shortly after another officer arrived to assist."
Due to Brooks' pending case, the town of Jackson denied a public records request sent by the News&Guide to view the police bodycam footage of the incident.
The denial was signed by a town paralegal, Mary Mittler, who cited Wyoming statute 16-4-203(b)(i), "on the ground that disclosure to the applicant would be contrary to the public interest."
The custodian may deny right of inspection for "records of investigations conducted by, or of intelligence information or security procedures of, any sheriff, county attorney, city attorney, the attorney general, the state auditor, police department or any investigatory files compiled for any other law enforcement or prosecution purposes," the statute says.
State statute does allow release of bodycam footage in the event of a public complaint against law enforcement.
"The custodian may allow the right of inspection … in response to a complaint against a law enforcement personnel and the custodian of the information determines inspection is not contrary to the public interest," the law reads.
The recording of the 911 emergency call also was denied.
Mittler cited Wyoming statute 16-4-203(d)(x), which states 911 emergency calls should be provided only to "law enforcement personnel or public agencies for the purpose of conducting official business, to the person in interest, or pursuant to a court order."
An eyewitness to the Taser shooting that evening, who wished to remain anonymous to avoid potential retaliation, submitted a complaint to Roxanne DeVries Robinson, the assistant town manager, in an email Jan. 4.
The man stated in the complaint he felt the situation was not handled appropriately.
The man's complaint, which he provided to the News&Guide, said that as he was exiting the Silver Dollar Bar inside The Wort Hotel around 10:15 p.m. he witnessed "multiple [JPD] officers display what I thought to be excessive force on a young man who was Black in the hallway near the restrooms.
"I filmed the incident, and the only reason I started to film was because the two officers handling the situation slammed the young man against the wall so violently that I was worried about what was going to happen next," the complaint said.
According to the complaint, the two officers then forced the man to the ground and eventually shocked him before taking him to jail.
"As I was watching all this unfold I was told multiple times by officers that I was not allowed to be there and I was not allowed to film what was happening," the complaint said. "When I followed well behind the officers as they took the man outside, one officer turned and walked briskly toward me, and yelled at me that I better not go near his partners and then proceeded to brush his left shoulder into me with force."
Brooks declined to be interviewed, as did the eyewitness, who declined to show his video to the News&Guide. Brooks' public defender, Trefonas, showed the eyewitness' footage to a News&Guide reporter on Feb. 14.
The video, 2 minutes and 30 seconds long, showed two officers pinning Brooks to the wall, while he cursed, saying things like "Get the f— off of me" and struggled, resisting putting his hands behind his back.
He did not attempt to hit or kick any of the officers. He was unarmed and did not attempt to flee.
At one point, after officers attempted to leg sweep Brooks, a tactic to take the opponent's legs out from under him, causing him to fall to the ground, Brooks landed on top of one of the officers during the struggle.
At least 10 bystanders were watching in the hallway close to the jostling when the Taser was deployed.
Three officers led Brooks outside, where a fire truck and ambulance waited. Brooks is calm in the video. Ultimately found to be uninjured, he was taken to jail.
Figueroa is seen on the video telling the eyewitness who was still filming, "Don't go near my partners." Figueroa goes off screen, but the man filming is heard telling Figueroa, "You can't chest bump me like that."
Weber said in a sit-down interview with the News&Guide that the investigation into the man's complaint is complete, and once Brooks' case is adjudicated in Circuit Court, the News&Guide might be able to view the "very thick files" associated with both his complaint and the use of force review, pending approval from town legal staff.
The Jackson Police Department's 22-page Force Response policy is available online.
The policy dictates that all uses of force be documented and investigated to ensure compliance with policy and identify training needs.
"The decision to use force requires careful attention to the facts and circumstances of each particular case, including the severity of the crime at issue, whether the suspect poses an immediate threat to the safety of the officer or others, and whether he is actively resisting arrest or attempting to evade arrest by flight," the policy states.
The town's policy about releasing bodycam footage is not outlined anywhere. There is no written policy, confirmed Susan Scarlata, community engagement specialist for the town.
Scarlata said in an email that the town relies on state statute 16-4-203, which outlines the rights of inspection and grounds for denial. Each request is reviewed by the town attorney's office on a case-by-case basis.
State statute 16-4-302 states that the custodian may allow the right of inspection to the defendant, if the information involves an "incident of deadly force or serious bodily injury as defined in W.S. 6-1-104(a)(x); in response to a complaint against a law enforcement personnel and the custodian of the information determines inspection is not contrary to the public interest; and in the interest of public safety."
"As shared before, the JPD also always keeps in mind that rendering an opinion or statement about details of an open case can provide information for potential pre-trial publicity," Scarlata said. "When a defendant has a current case, public statements by law enforcement could jeopardize their Sixth Amendment right to a trial by an impartial jury."
Brooks pleaded not guilty to criminal trespass and interference with a peace officer Dec. 15. He is set to appear in court April 10, with a trial date set for April 26.
Trefonas said Brooks does not have any criminal history and has lived in Jackson for two years.
Jim Waldrop, general manager of The Wort, provided an emailed statement to the News&Guide about the incident.
"While I cannot comment on an ongoing investigation I am confident that [JPD] and the Silver Dollar Bar executed in a manner consistent with our shared goal of diffusing difficult and complex situations in a safe and professional manner," Waldrop wrote. "The safety and care of our patrons and guests remain our top priority and we value our partnership with [JPD] to help us achieve this commitment."
Let us know what you think!
Tagged:
Craig Brooks
Elisabeth Trefonas
Jackson Police Department
Patrol Sgt. Jerome Traphagan
Teton County Circuit Court
The Wort Hotel