The back half of 4A West Conference play begins as Star Valley hosts the Green River Wolves.
The varsity boys match will be played first with  a start of 4 p.m. between the Braves (1-5)(1-5) and the Wolves (1-7)(0-6).
Star Valley won the previous meeting in Sweetwater County 4-0.
The varsity girls match will be played with a 6 p.m. start time between the Lady Braves (2-4-2)(2-3-1) and the Wolves (2-6)(0-6).
Star Valley won the previous meeting between the two squads 2-0.
The SVHS Soccer teams will be hosting Rock Springs on Saturday with matches at 11 a.m. and 1 p.m. SVI Media will be broadcasting the varsity matches here at svinews.com.
Lady Braves upset Jackson 1-0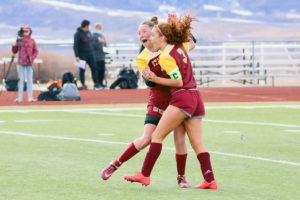 It was a big upset in girls soccer last Thursday as Star Valley knocked off Jackson 1-0 in Afton.
Emma Thomson scored the game winner on a free kick in the 77th minute and Addie Butler was stellar in goal with 14 saves. The Lady Braves improve to 2-3-1 while the Lady Broncs fell to 5-2.
"The main thing I wanna say is I'm happy to finally have the evidence to show these girls that what I have seen and believed in them was not wrong," stated first-year Head Coach Jessica Bagley. "They played a great game and worked hard! They applied techniques taught in practice and many believed in themselves. Gentry Hendriks came out with confidence and played the way I have been waiting to see."
Much of the victory was also due to Butler's heroics between the pipes.
"I've had many compliments to our keeper Addie Butler," Bagley continued. "She has been so worried about what coach wants her to do, come out, stay in etc. And I have been talking her up to apply what she has learned in basketball. To trust her instincts and the decision is hers. And to make the decision and stick with it. I have confidence in her abilities to decide and she has been crushing it!"
Bagley owed the win to a great week of intense practices.
"This week our games were filled with a fire to win and I'm grateful for the hard work of our players."
After a tie in Evanston and a win over the Lady Broncs, this week the Lady Braves (2-3-1) will try and keep the momentum rolling as they host both Green River and Rock Springs.
Star Valley defeated the Wolves 2-0 but fell to the Tigers 10-1 earlier in the season.
"We're down one of our key players with Sadie Cazier who's been playing all season with some health issues and it's come to the point where she isn't able to play for us anymore," Bagley said. "Our biggest worry is Rock Springs [this week] so we're going to try and get a lot of speed on our back line. We may have some newer players back there this week and maybe work on those things in our match against Green River. We'll see how we can play and execute some of our skills against them. "
Bagley also wants to continue on those things that worked against the Lady Broncs.
"We want to continue to focus on containing," she added. "Jackson had the ball a lot but they weren't able to score. We want to continue that momentum. We're looking to try and score quickly because when we were at Rock Springs last time we probably had ten offsides calls and we weren't able to capitalize on those."

◆ Braves fall to #1 Jackson to open home slate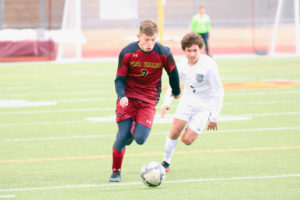 Whether it was a coincidence or the Jackson Broncs were extra focused due to seeing the Lady Broncs upset just minutes before, the outcome was the same.
The Teton County club is undefeated for a reason.
The Broncs scored early and often as they routed the Braves 6-0 on the Star Valley field this past Thursday.
"A lot of people saw what happens on Thursday," laughed Head Coach Trevor Spencer, nodding to the SVI Media broadcast. "They are the number one team in the state and the reasons for that were on display. They play a different brand of soccer than we do and we are striving to do that. They do a lot of things well and we didn't hopefully we can take some lessons forward and a little better."
The Broncs had too many weapons on offense and did not allow a shot on goal in the second half as they out-shot the Braves 28-3 for the match.
James Dewell scored first on a penalty kick in just the fourth minute after a Star Valley hand ball in the box to start the scoring. Freshman Teddy Opler scored the first of his three goals in the 10th minute as he knifed through the Star Valley defense to put Jackson up 2-0.
Charlie Hoelscher scored in the 19th minute on a free kick just outside the box and the 3-0 score carried into halftime.
Opler scored two more times in the 53rd and the 71st to round out his hat trick. Less than 60 seconds later, Daniel Huerta scored in the 72nd minute to put the score at 6-0.

Star Valley had two players in goal as Ethan Nelson stopped two shots in the first half and Brayden Andrews had five saves in the second half.
The Broncs were also whistled for three yellow cards in the match as Rafael Silver, Opler and Hoelscher each notched a warning.
Starting keeper, Hadley Huta left the game early for Jackson after a collision and was replaced by Isaac Soloria who finished with one save.
The Braves played the Evanston Red Devils on Tuesday in a re-scheduled match from last week. The Devils picked up a 1-0 victory.
"Evanston started a competitive club a while ago so they are reaping the fruit of that endeavor," Coach Spencer said of the Devils. "Hopefully we can iron out some things and look better than we did on Thursday. "
It's a busy week for the Braves as they will return home and face off against Green River on Thursday and then the Rock Springs Tigers on Saturday. Varsity matches are played on the artificial turf with junior varsity matches played on the grass field behind the main bleachers.
"Green River and Rock Springs are both matches that we feel we can be competitive in," Spencer continued. "We beat Green River once and the boys felt like they let that Rock Springs game get away from them so we feel like we should have a shot."
Spencer also mentioned as a staff they are trying to lift the morale of the team after a series of losses and postponements. "They understandably are a little down right now but we are trying to bring spirits back up and we've worked hard on a couple of different aspects and hopefully we can see that this week."
Thursday Vs Green River
4 p.m. Boys Varsity
Girls JV
6 p.m. Girls Varsity
Boys JV
Saturday Vs Rock Springs
11 a.m. Girls Varsity
Boys Junior Varsity
1 p.m. Girls Junior Varsity
Boys Varsity
Let us know what you think!
Tagged:
Green River soccer
Rock Springs Soccer
Star Valley soccer