Vigil earns prestigious FFA American Degree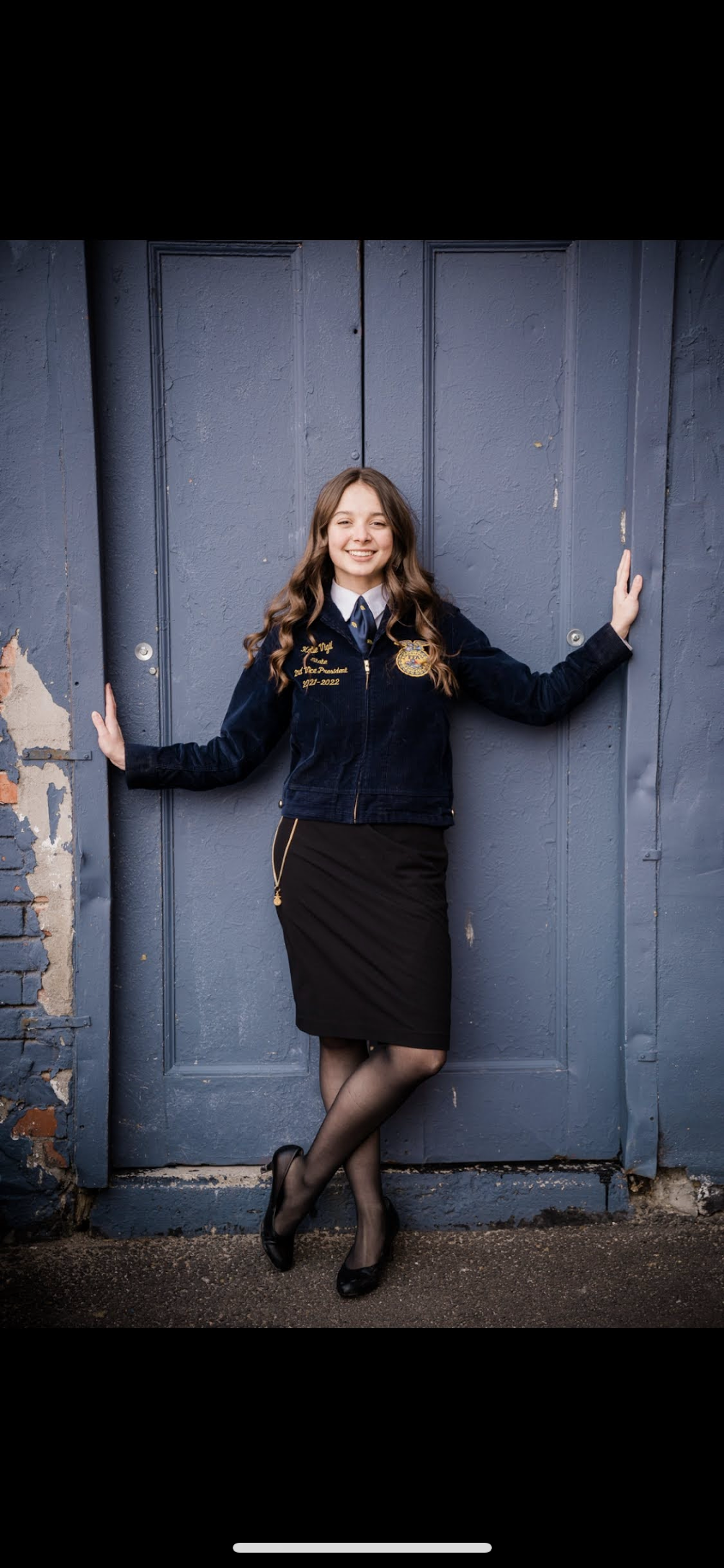 ◆ Her greatest goal has been to inspire others.
Class of 2021 Star Valley High School graduate, Katie Vigil, earned her FFA American Degree during the 2022 National FFA Convention last fall. Only one percent of all FFA members earn the prestigious award.
Vigil is a student at the University of Wyoming studying Social Studies Education, and considering minoring in Agriculture Education. She hopes to teach at a high school level and plans to earn a masters degree, which would give her the credentials to teach courses that offer concurrent college enrollment to high school students.
Before earning her American Degree, Vigil spent a year serving as the Second Vice President to the 2021-2022 Wyoming State FFA Officer Team and began her studies at UW studying Agriculture and Environmental Law.
The year she devoted to her FFA office changed her educational path entirely.
"I always thought that I wouldn't enjoy working with kids, but as we traveled to FFA chapters as a state officer and did workshops, I loved it," smiled Vigil in an interview with SVI News. "It was so much fun!"
As she entered her experience as a state officer, her greatest goal for that year was to be an inspiration to the FFA members that she worked with. "One of the officers before me really influenced me," said Vigil. "When you interview as a candidate, they ask you why you want to be a state officer. I said I wanted to positively impact the lives of others. Two people who applied to be officers after I did, said that I was a big inspiration and a reason why they were running. I had helped them. I realized that I had accomplished my goal to inspire others."
To earn her American Degree, Vigil was required to complete 50 hours of community service as well as meet project requirements on her Supervised Agricultural Experience (SAE).
"Guidelines for me to earn my degree included earning $10,000 from my Performance Goat business and reinvesting $7,500," explained Vigil. "I showed goats and had a breeding business with performance goats. I had to be involved in agriculture for 36 consecutive months, and I needed to be doing something in the FFA classroom. You have to get your American Degree after your first year in college or your time in state office."
With an investment of over 200 labor hours last year alone, most of Vigil's business income came from selling animals that her small goat herd had produced. "My mom was out of town with family during the time that all of the goats were kidding, and I was up at all hours of the night helping with births," said Vigil. "I had to pull a couple of the kids because they got stuck and so I was doing a lot of it on my own. It's pretty cool to see the time that I put in. I started this business two years before I went into FFA, and it's kind of cool to grow from needing my mom's help with everything at age 12 to being able to do it on my own at age 18. I actually produced and sold approximately 10 doe goats and over 60 kids in the years that I ran the business."
Vigil's customers mostly showed their new goats at the county fair. "When I came to Lincoln County from New Mexico, there were not many goats being shown at the county fair. I started and helped a lot of people begin their breeding and show goat projects, and I actually sold a lot of them to Utah and Idaho breeders so that they could add to their herd and bloodline."
With an income that reached between $12,000 and $13,000 from the sale of her goats, Vigil was able to pay her expenses during the year she served as an FFA State Officer as she wasn't able to work. Officers are encouraged to attend college, and with their officer duties, it's a challenge to hold down a job as well. That income from her business covered housing, paid some school expenses and got her into her car.
Earning an FFA American Degree was a proud moment for Vigil. "All of my older siblings have done FFA and reached varying levels of success there. My older sister got her American Degree, and so being able to do a lot of the same things that I watched them do when I was a little kid, and accomplish that as I grew up, was really cool. It was kind of sentimental."
Her mother, Becky and her father, Francisco, played important roles in her success. Breeding goats and learning to speak publicly with confidence and skill were things Vigil learned from her sister, Beth, who shared valuable experience with both of those skills.
Vigil encourages FFA members to reach for the stars with their projects and dreams. "Find something that you really are passionate about and want to do while you are in FFA. Never let anything hold you back. The only thing that is going to hold you back is your willingness and desire. If I ever put my mind to something, I accomplished it, whether it was achieving a state office or making it to national competition for an event, or even earning an American Degree. I have done a lot of good things, but what I have done in FFA inspired me to grow and achieve the most."
Let us know what you think!
Tagged:
FFA American Degree
Katie Vigil
Lincoln County Fair
National FFA Convention
Supervised Agricultural Experience
University of Wyoming