Virtual registration starts Monday for SV half marathon, other races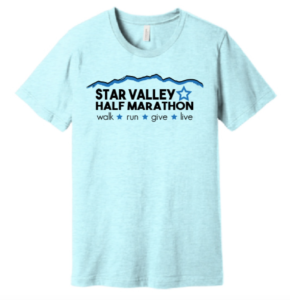 Family. That's what it's all about. Whether it's your husband, child, grandchild, niece or nephew. Whether they're here with you cheering from the sidelines – or you're running to remember them.
That's what the Star Valley Half Marathon is all about, Denice Kunz told SVI Media for the last story to remind racers to sign up for the 2020 virtual events – this year including a 5K, 10K and a full marathon.
"I can visualize quite a few families when they're there, when you see the whole family waiting," Kunz said during a telephone interview as she recalled nearly a decade memories since the 2011 inaugural half marathon.
This year she hopes it's no different – that families will go out and cheer you on as you run one of the four virtual events sponsored by Ragnar Nation, well-known for it's series of relay runs throughout the world including the Wasatch Back in Utah. For the 2020 virtual races, runners can sign up on July 6 for the Star Valley Half Marathon, as well as a 5K, 10K and a full marathon.
Go to www.runragnar.com to sign up for the July 11 event, or do it a couple days early, Kunz said. By the evening of July 11, you go back on the Ragnar site and put in your name and distance. It is honor-based, and because of costs, there won't be a medal this year.

But being virtual races, 2020 registration is free. If you want to purchase a T-shirt, the Kunz family is preparing 2020 shirts. "We do have a shirt," Kunz said. "It's going to be a first-come, first-served until they're gone."
The T-shirts will be unisex, with sizes from extra small to double extra large. The cost for a shirt at print time on Tuesday, June 30, was $20, including shipping. You may order a shirt at the same time you register at www.runragnar.com. A screen will direct you to www.starvalleyhalfmarathon.com for the purchase. Or you may order on the Star Valley Half Marathon Facebook page. The Kunz family said any proceeds will be donated locally.
Kunz said the shirts will not be ready in time for the race, but will be shipped soon after.
It's been 11 years since Kunz's son, Jeremy, was killed as the 2009 Las Vegas Ragnar. Traditionally, each year, the family puts up pictures of Jeremy at each mile marker to urge on runners – and walkers. Each picture is of Jeremy in the outdoors with the people he most loved – his family.
That's where Denice Kunz wants to "see" you this year. Go out in the sun and run or walk with your family. Push the strollers she's seen with children or special needs individuals who have all earned medals together in past years.
Last year, Denice ran the race and her husband, Bart, announced her at the finish line. Her grandchildren ran out to finish with her.
For her, there was one way to describe it:  "Those moments of family stuff are really cool."