Volleyball team bounces back before challenging road trip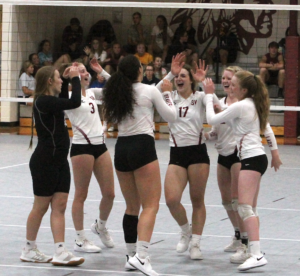 After seeing a 19-match winning streak snapped in Casper during tournament play, the Lady Braves started a new streak with a pair of wins over 4A Southwest foes last week. Star Valley picked up sweeps in varsity play over Jackson on October 1 and then brooming Green River on Saturday, October 5.
"It's always hard to play a game the morning after the Homecoming dance but the girls were focused and I thought they took care of business pretty well," said head coach Blake Peterson. "I think Green River is probably in a rebuilding mode but the girls didn't play down to their level which is good of them."
The Lady Braves won the match 25-16, 25-14, 25-14.
The wins should prove vital for the Lady Braves who now travel for back-to-back tests in the 4A Northwest against the Kelly Walsh Trojans and the Rock Springs Tigers. According to Peterson, the squad is looking forward to seeing the Kelly Walsh team again so soon after suffering the program's first in-state loss this season and has been trying to improve the things that cost them in the last match up.
CLICK HERE FOR THIS WEEK'S VOLLEYBALL RANKINGS FROM WYOPREPS.
"There are two main things this week with our film study," he said. "A more consistent block; we didn't get to where we needed to be last time. And the second thing is our ball control. We ended up passing the ball behind the 10-foot line and [that changes] the angle so we can have a better pass and a better set and a better swing. I think we've made some progress this week so I'm anxious to see how it shows up against Kelly Walsh."

Peterson was also wary of overlooking a good Rock Springs team which is 20-5 on the season.
"They've beaten Riverton three times already," he said. "I've seen a little bit of video and they compete like crazy and don't have a lot of holes. By no means can we overlook them. If we overlook them we'll be coming home with a loss."
It should prove to be a difficult road trip not just in the level of play, but also the distance covered. In addition, a Fall storm is expected to drop as much as six inches of snow in the Casper area this weekend. Peterson emphasized the need for mental toughness.
"I'm never excited for the five or six hours," he said. "But it's a mental game at that point and it's our job to try and get them ready to play. We need to control what we can control."
• Shout Outs
Peterson wanted to give special praise to a few players for this past week's performances.
"I want to give a shout out to Kaylee Hale," he said. "As a setter they get a lot of critique and she's taken a lot of things we've said as coaches and put them to work and we appreciate that. "Also, McKenna Brog was named the Wyoming Player of the Week by MaxPreps so that's a good thing for her. "
Won vs Jackson
(25-9, 25-10, 25-14)
Won vs Green River
(25-16, 25-14, 25-14)
Tagged:
Jackson Lady Broncs
Kelly Walsh Trojans
Lady Braves volleyball
Rock Springs Tigers