Wildlife managers look to slash Grand Teton elk hunt by more than 90%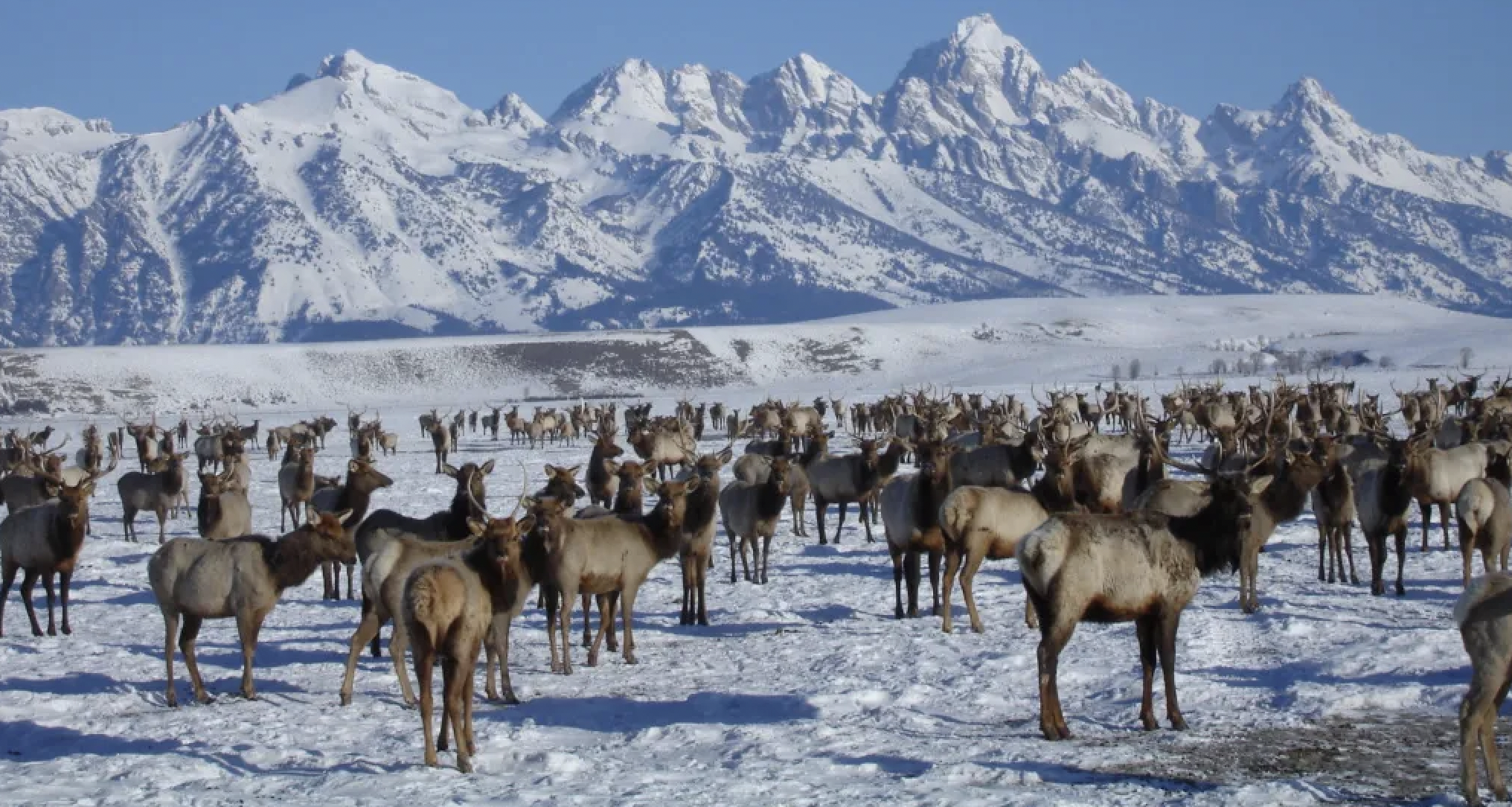 By Billy Arnold
Jackson Hole News&Guide
Via- Wyoming News Exchange
JACKSON — This fall, wildlife managers are planning to offer 90% fewer tags to hunt elk in Grand Teton National Park.
In 2022, they offered 475 tags. This year, they're proposing to offer only 40.
The 2023 season could also be cut two weeks short.
The reason: The Jackson Elk Herd, which state and federal wildlife officials try to maintain at a population of roughly 11,000 animals, is about 1,000 animals below that total based on the winter count.
Last fall, when early season snow pushed elk into the lower reaches of the Jackson Hole valley, hunters were able to take down a huge number of elk, particularly cows.
That substantial cow harvest will limit the herd's ability to reproduce.
Wildlife biologists such as Aly Courtemanch think substantially scaling back the harvest this fall could give those elk a break, and a chance to bring population levels closer to the state's objective.
"Since overall numbers are down and cows especially are down, we're projecting that we just don't need to remove very many elk through that program to keep the herd at objective," said Courtemanch, the Wyoming Game and Fish Department's Jackson-area wildlife biologist.
The plan, however, is not yet finalized.
The Wyoming Game and Fish Department is in the middle of season setting, the annual springtime ritual where it reviews data from fall hunts and winter wildlife surveys and figures out how many tags to offer the following season. Though the so-called "elk reduction program" occurs solely within Grand Teton park boundaries, with the exception of a few inholdings, quota setting happens via the state process.
Hunters and other members of the public have until March 29 to submit comments to the Wyoming Game and Fish Commission, which is set to review season proposals at its April 17 and 18 meeting in Casper.
A meeting about the Wyoming Range Mule Deer Herd was held in Jackson March 16, and two more were scheduled for Tuesday and Wednesday of this week.
Season proposals and comment forms can be found online at TinyURL.com/gf23huntcomments.
Outside Grand Teton National Park, changes that Game and Fish are proposing to tags for animals in the Jackson Elk Herd are relatively minor: Adjusting season lengths and increasing the number of tags offered on the west of the National Elk Refuge (35 more) and in the Gros Ventre Wilderness to the east (an additional 35).
Game and Fish is also proposing changes to hunting seasons for other animals.
The state department is eyeing reducing bison hunt numbers in Jackson Hole by 100, since that herd is stabilizing near the state's objective of 500 animals. Just west of Grand Teton, wildlife managers are proposing adding a bighorn sheep tag and tweaking seasons to encourage hunters to hunt on the park's northern boundary, where they've typically harvested fewer sheep.
In the Gros Ventre Range east of Jackson, the state is also proposing to increase the number of tags it's offering for bighorn ewes and lambs in a separate herd, hoping to bring population numbers down, better animals' body condition and prevent a pneumonia die-off.
Though at times controversial — some critics deride the so-called "elk reduction program" as a "road hunt" inappropriate for a national park — the hunt is authorized in 1950 legislation that created Grand Teton.
That legislation gives "hunters licensed by the state of Wyoming and deputized as rangers by the Secretary of the Interior" the authority to hunt elk if necessary for "proper management and protection of the elk."
The 475 tags offered last year, as well as the 40 proposed for this fall, are a far cry from the numbers offered decades ago. In the 1990s, more than 3,000 permits were authorized for the hunt.
The park elk hunt typically accounts for 25% to 30% of the cow-calf harvest in the Jackson Elk Herd and specifically targets females and young to move population numbers up and down.
In total, some 1,300 elk were harvested from the Jackson Elk Herd last season, including 134 in the park.
Other years have seen similar herd-wide numbers. But what differentiated 2022 was the number of cows gunned down: 634 in total. That mortality wasn't confined to Grand Teton.
Over 300 of those females were hunted on the National Elk Refuge, and another 107 directly east.
If the park and Game and Fish agree to scale back the hunt — the state and federal agencies agree on the season in park boundaries annually — it's not clear how long it will take the Jackson Elk Herd to rebound.
Courtemanch said that will depend on weather because elk populations are dependent on how successful fall hunts are. If there's another fall like this past one, and elk are pushed into the valley's lower elevations, Courtemanch said it may take a few years. But given that the cow-calf ratio in the herd is indicating that the population is stable, a few mild falls that keep animals up high could help the herd rebound quickly.
Let us know what you think!
Tagged:
Aly Courtemanch
Grand Teton National Park
Jackson Elk Herd
Wyoming elk hunt
Wyoming Game and Fish