Willy Wonka Jr opens this weekend at the Ford
Four performances run this weekend and next week.
60 local youth are participating in the Star Valley Arts Council second annual Children's Summer Theatre Camp production of Willy Wonka Jr. where audiences can enjoy a delightful adaptation of Roald Dahl's children's fantasy novel that follows young Charlie's delicious adventures in the Wonka Chocolate Factory.
Featuring all the enchanting musical favorites from the 1971 feature film, "Charlie and the Chocolate Factory," the show is a true children's Adventureland, filled with sweet nuggets of wisdom and tangy lessons about integrity and consideration for the needs and hopes of others.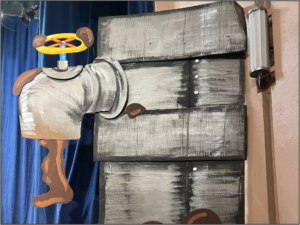 This year's turnout for the Children's Summer Theatre Camp auditions was a wonderful surprise for directors.  "The turnout for our May 31 auditions blew away our expectations," shared Tim Hale, Star Valley Arts Council Executive Director, in an interview with SVI Media. "We had around 30 kids for our debut season last year, which we hoped to match. When 59 kids showed up for auditions, we couldn't believe it! Needless to say, our wonderful directors have been hard at work filling roles, creating new roles, and gearing up for a lot of Oompa Loompas!"
Directors Teresa Bosen and Tina Crowther bring years of theater experience to the camp and have worked hard to create a wonderful experience for the children involved.
"Willy Wonka JR is a really fun show, with some great musical numbers and unique elements," shared Crowther.  "We're using bubbles and black lights and a whole lot of imagination!  A lot of kids participated in the theatre camp, so we have a really big group this year. It's been a lot of fun watching some of the older kids take on a leadership role, helping out a lot and still gaining confidence in their own abilities also."
With only a few short weeks to put the show together, the directors and cast have been hard at work.  "I'm always amazed at how quickly these kids can learn the songs, memorize lines and be ready to perform," exclaimed Crowther.  "I hope everybody will come watch the play and enjoy a really fun experience!"
With contributions from the Ford Theatre staff and local artist Val Chadwick Bagley on set, the camp is an organized community effort.  "The Children's Summer Theatre Camp is truly a community program," said Hale. "We have incredible business sponsors including the Afton Tourism Board and others, the Ford Theatre has been very accommodating in making the theatre available to us, and we have over 20 families making the effort to have nearly 60 kids perform in our Willy Wonka JR production."
Performances are scheduled for Friday, June 23 at 6 p.m. with two performances Saturday, June 24 at 2 and 6 p.m.  Closing night is Monday, June 26 at 6 p.m.  For tickets, visit SaltRiverArts.com.
Let us know what you think!
Tagged:
Children's Summer Theatre Camp
Salt River Arts Council
Star Valley Arts Council
Teresa Bosen
Tim Hale
Tina Crowther
Willy Wonka Jr