Work continues on the Wyoming Range Mule Deer Project
◆ Biologists anticipate deer will weather winter well.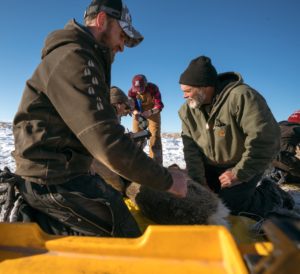 Wildlife managers remain actively involved in the Wyoming Range Mule Deer Project. Now in its sixth year, the project is designed to monitor and track one of the largest mule deer herds in the state.
In early December, wildlife managers worked to capture mule deer on the winter ranges near LaBarge, Evanston and Cokeville. The capture effort was made to help monitor how healthy the mule deer population is entering the 2020 winter.
"Each fall a substantial percentage of the Greys River and Salt River mule deer populations migrate to these areas to spend the winter," said local Game and Fish Wildlife Biologist Gary Fralick.
"We have reached a critical juncture in this ongoing research in collaboration with the University of Wyoming, and that is our effort to monitor the health and the recovery of this mule deer population," Fralick added.
According to Fralick, mule deer health is determined based on the amount of stored body fat. The mule deer population in Western Wyoming was devastated in the winters of 2017 and 2019, he said.
"Based on our body fat measurements [this month], mule deer does are entering the winter in good shape, even those does who raised one or more fawns still had a fairly high percentage of body fat that will help sustain them through the remainder of the winter," he said. "Most of the does weighed between 150 and 180 pounds, with several tipping the scales at over 200 pounds."

Fralick believes that "based on current snow conditions on the large winter range complexes, that there is still a reasonable possibility that deer will come through the winter in good shape.
"There are still three months of winter remaining," he said. "Throughout this period, the Game and Fish Department will remain vigilant and monitor the condition and distribution of the Wyoming Range mule deer herd."
Let us know what you think!
Tagged:
Gary Fralick
Wyoming Game & Fish Department
Wyoming Wildlife Biologist