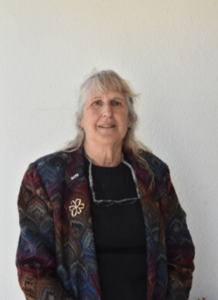 WORLAND (WNE) — Worland Democrat Terry Livingston announced her bid for the state's highest position on Monday.
Livingston told the Northern Wyoming News that she would be filing for governor on the Democratic ticket prior to Friday's filing deadline.
Livingston ran on the Democratic ticket two years ago for State Senate District 20 seat, falling to Republican candidate Ed Cooper.
She said she ran two years ago for one of the same reasons she is running this year: to provide people with a choice and encourage people to vote, especially young voters.
Livingston wants to be a champion for women's rights and health care —- especially women's health care.  She would also like to expand Medicaid and improve mental health care and suicide prevention in Wyoming.

Livingston was born and raised in California. As the daughter of a military man and during her own nine years in the Air Force, she traveled extensively, during which she learned about the health care system in other countries, she said.
She moved to Lander in 1992 and later to Cheyenne, where she began working for the Bureau of Land Management.  She moved to Worland in 2011 and retired from the BLM as support service supervisor in 2016.
Livingston has no experience in an elected office, but she has been active in the community, serving on the Bighorn Basin Outdoor Recreation Collaborative, the Bighorn River Blueway Trail Committee, the Washakie County Visitors Council, the Washakie County Public Library board, and the Crisis Prevention and Response Center board. She was appointed by Gov. Mark Gordon to the Wyoming State School Facilities Commission.
Let us know what you think!
Tagged:
health care
Medicaid Expansion
Northern Wyoming News
suicide prevention
Terry Livingston
women's rights
Wyoming Governor