Wrestlers face Wolves this Friday night in Sweetwater County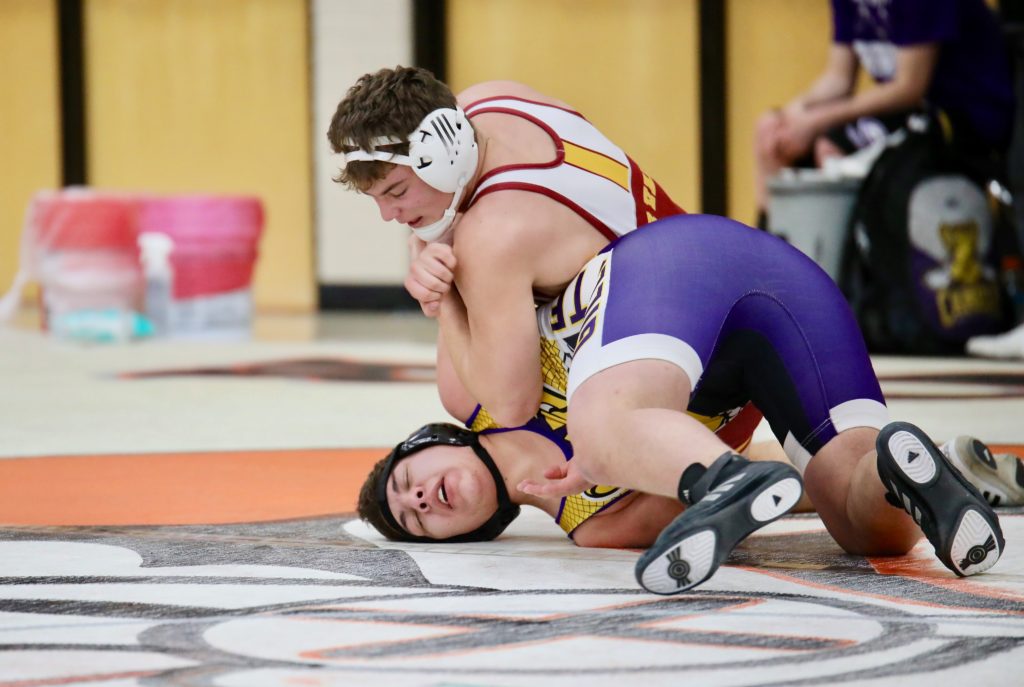 It was a bit of an unusual weekend for the Star Valley Wrestlers as they saw the Worland Warriors for the third time this season but did so after the six-hour bus trip and with a lineup that was unusual.
"We just flip-flopped some kids and some matches because we had some that had wrestled multiple times," stated Head Coach Eddie Clark. "So we shuffled four or five kids around different weight classes and it ended up being a better duel. Worland wrestled real well. We maybe hurt ourselves a little bit with the shuffle but sometimes you just have to play well together so we did."
The match of the duel came at 170 pounds as Harrison Hoopes battled two-time champ and three-time finalist Luke Gonzalves and picked up a big win by decision. Gonzalves wrestled up from 160 for the match.
The big story of the weekend though came in the second duel of the day as the Braves took on 4A favorite Thunder Basin and came away with a 39-35 win over the Bolts.
"I had the score going one or two points either way but the matches did not go down at all like I thought they would," Clark admitted. "We won a couple I didn't think we'd win and lost a couple I thought we'd win."
The Braves won the last four matches of the duel to pull out the win with Haze Child (152), Joseph Thompson (160), Harrison Hoopes (170) and Zac Patterson (182) picking up victories.
"It was real nice to get on a roll at the end," Clark added.

The third clash was against Campbell County where the Braves steamrolled the Camels 69-12. Clark praised his athletes for their efforts from top to bottom against the Gillette squad.
"Our JV had beaten [them] but it wasn't lopsided," Clark continued. "Down low they still have some kids that are ranked in the 4A. We beat a lot of their highly ranked kids from Gillette so there were some really good wins there as well so we feel really good about the whole weekend."
The team will also be headed to Green River for what has been a very entertaining clash with the Wolves.
CLICK HERE FOR VIDEO COVERAGE OF THE DUEL.
"I'm excited about Green River," Clark said.
"Their bottom weights are really tough. I expect it to be a dogfight there and then I expect our depth to carry us through up at the top weights."
The season is now hitting the downhill stretch with just one more duel against Evanston in Afton on February 11 before the Regional tournament in Green River on February 19.
State Wrestling is a one-day test this season in Casper on February 26.
Despite all the added challenges of a COVID season, Clark is grateful for how things have worked out.
"If you would have said things would have gone this smoothly in August? I would have called you a liar," he said. "I figured there would be more hiccups. Knock on wood it's been pretty smooth sailing for us."
Star Valley (STVA) 39.0 Thunder Basin High School (TBHS) 35.0
195: Dillon Glick (TBHS) over Tony Mickelson (STVA) (Fall 1:40)
220: Lane Catlin (TBHS) over Kysen Hebdon (STVA) (Fall 0:53)
285: Dylan Skillings (TBHS) over Gabe Nield (STVA) (Fall 5:25)
106: Bridger Smith (STVA) over Blaize Burrow (TBHS) (Fall 1:12)
113: Antonio Avila (TBHS) over Weston Angell (STVA) (TF 17-2 0:00)
120: Waylon Nelson (STVA) over Alex Draper (TBHS) (Fall 3:41)
126: Jacob Guild (STVA) over Jeric Igo (TBHS) (Dec 10-6)
132: Jais Rose (TBHS) over Kaleb Fila (STVA) (Dec 6-3)
138: Dylan Catlin (TBHS) over Winston Green (STVA) (Dec 7-3)
145: Seamus Casey (TBHS) over Xavier Jirak (STVA) (Fall 3:21)
152: Haze Child (STVA) over Cael Porter (TBHS) (Fall 5:41)
160: Joseph Thompson (STVA) over Deyton Johnson (TBHS) (Fall 1:40)
170: Harrison Hoopes (STVA) over Aden Jorgensen (TBHS) (Fall 3:52)
182: Zachary Patterson (STVA) over Aidyn Mitchell (TBHS) (Fall 1:06)
Star Valley (STVA) 69.0 Campbell County (CACO) 12.0
220: Kysen Hebdon (STVA) over Sheldon Rollo (CACO) (Fall 0:00)
285: Colter Rankin (CACO) over Gabe Nield (STVA) (Fall 0:00)
106: Bridger Smith (STVA) over Hayden Welsh (CACO) (Fall 0:00)
113: Weston Angell (STVA) over (CACO) (For.)
120: Waylon Nelson (STVA) over Colt Welsh (CACO) (Dec 11-7)
126: Jacob Guild (STVA) over (CACO) (For.)
132: Lucas Hill (CACO) over Kaleb Fila (STVA) (Fall 0:00)
138: Winston Green (STVA) over Alex Eisenbraun (CACO) (Fall 0:00)
145: Xavier Jirak (STVA) over Blake Harding (CACO) (Fall 0:00)
152: Haze Child (STVA) over Kiefer Gossel (CACO) (Fall 0:00)
160: Joseph Thompson (STVA) over Hunter Henderson (CACO) (Fall 0:00)
170: Harrison Hoopes (STVA) over Kendall McKee (CACO) (Fall 0:00)
182: Zachary Patterson (STVA) over Cohen Granzer (CACO) (Fall 0:00)
195: Tony Mickelson (STVA) over Jack Tinnell (CACO) (Fall 0:00)