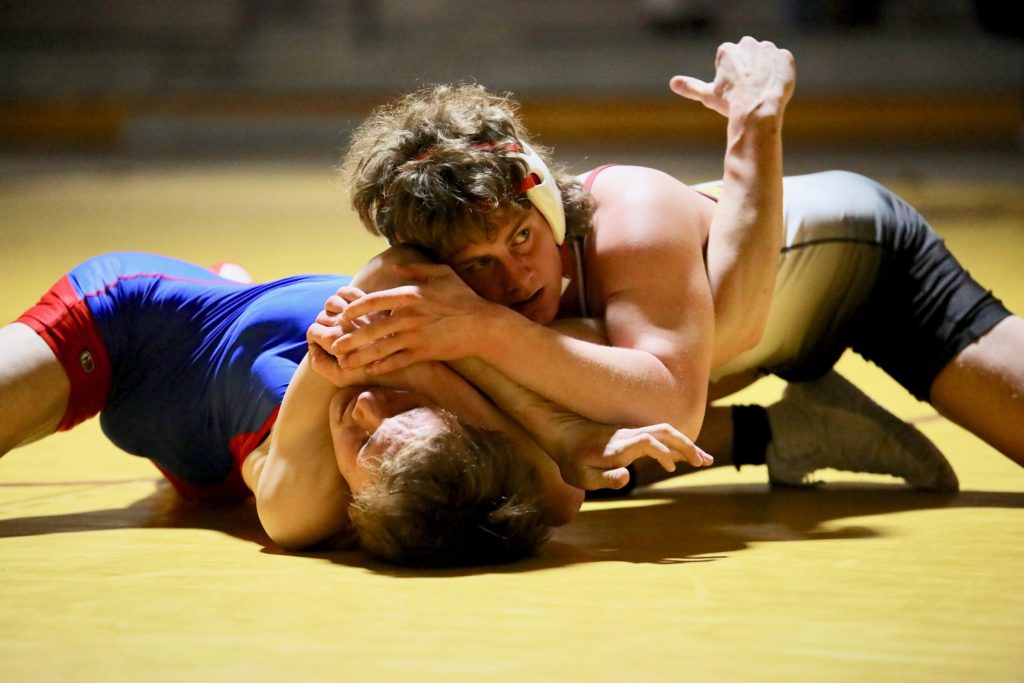 ◆ 3A West Regionals are in Green River this Friday.
Less than two weeks remain for the 2020-21 Wrestling season as the Star Valley Braves get ready for the 3A West Regionals this Friday, slated to begin at 12 noon at Green River High School.
Star Valley will be gunning for the program's sixth straight Wyoming 3A team title in Casper on February 26 and most recently picked up one-sided duel victories over Cokeville and Evanston on Senior Night last weekend.
"We felt good they wrestled well," said Head Coach Eddie Clark. "We're excited for the stretch run and we're ready to go. They've done a good job managing everything they have to do and excited to wrestle in a tournament."
Although the team lost some varsity level returners with injury before the season, Clark said the squad as it has existed for the last several months looks to be intact.
"Pretty much everyone is healthy right now," he said. "Knock on wood but things look pretty good right now."

The Braves will have a bullseye on their back as the rest of the conference will try and overcome what appears to be superior depth.
"Green River is having some injury issues and they were the team to challenge us," Clark said. "We're definitely the odds-on favorite."
He also pointed out that with the change in the tournament format due to COVID-19, things will be a little different.
"The top two in the regionals are placed on the state bracket," he stated. In a normal year the top four are placed and then guys are drawn in. This year, the third and fourth are drawn in at state so there's not much room for error this weekend."
• Coverage
Jason Hoopes will be broadcasting on SVI-2 starting at 12 noon on Friday from GRHS. CLICK HERE FOR THE WATCH LINK.
Evanston: 15 Star Valley: 53
126: Kal Burk (STVA) over Riley Kohler (EVAN) (Fall 2:33)
132: Brady Roberts (EVAN) over Kaleb Fila (STVA) (Dec 4-2)
138: Kendell Cummings (EVAN) over Winston Green (STVA) (Dec 6-0)
145: Brayden Andrews (STVA) over Ryker Case (EVAN) (MD 10-2)
152: Haze Child (STVA) over Rowdy Saavedra (EVAN) (Fall 2:46)
160: Joshua Semadeni (STVA) over Carsen Knight (EVAN) (Dec 6-0)
170: Harrison Hoopes (STVA) over Aiden Liechty (EVAN) (Fall 1:16)
182: Zachary Patterson (STVA) over (EVAN) (For.)
195: Mayson Erickson (EVAN) over Tony Mickelson (STVA) (Dec 10-4)
220: Rigan Hoggatt (EVAN) over Kysen Hebdon (STVA) (Fall 5:19)
285: Gabe Nield (STVA) over Trejo Guillermo (EVAN) (Fall 0:58)
106: Bridger Smith (STVA) over Walker Wilson (EVAN) (Fall 3:29)
113: Weston Angell (STVA) over Ryder Wilson (EVAN) (Dec 4-3)
120: Waylon Nelson (STVA) over Kyson Hamilton (EVAN) (Fall 1:20)
Cokeville: 19 Star Valley: 57
170: Matt Thompson (COKE) over Brandon Beck (STVA) (Dec 7-2)
182: Zachary Patterson (STVA) over Landon Walker (COKE) (Fall 3:52)
195: Connor Viehweg (COKE) over Weslee Turner (STVA) (Fall 1:44)
220: Aiden Crook (STVA) over (COKE) (For.)
285: Carter White (STVA) over (COKE) (For.)
106: Malachi Patterson (STVA) over (COKE) (For.)
113: Weston Angell (STVA) over (COKE) (For.)
120: Raf Greene (STVA) over Micah Petersen (COKE) (Dec 7-1)
126: Kal Burk (STVA) over Emmett Mackey (COKE) (Fall 0:43)
132: Jacob Isaacson (STVA) over Wyatt Mackey (COKE) (Fall 4:27)
138: Cael Thompson (COKE) over Joseph Naef (STVA) (MD 12-4)
145: Garrett Reece (COKE) over Xavier Jirak (STVA) (Fall 1:46)
152: Jesse Leavitt (STVA) over (COKE) (M. For.)
160: Joshua Semadeni (STVA) over Eli Linford (COKE) (Fall 2:42)
Tagged:
3A West Regionals
Cokeville Wrestling
Evanston Wrestling
Star Valley Wrestling