Wyoming coronavirus case up by record 37, recoveries up by 62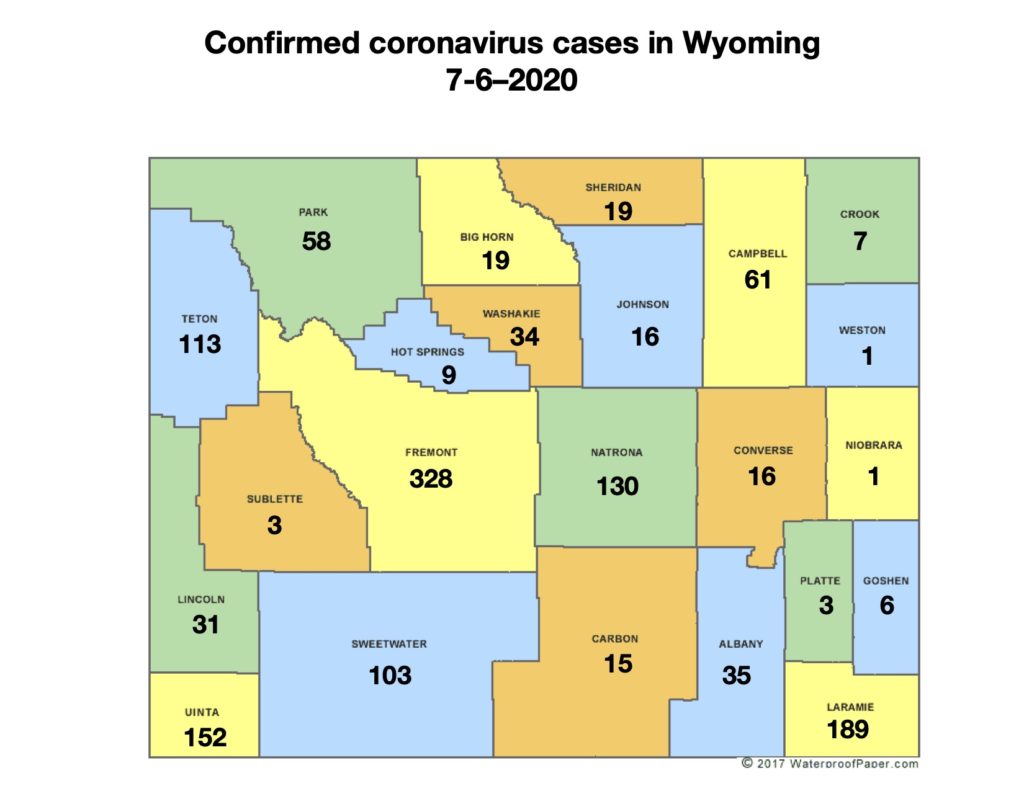 The number of confirmed coronavirus cases in Wyoming seen in Wyoming since the illness was first detected in the state in mid-March grew Monday by the highest number seen since the pandemic began.
However, the number of recoveries seen since mid-March also increased significantly, growing by 62.
The Wyoming Department of Health, in its daily coronavirus update, said 37 new confirmed cases were reported in nine counties: Albany, Campbell, Laramie, Lincoln, Natrona, Park, Sweetwater, Teton and Uinta. Natrona County had the largest single-day growth at eight.
The increase brought the total number of confirmed cases seen since mid-March to 1,349.
Fremont County continued to report the highest number of cases seen since the pandemic began at 328; Laramie County had 189; Uinta County had 152; Natrona County had 130; Teton County had 113; Sweetwater County had 103; Campbell had 61; Park had 58; Albany had 35; Washakie had 34; Lincoln had 31; Big Horn and Sheridan had 19; Converse and Johnson had 16; Carbon had 15; Hot Springs had nine; Crook had seven; Goshen had six; Platte and Sublette had three, and Niobrara and Weston had one.
The Department of Health's confirmed case total tracks all cases confirmed since the first coronavirus case was detected on March 12. It does not take into account recoveries or deaths.

The number of recoveries on Monday increased significantly, rising by 62 to total 1,234 among both those with confirmed cases and probable cases. The department said there were 974 recoveries among those with confirmed cases and 260 among those with probable cases.
A probable case is defined as one where a patient has coronavirus symptoms and has been in contact with someone with a known case of coronavirus, but has not been tested. As of Monday, the Department of Health said there had been 326 probable cases since mid-March.
The number of active cases was set at 423 on Monday, including 357 patients with confirmed cases and 66 patients with probable cases.
Tagged:
Wyoming Coronavirus numbers
Wyoming Coronavirus recoveries