Wyoming Homeowner Assistance Fund offers relief for delinquent property tax bills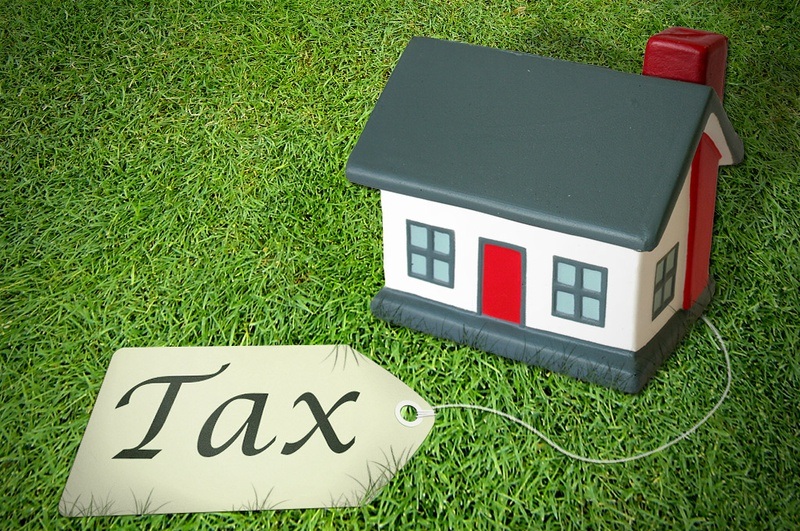 CHEYENNE, Wyo. –  Are you a Wyoming homeowner with delinquent property tax bills?  Many Wyoming residents are having difficulty as their home values have risen, causing an increase in their property taxes. The Wyoming Homeowner Assistance Fund (HAF) Program can help eligible homeowners pay for delinquent property taxes up to $17,000.
Wyoming received $50 million from the U.S. Department of the Treasury for its HAF Program, which focuses on helping homeowners stay in their homes. The Wyoming Department of Family Service, with assistance from the Department of Workforce Services, is administering the program.
The application is only available online at dfs.wyo.gov/haf. For application assistance, please contact the call center toll-free at 1-888-WYO-HAFP (1-888-996-4237) during the hours of 9 a.m. – 6 p.m. Monday through Friday.
Under the HAF Program, eligible expenses include mortgage delinquency and past due payments of utilities, property taxes, homeowners insurance, and homeowners association dues. The maximum amount allowed per household is $17,000, which will be paid directly to the servicer or vendor on behalf of the homeowner. The program prioritizes mortgage delinquency.
If you paid your 2021 property tax in full, Wyoming homeowners may be eligible for a partial refund through the Property Tax Refund Program.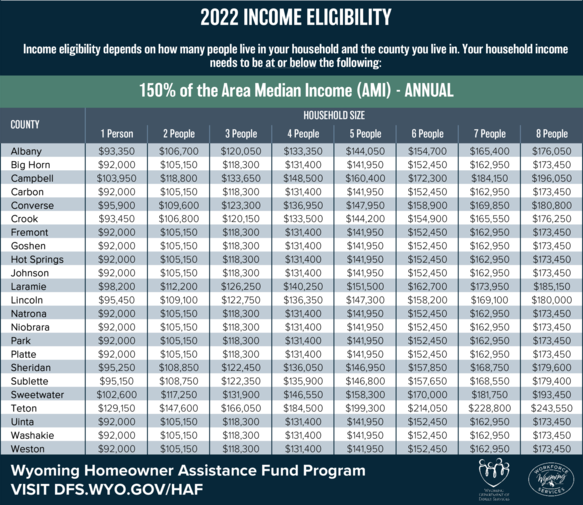 The Property Tax Refund Program is open to homeowners who have been Wyoming residents for the past five years that have paid their 2021 property tax in full. Homeowners must also meet income requirements specific to the county of residence and personal asset limits. Application forms and additional information are available from your local county treasurer and from the Wyoming Department of Revenue. Applications may be submitted online at https://wptrs.wyo.gov/ or mailed to the Department of Revenue. The June 6 application deadline is approaching fast.

HAF PROGRAM ELIGIBILITY CRITERIA
Wyoming homeowners must meet the following eligibility criteria for the HAF Program:
Must not have received a previous HAF award. This is a one-time application. Any eligible clients who received HAF payments in the past cannot apply.
Must own a property in Wyoming, including those on the Wind River Reservation.
Must currently occupy the property as the primary residence.
Must have a total annual household income at or below 150% of the area median income (AMI). Income eligibility depends on how many people live in your household and the county you live in. Check the AMI Table on the homeowner web page at dfs.wyo.gov/HAF.
Must have experienced a COVID-related financial hardship after January 21, 2020 that has caused the household to become past due.
Must be delinquent by at least one payment, including due to a forbearance period. The grant covers arrears only (no prospective or ongoing payments).
If applying for mortgage assistance, the loan must be the first lien on the property. The homeowner must not intend to sell the property within six months of receiving assistance. If a homeowner owes more than $17,000 in arrears or cannot make payments moving forward, the HAF Program will require them to do housing education.
Let us know what you think!
Tagged:
HAF
Wyoming Department of Family Service
Wyoming Homeowner Assistance Fund
Wyoming property tax relief