XC teams run with the SHARCs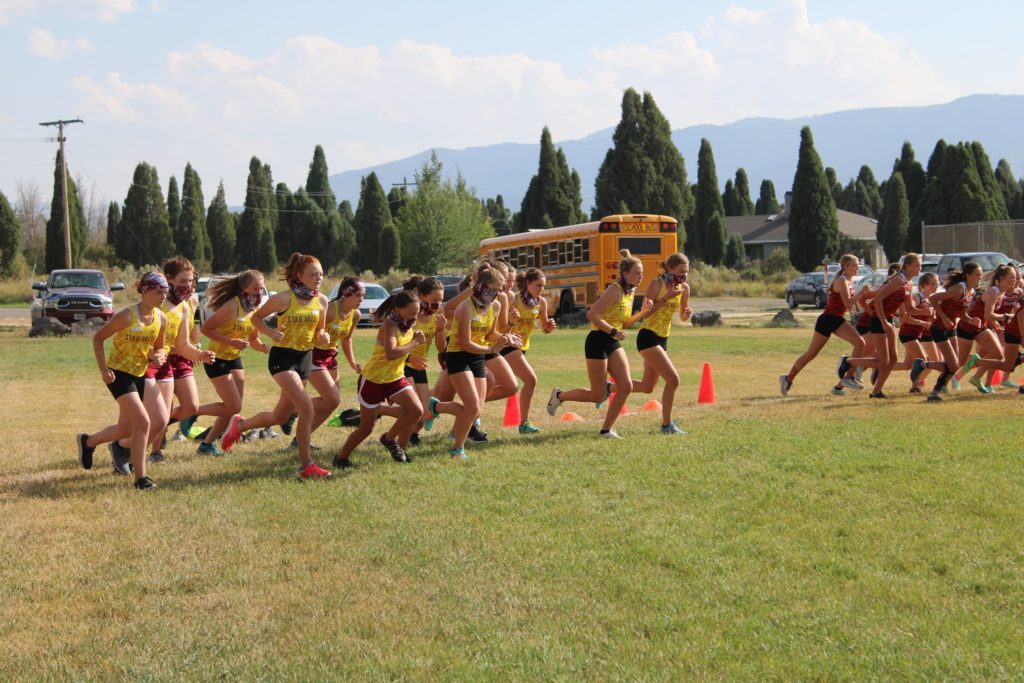 ——————–
◆ Distance Posse to run in Lyman this Saturday.
The month of August went by in a cloud of dust much like the Star Valley Cross-Country team as they competed against a tough field.
Each summer the program is part of what is called the Summitview High Altitude Running Camp or SHARC. This year the camp had to be scrapped due to the coronavirus but the connections made over the years made it a natural fit for the teams to clash in a meet to start off the 2020 campaign.
"It was nice to be back and going," stated head coach Ty Draney. "I think that's the bottom line. We knew we needed some experience on both the boys and girls and there's nothing like a race to get that experience. We're excited to see where we're at and to see where we can be come the end of October."
Peter Visser pulled away to win the individual boys race with a 16:25. Johnny Hunting was second on the team with a 18:13 then the pack of Bryan Hahn, Wyatt Dunn and Noah Draney filled out the scoring.
"There's only three guys who have run any varsity experience period so there were some big strides made out there," Draney stated of the boys race. "Wyatt Dunn that was his first 5K ever and he ran right in there with everybody. We're just watching the progress of the younger guys so we can get where we need to be so long as we can stay hungry and healthy."
The Braves finished fourth in the four-team field which was won by Idaho Falls with 28 points.
On the girls side it was Pocatello who took the top team spot with 29 points, edging Idaho Falls' 35. Star Valley was third with 66.
Jacie Angell led the way with a sixth place finish and a time of 21:10. Emily Strasburg and Eve Mavy finished 10th and 11th respectively with Sara McKen and Liberty Mavy rounding out the scorers.
Draney commented on new faces taking over the senior leadership.
"Our girls graduated Shaelee and Brooke; those were two mainstays for us for a lot of years," he said. "Sara has come a long way. She had a strong race. We've kind of got a lot of things going on trying to get strong and stay healthy and avoid getting quarantined."

Draney pointed out that the Cody Fillies along with both teams from Lander were the squads to beat at the end of the season.
This Saturday the program will make the trip to Lyman to a course that is unfamiliar but will have familiar faces.
"Lander, Rock Springs, Green River; those regional teams will be there plus Lander," Draney said. "It's a course we don't know and over the years we've had a set schedule with a lot of the same meets but this year our home meet on the12th is the only one thats the same so we'll just keep trucking and working hard."
SHARC Meet (Girls)
Pocatello 29
Idaho Falls 35
Star Valley 66
Soda Springs 97
SHARC Meet (Girls)
Jacie Angell 21:10 (6th)
Emily Strasburg 22:07 (10th
Eve Mavy 22:14 (11th)
Sara McKen 22:42 (18th)
Liberty Mavy 23:16 (22nd)
Emmalee Hale 23:25
Jill England 23:36
Sadie Mavy 24:47
Gentry Hendriks 25:39
Kaia Barkdull 26:34
Anna Kallgren 27:32
Onikka Olsen 29:55
Jaylen Allred 30:50
Elsie Pieper 31:15
Gabriella Ward 43:18
SHARC Meet (Boys)
Idaho Falls 28
Pocatello 41
Soda Springs 85
Star Valley 88
SHARC Meet (Boys)
Peter Visser 16:25 (1st)
Johnny Hunting 18:13 (16th)
Bryan Hahn 19:17 (27th)
Wyatt Dunn 19:17 (28th)
Noah Draney 19:21 (29th)
Josh Strgar 20:28
Peter Lorch 21:02
Steven Schwab 21:11
Weston Angell 21:42
Henk Visser 22:03
Preston Buehler 22:30
Aaron Hyde 23:21
Beau Skinner 23:26
Kelson Allred 23:38
Renn Helm 25:29
James Heywood 25:40
Kai Hendricks 25:57