40 Years of Feats: Ballard Johnson reflects on his time as a track coach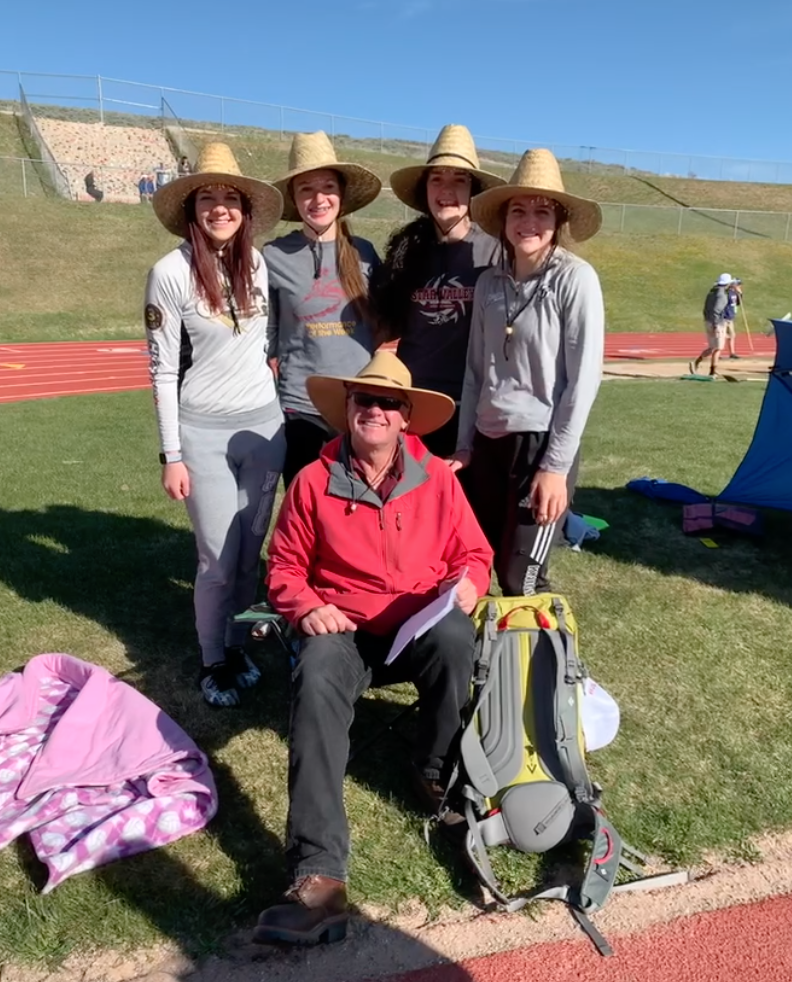 ◆ Johnson has seen every record in the book. Literally.
With the sustained success the Star Valley Track and Field program has enjoyed over the last two decades, there has been one man who has seen the initial school records, saw them broken and then saw them broken again in many cases.
Ballard Johnson has been a staple of SVHS Track and Field for four decades from his time as an athlete himself to coaching and mentoring athletes as an educator.
The Dave Draney Invite is scheduled for Wednesday afternoon and it wasn't all that long ago that not only did the area thinclads not have such nice facilities, but they didn't even have a track.
"It has been a time of some growing pains," Johnson reflected. "I remember our first person to ever win a state title was Dennis Lancaster and I think he was the sum total of our track team in the '60's. Since then it's been a very consistent sport and a lot of great athletes have come through the program."
One of the standout early athletes from those days was Kevin Hyde, who's distance marks stayed atop the school records for more than 30 years. Johnson saw them set and fall. Dave Draney, for whom the home meet is named, reset the jumping marks and those were broken by his protege`, Charlie Clinger. The long-time Shot Put record held by Rulon Gardner? Coached by Ballard Johnson. When Sam Gertsch came and broke it? You know you was watching. Then the distance records that have fallen multiple times in the last decades and the sprints that have followed. The whole book is new. And Johnson was there.
"We've had a lot of athletes that have been outstanding," he said. "We've had some growing pains mainly because of facilities and weather. For me as a sophomore in the '70's we didn't have a track facility. We had a sand track about where the new hospital is now. It was a 440-yard track out there in an oval; it wasn't metric."
Another element of those early challenges of springtime in Star Valley? Making a soft landing.
"We didn't have foam pits to land into so there was an invention of straw bales with sawdust covering that we would jump into as far as the High Jump and Pole Vault," Johnson continued.
"As far as the runways for Long Jump and Triple Jump they were basically cow trails with the boards buried in the ground so we've come a long way baby."
After another team title in 1983 for the guys, a more modern track was installed at the site of Star Valley Middle School in 1987. Not surprisingly, a number of records were set that year.
"A lot of the school records were set because we finally had some facilities to set some good marks," Johnson added. "Before that the only rubberized track we saw was away from home like at the BYU Stadium. We thought we'd died and gone to heaven."
There are plenty of long-time coaches, but few have the track record of Johnson who currently coaches jumpers on the squad. It is nearly clockwork to see the jumpers improve over the course of every season.
"That's kind of the neat thing about track," Johnson stated. "Our individual results equal team success. As we put our best efforts together we combine them. I think that's been part of my longevity in track is the technical aspects of things. Each and every athlete has to do something to help themselves improve. Sometimes you have to unlearn bad habits and re-learn some things. With the hard working kids we are able to coach we find success and that is what has helped me stay active in it."
There are always challenges. Even in times of plenty. For example, this year's program has nearly 140 athletes competing despite several inches of snow on the ground which is common for this time of year. Johnson says the staff does what they can to keep the athletes pliable and fluid in more ways than one.
"We have to focus on keeping some basics and foundations part of our workouts because they can be changed because of weather," he said. " As a staff we try and keep the opportunity open and let the kids know there will be something solid at practice. Our goals for success are at the Regional and State level and we just try and stay with those things that keep us grounded. It seems to provide some pretty good success for us."
Much of that success has come with Ty Draney at the helm. Just counting Track and Field, his teams have combined to win five team titles since 2010 including a three-peat for the boys (2016-2018) and a double for boys and girls in 2017. Not to mention the girls first ever team title in 4A in 2010.
"Theres no doubt that Coach Ty has brought a great emphasis for the runners," Johnson continued. "He's a runner for life and that goes back to when I coached him as a high schooler. I didn't coach him specifically but it's been fun to watch him become an avid runner and bring the passion for our distance kids. A lot of those kids have continued to run in college and he's brought a very solid reliability in those distance races and relays which help us to win meets and state titles."
Four decades calculates to an awful lot of teenagers over the years, but Ballard Johnson and his signature hat is still out with the athletes every Spring.
"I'm not sure how much longer I can ride big yellow buses," he said. "But as long as I feel like I'm being productive with the kids and for the kids and establish good relationships with them, I feel like I have a little bit more in the tank. As long as they will have me I'm all for it."
Let us know what you think!
Tagged:
Ballard Johnson
Charlie Clinger
Dave Draney
Kevin Hyde
Star Valley Track and Field