Alpine offers Winter Jubilee and sled dog race this weekend
◆ Winter enthusiasts make plans for weekend of fun.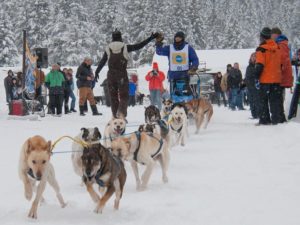 The Town of Alpine will host some serious winter fun this weekend, beginning on Friday, January 31 with the annual Winter Jubilee.
The festivities begin at 5 p.m. Friday at the Marge Grover Memorial Park Gazebo, adjacent to the Alpine Civic Center.
A community hot dog roast will take place. The event is free of charge and open to any and all who would like to participate.
The annual Light Parade will kick off at 6:30 p.m. The parade line-up will take place at the Tavern on the Greys.
A firework display will get underway at approximately 7:15 p.m.
The Alpine American Legion will host Bingo Night at the civic center, with a start time of 7:30 p.m.
Saturday, February 1 the celebration of all things winter continues. The International Pedigree Stage Stop Sled Dog Race will begin at 9 a.m. in the Greys River Parking Lot. Teams will race up the Greys River with an estimated return time between 1-2 p.m.
Area residents are encouraged to arrive prior to the race's start time to cheer for mushers and witness the spectacle of sled dogs gearing up for the Alpine Stage of the race.
The Alpine Winter Jubilee will continue following the start of the race.
Saturday's Winter Jubilee events include a family friendly treasure hunt that begins at 10 a.m. Anyone who completes the treasure hunt is entered into a raffle drawing for prizes.
Children's activities will take place at the Alpine Civic Center from noon to 2 p.m. under the direction of Jumping Jaybird Studios.

The annual Casino Night will open at 5:30 p.m. and continue through 10 p.m. Food will be available for purchase during Casino Night. Proceeds benefit area youth through scholarships.
In addition, the annual Snow Sculptures will be showcased throughout the Town of Alpine on both Friday and Saturday as part the Winter Jubilee. The snow sculptures are made possible with the help of the Top of the Rockies Snowmobile Club.
Tagged:
Alpine American Legion
Alpine Civic Center
Alpine Winter Jubilee
International Pedigree Stage Stop Sled Dog Race