Band at the Barn features Flyover Town this Saturday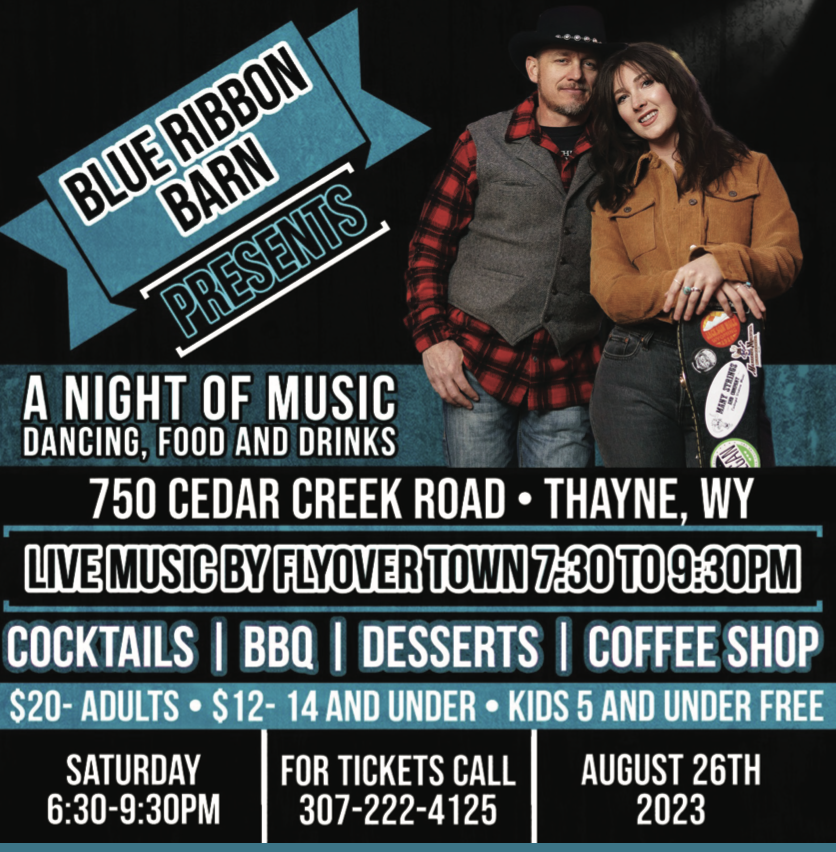 • Blue Ribbon Barn located on Cedar Creek road in Thayne.
A local event featuring live music, food and dancing is taking place this Saturday night at the Blue Ribbon Barn located at 750 Cedar Creek road in Thayne. The venue is building on the positive experience of an event last year.
"We mostly sell coffee but we're a farmers market every day," said Audrey Pensyl in an interview with the Weekday Wakeup. "We're excited to have the band Flyover Town come to the Barn. We had our pumpkins last year and that inspired us to do live events and we are excited to keep doing them."
Flyover Town is a duo made up of Tara and Aaron Durga from Green River who admit their band formed in a weird way.
"We played an open mic where my parents were playing in Heber, Utah," Tara said. "We were just filling a spot for a friend. The next year my parents called me up and said 'Hey, they are looking for you to come and play this event, how do they book your band?' and I was like, we don't have a band! So we became a band overnight."
Aaron says the group plays in the "Country-ish" genre with the duo doing mostly vocals with acoustic guitar and bass.
"There is some traditional country and some rock and roll and some hillbilly," he said.
"We try and do things our own way," Tara chimed in. "We do covers that people try and recognize and they won't be able to recognize them very well. We put our own spin on it."
Though based out of Green River, Flyover Town prefers to play a more regional location.
"We're not a bar band," Tara added. "We like to play Idaho, Montana, southern Utah and we've played here in the valley before."
The doors open at 6:30 this Saturday night and Audrey is hopeful that people will come and have some food as well.
"We'll be having our Blue Ribbon Barn beef as well as sausage and a full bar at the event," she said. "It will be lots of fun and dancing and all that."
Tickets are available at the barn or by calling 307-222-4125.
Let us know what you think!
Tagged:
Audrey Pensyl
Band at the Barn
Blue Ribbon Barn
Flyover Town
Tara and Aaron Durga
Thayne Wyoming