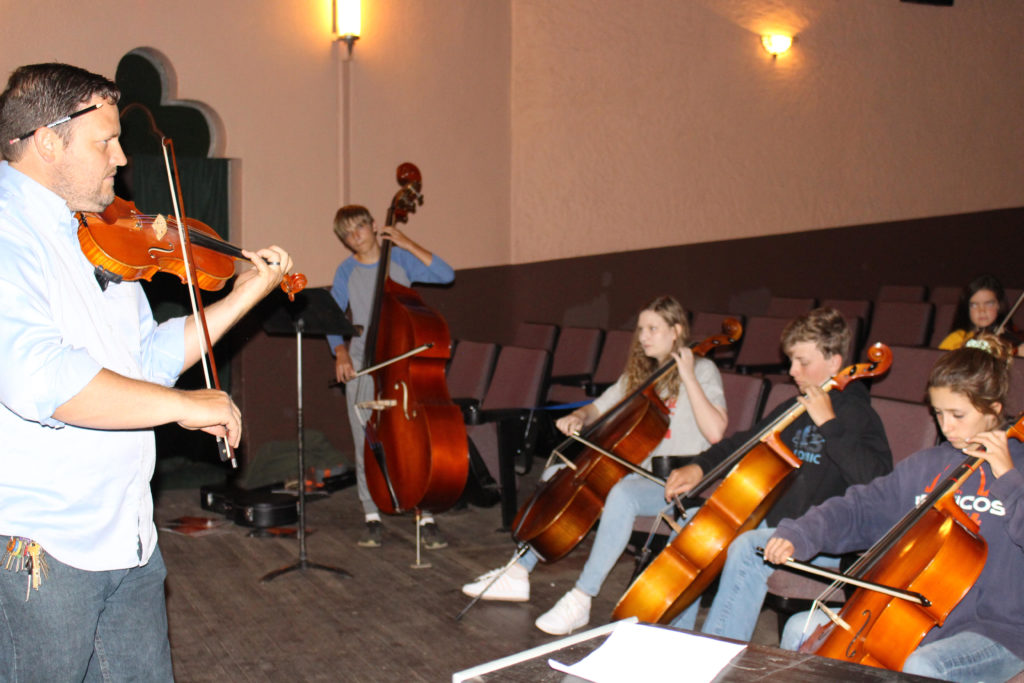 —————–
◆ Tentative dates for next year's camp are June 21-25, 2021.
Blue Sky Annual Music Camp returned to Afton for a 3rd time June 22-26, 2020. With 41 students and nine faculty members involved, classes and performances were held in the Ford Theater on Washington and across the street at Mountain Music.
A week-long musical experience for students of all ages, Blue Sky is designed to give students daily instruction in musical technique on string and fretted instruments and then provide them with the opportunity to collaborate with other students in creating and performing music for an audience.
"Music is a great way for these students to not only learn skills but also deal with all that is happening in our world," said Daphne Arbizu, Blue Sky Camp Official.  "It is a great creative and positive outlet for all their energy!  We love helping them direct that through student-led musical creation."
Morning classes focused on technical skill in one of two instruments that each student plays throughout the week. Class offerings included technique in violin, cello, mandolin, banjo, guitar, bass fiddle, voice and keyboard. Very young students were also involved in classes that lay a foundation for musical hearing, reading and writing.
Afternoon classes placed students in bands where they brought their creativity and musicianship to work within a team. With guidance from a skilled musical mentor, the students created their own performance of an original piece or a cover.
At the conclusion of the week, students performed their creations for the community in a 90-minute concert that included pop and country favorites such as Come on Eileen and Hotel California.

"My favorite part of the camp is seeing kids who have never improvised – who have only used sheet music – work together with a bunch of kids their age in a band and come out with a performable song that they put together," said James Arbizu, Blue Sky Faculty. "Year after year, you can see the creativity blossom."
Faculty members for the camp include master musicians from all over the country as well as local masters. This year, the faculty included James and Daphne Arbizu, Ryan Tilby, Sam Runolfson, Tara Johnson, Teddy Cunningham, and Janet Erickson. This year's camp also featured advanced student musicians who assisted at the camp as interns.
"Ryan Tilby, who is an amazing guitar, banjo, bass and anything fretted musician, is planning to return next year," said Daphne. "We plan to have instructors to teach vocals, strings, fretted instruments and keyboard instruments."
Tentative dates for next year's camp in Afton are June 21-25, 2021. For more information, visit mountainmusiconline.com.
Tagged:
Blue Sky Music Camp