Broncs outlast Braves in 35-25 battle of top 3A teams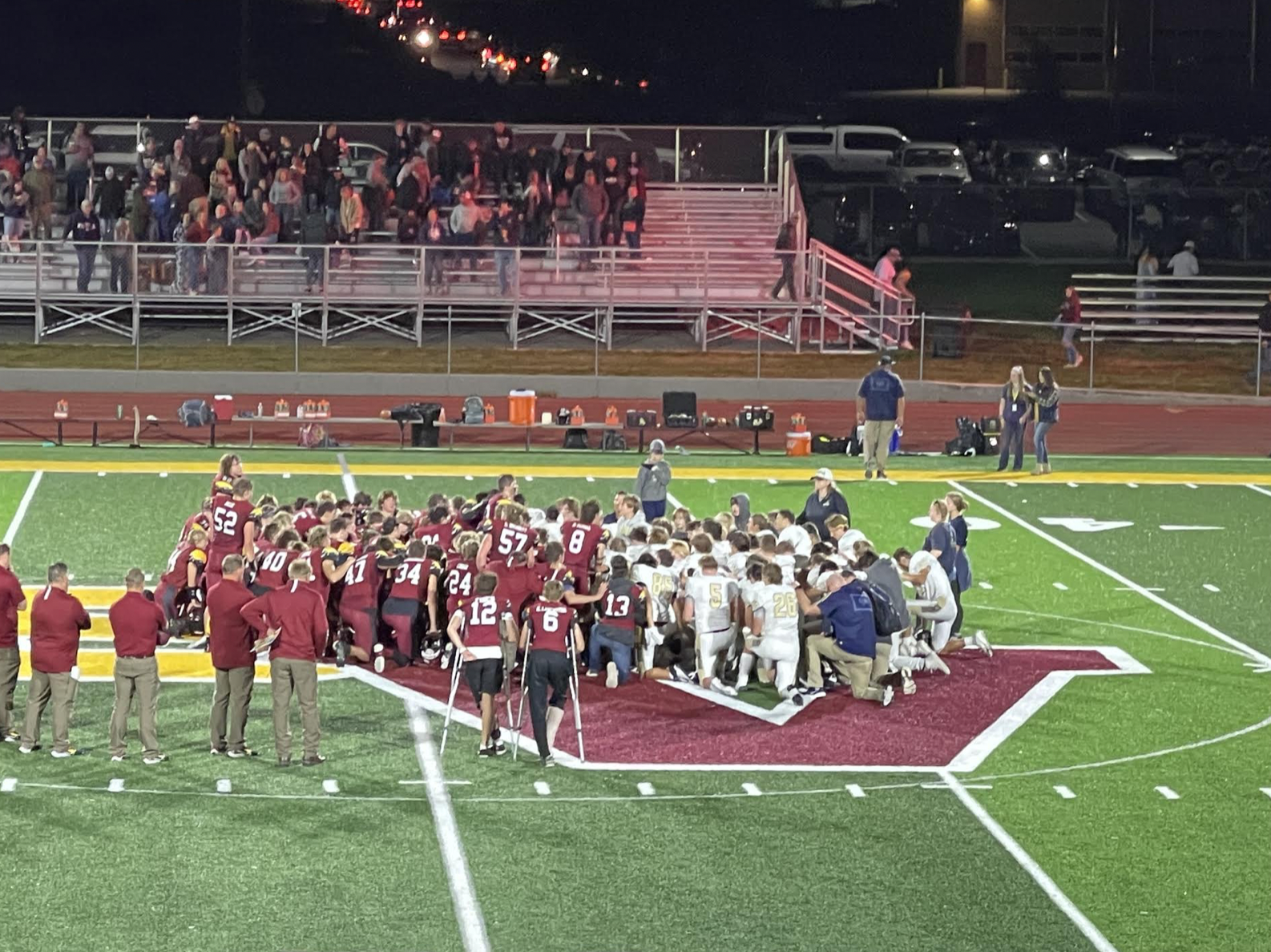 Not all games featuring the top two teams live up to the hype and the billing that they receive beforehand. 
But Friday night's clash between visiting Cody and Star Valley certainly did. 
By the end of the day the Broncs collected their 22nd straight win in a 35-25 final but the way the game played out had the huge crowd all whispering for more.
Like a rematch at War Memorial Stadium type of more. 
But with two more weeks in the regular season, that type of speculation will have to wait until next month as teams battle to be one of the last ones standing. 
Until then the fans and coaching staffs can study the numbers of this one. 
The two teams had a defensive slugfest early, one that was 7-3 with less than a minute to go before halftime. By the end, the two combined for nearly 950 yards of offense. 
Cody's Lucas Talich had another stellar game as he threw for 249 yards and three touchdowns and ran for 72 more and a rushing score.
Countering the D-I prospect was Star Valley's Taft McClure who had his third 400+ passing yardage game of the season as he finished 38 of 56 for 435 yards and three touchdowns. Neither QB threw an interception although McClure was stripped for a lost fumble in the second half. 
Star Valley had three receivers snag double-digit catches, a first for the school. Wyatt Crogg finished with 12 catches for 183 yards, Luke Linford had ten for 117 and Jacob Hodges had ten for 103. Both Linford and Hodges finished with a touchdown reception. Linford also had a pass for a 2-point conversion and McKell Merritt made a 27-yard field goal. 
The Broncs' standouts included Matt Nelson who had a 65-yard touchdown run and finished with 133 total yards. Remy Broussard had a 28-yard touchdown reception and finished with 100 total yards. Trey Thomasson also had a 69-yard score and Wilkins Radakovich had a 50-yard touchdown to round out the big plays from the Broncs. 
The Braves fall to (5-2)(2-1) while the Broncs improve to (6-0)(3-0). Star Valley will have Senior Night next Friday as they host Green River. Cody will host the Evanston Red Devils. 
Cross-Country at the Bob Conley
The SVXC team traveled to Pocatello, Idaho on Thursday afternoon to compete in the Bob Conley Invite. Both Star Valley varsity teams ran in the Varsity A race. Sophomore Habtamu Wetzel finished second overall with a time of 16:08.70.  Senior Stockton Stevens from Twin Falls win the race with a team of 15:40.00. 
Sophomore Jase Burton also had a top-ten finish as he ran a 16:36.90 which was good for eighth place. 
As a team the Braves placed third with a team score of 105. Skyline (ID) was second with a 101 with Idaho Falls placing first with a score of 54. In all, 16 teams ran in the Varsity A race. 
The Lady Braves were led by senior Elsie Pieper who had a 21:16.80. Fellow senior Kai Barkdull ran a 21:23.80 with sophomore Alexis Angell running a 21:50.50. 
As a team they finished 10th out of 16 teams and a score of 272.
Preston won the race with a 66 followed by Thunder Ridge and Highland, both out of Pocatello. 
Volleyball hosts Kelly Walsh
It was quite night for big match ups as the Lady Braves hosted the top-ranked team in Wyoming 4A, the undefeated Kelly Walsh Trojans. 
Kelly Walsh picked up the win 3-1 against a scrappy effort from Star Valley, (25-18, 25-20, 19-25, 25-19).
The Lady Braves will play again on the home court as they host the Rock Springs Tigers on Saturday afternoon. SVI will be streaming the match with a varsity start scheduled for 1 pm. 
Watch link available here at svinews.com. 
Let us know what you think!
Tagged:
Cody Football
Habtamu Wetzel
Jacob Hodges
Jase Burton
Lucas Talich
Luke Linford
Matt Nelson
Remy Broussard
Star Valley Football
Taft McClure
Wyatt Crogg
Wyoming 3A football