Cheney vs. Hageman: Primary election choice for U.S. House seat will have national ramifications
By Mark Davis
Powell Tribune
Via- Wyoming News Exchange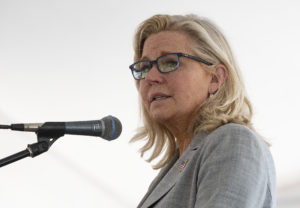 POWELL — It appears the Republican primary election contest for Wyoming's sole seat in the U.S. House of Representatives is a two-candidate race between incumbent Liz Cheney and top challenger Harriet Hageman. According to recent polling data, the race is likely Hageman's to lose.
Hageman, a water and natural resources attorney, had a mid-July 22-point lead in a Casper Star-Tribune poll of likely voters, conducted by Mason-Dixon Polling & Strategy.
Yet, Cheney seems oddly unconcerned about the polls, investing more in ads featuring her conservative supporters — including her father, former Vice President Dick Cheney — than doing appearances.
Meanwhile, Hageman refuses to slow her exhausting roll across the Cowboy State to make in-person appearances despite the lead.
Both candidates claim to be proven conservatives, and many of their platform planks are similar. Where they obviously part ways is their support for former President Donald Trump. Hageman is backed by Trump and has embraced his insistence the 2020 election was stolen.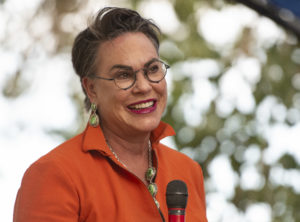 "There's all kinds of things that I think that we have the right to get to the bottom of and to find out what impact [Democrats] had in the four years of screaming 'Russia, Russia, Russia' at the top of [their] lungs," she said last week in an interview with the Tribune.
Hageman said she still has questions about the 2020 vote in Pennsylvania and Wisconsin, "and what we saw in Georgia," she said.
She claims "the video that we saw in Georgia has never been explained," despite the fact  both Brad Raffensperger, Georgia's secretary of state, and Gabriel Sterling, Raffensperger's deputy — both Republicans — have defended their process and have said publicly that all claims of fraud had been investigated and found to be baseless. Still, Hageman isn't convinced.
Cheney fell out of favor with the right wing of the Republican Party after voting to impeach Trump and accepting the role as vice-chair of the House Select Committee to Investigate the Jan. 6 attack on the Capitol.
"You can either defend the Constitution and make sure people know the truth about Donald Trump. Or you can lie in order to make sure that you can continue your political representation of people in Wyoming," Cheney said. "I have to choose the Constitution and the truth. I believe the people of Wyoming fundamentally believe in the Constitution and the truth. But there are too many politicians today who put their own political survival ahead of their obligation and their duty. And, I won't do that."
Cheney also said her opponents are simply using talking points about the election to ignite their base. "There are people that I'm running against in my race who are lying about the election — who know [the election] wasn't stolen, but tell people that it is."
She said her mission has been to make sure people understand that Donald Trump has "absolutely betrayed and lied to people."
"He's trying to prey on their patriotism," she insists.
Neither of the candidates has spent much time in Powell. Hageman has been making more in-person appearances in the county, frequenting Cody more often than Powell. She made an appearance in Cody in early July. And she was in Powell in April, one of 160 campaign stops she has made over the past months.
She said Cheney has never been keen on meeting voters in the state.
"[Cheney] uses Wyoming's seat to further her own agenda. And that's one of the reasons why I'm running. She doesn't come to Wyoming. She really never did. Wyoming isn't her home state. Wyoming was a means to an end."
Cheney's last visit near Powell was just over a week ago at the Heart Mountain Interpretive Center for the groundbreaking of the new Mineta-Simpson Institute. It wasn't a campaign event.
She hasn't been in Powell during the current campaign, and it has been years since last visiting, according to Tribune records. Yet, she remains popular with some voters — even in a county that "fired" her over her continuing attacks on Trump.
Leaders of the Park County Republican Party voted overwhelmingly to "fire" U.S. Rep. Cheney a year ago, telling her in a letter that they will no longer recognize her as the official Republican Congressional representative.
At Heart Mountain, Cheney was driven to tears by an extended standing ovation which included her father and ardent supporter, former U.S. Sen. Al Simpson.
"It's very humbling to have that kind of an outpouring from people," she said after the event.
She attributed her emotions to her father being in the audience,  as well as family friends (including the families of Simpson and former Transportation Secretary Norm Mineta who died earlier this year), as well as many others at the event who were incarcerated at the confinement facility during WWII.
Simpson said despite what happens in the primary, Liz Cheney isn't through with politics.
"Whatever happens on Election Day, it won't have a thing to do with the future of Liz Cheney," he said of the congresswoman's prospects.
"As an American citizen, she's loaded for bear and it will continue on into the night. The purpose of that will be to bring down the charlatan, the emperor without any clothing whatsoever," he said, adding "he probably won't look quite as good in the nude."
While Cheney may have fallen out of favor with many voters in Wyoming, her exposure on the select committee has raised her profile with others nationally, some suggesting she should run for president.
Hageman's largest national exposure came May 28 as Trump held a rally in support of her candidacy in Casper.
"Liz Cheney hates the voters of the Republican Party, and she has for longer than you would know," Trump told thousands of supporters at the Ford Wyoming Center. "Wyoming deserves a congresswoman who stands up for you and your values, not one who spends all of her time putting you down and going after your president in the most vicious way possible."
But Hageman also made national news last week when, for the first time, she said the 2020 election was stolen from Trump.
Locally, Park County state sen. Tim French thinks it's time to move on from Cheney and is supporting Hageman. "With [Hageman's] legal background, she's going to be a real fighter for the state. And I think she'll be excellent," he said on Aug. 4. "I think the state of Wyoming has moved on past Liz. They're looking for something new. And Harriet can bring that to the table."
Hageman said, "We need to take back our government. We need to make clear to the government that it does belong to us," she told a small, but lively crowd at the Big Horn County Fair.

Let us know what you think!
Tagged:
Harriet Hageman
Liz Cheney
Mason-Dixon Polling & Strategy
Wyoming U.S. House of Representives seat