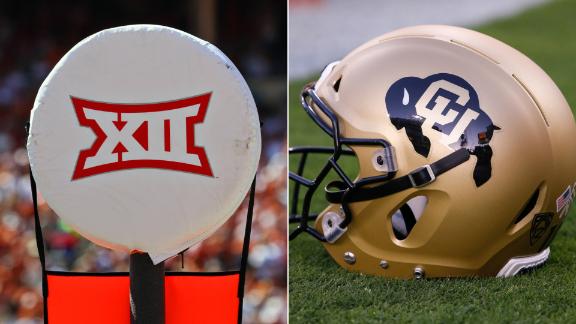 From 2010 up through last season, the Colorado Buffaloes compiled a (48-106)(.320) on the gridiron, easily the worst in the Pac-12 during that time. Their desperation got so high this past off-season that they pushed all their chips to the middle of the table to lure Deion Sanders as their new head coach hoping that even if they just prove to be a stepping stone to Neon-Deion that they would be improved overall as a result.
So when CU announced that they were leaving the Pac-12 to go back to the Big-12 on July 28, a conference they inhabited from 1996 to 2010, bleacher creatures probably shrugged their shoulders and said good riddance to a rubbish program. 
But make no mistake, the columns that hold up the 100+ year old conference are crumbling and while Colorado may not be the uppercut that losing USC and UCLA will be, it's still a haymaker to a Pacific league that was trying to catch their breath. 
If you're a Buffs fan, you have to be ecstatic. Unprecedented hype with the Sanders hire and then avoiding the league buyout fee because the league has drug their feet on a new deal for years and simply don't have one beyond 2024. Quite a slick move. 
As of right now, the Pac-12 has nine school lined up for a year from now. One supposed addition, San Diego State, recently reiterated that it was staying with the Mountain West. The elephant in the room is indeed that non-existent television contract. And that elephant is chowing down like Brendan Fraser in "The Whale." After getting in excess of $30 million per school for years, the school remaining have no idea what they will be getting moving forward. Other than it's not going to be anything like $30 million. Gone is UCLA and USC to the Big-10 and with them, the largest television market in the west. 
Rumors are swirling that the so-called "Four-Corners" schools of Arizona, Arizona State and Utah could join the Big-12 which stated that they are not done adding schools. One rumor has Oregon being a school interested in a move. In other words, the Pacific Conference formerly known at 8 and then 10 and then 12 is now in question of their very existence. I don't like BYU or Utah, but it makes a lot of sense for them to be in the same league and play every season. And I know geography doesn't seem to be a factor in some of the realignment conversations, but adding those schools to the swath of Big-12 cities fits like a glove. 
As a person who has their allegiance with the Mountain West, I'd love for new conference commissioner, Gloria Nevarez, to go on the offensive with schools like Washington State and Oregon State and continue to show her mettle like she did with the recent back-and-forth involving the Aztecs. The Mo' West doesn't have the same eyeballs in terms of numbers, but a rising tide would raise all boats. And let's not act as though the Pac has dominated the MWC recently anyway. In fact, the MWC is 9-7 in the last 15 games versus the Pac dating back to 2018. One thing that we can't possibly know as fans and writers of other schools is the financial situation of some of these other institutions. Stanford?  I'm guessing they're fine. Oregon State? Their finances are a much bigger question. 
One thing is sure. Things will continue to change, and being complacent has potentially erased a football conference with more than 100 years of history. Stay tuned. 
Let us know what you think!
Tagged:
Arizona State Sun Devils
Arizona Wildcats
Big-12
College Football Realignment
Deion Sanders
Mountain West Conference
Oregon State Beavers
Pac-12
San Diego State
UCLA
University of Colorado Buffaloes
USC
Utah utes
Washington State Cougars