Cranney and Robinson inducted into Afton Heritage Hall of Fame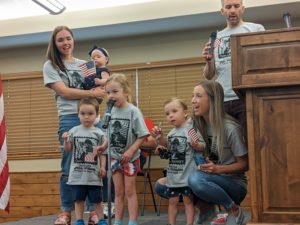 The Afton Heritage Hall of Fame gained two new inductees this weekend. The ceremony, part of Afton's Independence Day celebration, was attended by a crowd of the inductees' family and friends. 
The 2022 Hall of Fame class included Alvin Leroy Robison and Owen Woodruff Cranney. Both men had significant contributions to Afton in their lifetime.
Mayor JC Inskeep welcomed attendees and led the crowd in the Pledge of Allegiance. In his remarks, he discussed heritage and its importance.
"Our heritage becomes what we are," Inskeep said. "Heritage is a keystone of our culture."
Cranney's daughter, Carolyn, spoke about her father. Owen Cranney served as the Afton Postmaster from 1946 until 1972 and was president or director of many local organizations like the Afton Lions Club and Chamber of Commerce. Carolyn remembered her dad fondly as a kind man who was always quietly serving those around him.
Lance Robinson gave remarks about Alvin Robinson during the ceremony. He talked about his dad's great love for Afton. 

"The first words out of his mouth when he called me were always 'what's going on in town?'" Robinson said.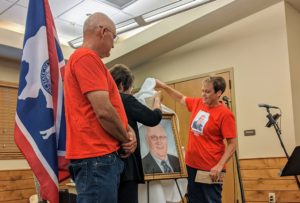 Alvin built and renovated many buildings in Afton. He also volunteered for 36 years in the Afton Fire Department. In addition, he was a judge for the Afton Municipal Court for 18 years. He loved brightening the neighborhood at Christmastime with elaborate decorations, which earned him the best residential award from the town of Afton in 1991.
The inductees were honored through music. Cranney's grandchildren and great-grandchildren sang patriotic songs in his honor. The Linford Band performed the songs "Grandpa" and "My Town" in remembrance of Robinson.
Each man's portrait was unveiled by family members and will now hang in the Afton Heritage Hall of Fame in the Afton Civic Center.
Let us know what you think!
Tagged:
Afton Heritage Hall of Fame
Alvin L. Robinson
Carolyn Cranney
Lance Robinson
Mayor JC Inskeep
Owen W Cranney