D.C. Delegation: U.S. border and Rock Springs BLM management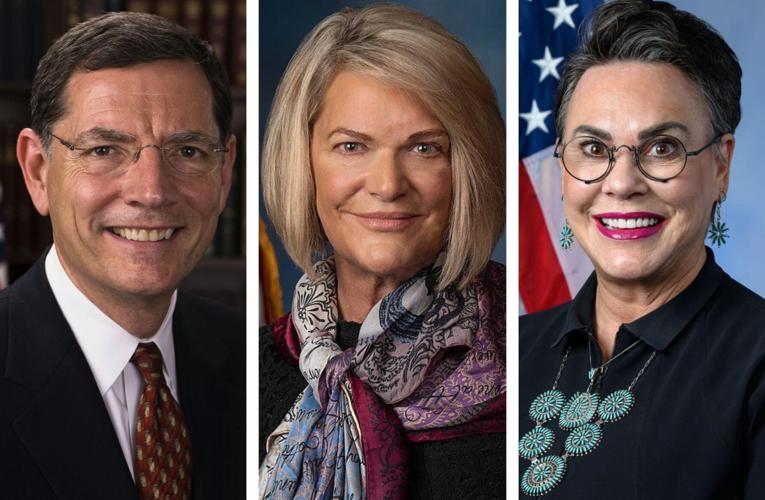 • Hageman has bill to stop BLM Draft Plan, Lummis says every state a border state and Barrasso travels to the border.
U.S. Sen. Cynthia Lummis 
The Biden administration's open-door policy at our southwest border has not only jeopardized our national security, but it has exacerbated an already-raging opioid crisis. It is no secret that this administration has ceded control of our southwest border to dangerous drug cartels who have flooded our communities with lethal drugs like fentanyl. Now, thanks to this administration's weak policies, every state has become a border state.
According to U.S. Customs and Border Patrol (CBP), 27,000 lbs of fentanyl were seized at our southwest border in Fiscal Year 2023 compared to 14,600 pounds in Fiscal Year 2022. This is an 800% increase since President Biden took office. To put this crisis into perspective, that is enough to kill nearly 6 billion people. In the last six years alone, drug-related overdose deaths in Wyoming have doubled, and across the country, fentanyl is the number one killer for Americans ages 18-45. The rapid increase in overdoses across the Cowboy State has stretched law enforcement and medical services thin, especially in rural areas that are understaffed to begin with.
It is past time we address the growing crisis at the border. To start, we need to understand the extent of the crisis at the border which is why I joined Senator John Cornyn (R-TX) in introducing the Southern Border Transparency Act which requires the Department of Homeland Security to accurately report how it is handling illegal aliens encountered at the border and ensure the American people have a full accounting of the number of illegal aliens being released into our country by the Biden administration.
This legislation will shine a light on the Biden administration's attempts to mislead the public through clerical reporting gimmicks. We need a clearer picture of the reality on the ground so we can appropriately deploy the resources required to secure our southwest border and stop the flow of illegal aliens and deadly drugs that are poisoning Wyoming.
At home in Wyoming, I am committed to working with state and local law enforcement agencies to crack down on drug smuggling, especially along the I-80 corridor, and spread awareness about the prevalence of fentanyl in our communities. Drugs do not just hurt the individual, but they indiscriminately destroy families and leave a sea of devastation in their wake.
Protecting Wyoming from deadly drugs has never been so important.
U.S. Sen. John Barrasso Travels to Southern Border for Update on Biden's Border Crisis
WASHINGTON, D.C. – U.S. Senator John Barrasso (R-Wyo.) recently traveled to Texas with his Senate Republican colleagues to tour the Rio Grande Valley and receive a firsthand update on Biden's Border Crisis.
The senators met with Customs and Border Patrol agents for briefings, did a midnight patrol, joined Border Patrol on a horseback ride-along, and inspected the border wall.
Senator Barrasso was joined by U.S. Senators John Cornyn (R-Texas), Ted Cruz (R-Texas), Pete Ricketts (R-Neb.), and Mike Lee (R-Utah).
"National security starts with border security and under President Joe Biden, our country is a lot less safe because our southern border is wide open," said Senator Barrasso.
Barrasso and his colleagues made it a priority to thank Border Patrol agents for the sacrifices they make each day to protect our country and secure our border.
"The Border Patrol agents across our southern border are heroes. They put their own lives on the line every day for the benefit and safety of our country. They have a tough job, but the Biden administration is making it a lot tougher," said Barrasso. "Border Patrol knows what they need to do to solve the problem: enforce the law, bring back the Remain in Mexico policy, and finish the wall. Joe Biden won't let them do any of this."
"If you talk to Border Patrol, they will tell you terrorists and criminals are coming in record numbers from around the world," said Barrasso. "There are thousands of got-aways each and every day. They are taking advantage of the significant increase in the flow of illegal immigrants over our border to infiltrate our cities."
Once again, Barrasso called on President Biden to visit the southern border in person and hear directly from Border Patrol agents.
"President Biden needs to finally show up to the southern border to see firsthand the humanitarian, criminal and national security crisis he has created. He needs to hear directly from Border Patrol agents and give them every resource they need to secure our border," said Barrasso.
"The people of Wyoming and around the country want a safe and prosperous nation with a secure border. Senate Republicans are committed to protecting the homeland and will restore safety and security in our nation's communities."
U.S. Rep. Harriet Hageman — A Win for the West – Hageman Votes to Pass Interior Appropriations — Includes priorities of delisting the Greater Yellowstone Ecosystem Grizzly from the endangered species list and prohibiting finalization of BLM Rock Springs draft Resource Management Plan
Washington, DC – The House of Representatives passed an Interior Department appropriations bill – the 7th appropriations bill passed by the House. The bill represents a 35% reduction in spending from FY2023 levels, expands access to critical minerals, forces oil and gas lease sales, and cuts burdensome regulations. In addition, it fully funds the Payment in Lieu of Taxes (PILT) program and prioritizes funding for Tribes and Wildland Fire Management. Finally, it incorporates two of Rep. Hageman's key priorities, delisting the Greater Yellowstone Ecosystem (GYE) population of Grizzly Bears from the endangered species list, and prohibiting finalization of the Bureau of Land Management's Rock Springs draft Resource Management Plan.
Representative Hageman stated, "This is the most conservative, responsible, and pro-western values appropriations bill ever passed by the House of Representatives. Not only does it cut spending, but this bill actually reduces funding to below FY2018 levels. Despite this aggressive cut, core functions of the Department of the Interior are supported while programs such as "eco-grief" seminars, DEI and CRT courses, and the budget for the Wuhan Institute of Virology are defunded.
"One of the greatest features of the bill is that it repeals Biden's Waters of the United States (WOTUS) regulation and reins in regulatory overreach by the EPA.
"Of specific importance to Wyoming, the appropriations bill includes an amendment I offered which prohibits the BLM from finalizing and implementing the Rock Springs draft Resource Management Plan, a plan that was designed to severely restrict grazing, mining, energy production, recreation, and other activities on 3.6 million acres in southwestern Wyoming.
"The BLM's draft RMP is one of the largest land grabs we've ever seen. If approved, it would block the use of millions of acres of land for pipelines, power lines, roads, grazing, recreation, and economic development activities. The alternatives laid out in this plan would destroy Wyoming's local economy. I am grateful that my colleagues in the House chose to support my amendment which would prevent any funds from going towards finalizing and implementing this monstrosity of a plan.
"Another priority included in this bill is the delisting of the GYE population of Grizzly Bears from the endangered species list.
"Earlier in this Congress I introduced a standalone bill to delist the grizzly, with Congressmen Ryan Zinke, Russ Fulcher, Pete Stauber, and Matt Rosendale as cosponsors. As Interior Secretary under President Donald Trump in 2017, Rep. Zinke moved to delist the grizzly, but this action was overturned by an activist court. With Rep. Zinke now on the House Appropriations committee, he was able to insert my standalone bill into the bill that we passed today. I'd like to thank him for his hard work to have such a critical Wyoming priority included.
"The grizzly bear has been listed as threatened (but not endangered) since 1975, and its original recovery goal was 500 bears. Today, we have nearly 1100 bears in this ecosystem. The population of bears has become so large that they now pose a serious and deadly threat to people, wildlife, and livestock in Wyoming. Further, US Fish and Wildlife found that the grizzly population has exceeded recovery goals for over 20 years.
"I urge the Senate to pass this fiscally responsible bill without delay."
Let us know what you think!
Tagged:
Biden Administration
Representative Harriet Hageman
Senator Cynthia Lummis
Senator John Barrasso
U.S. Customs and Border Patrol
Wyoming Congressional Delegation