Dates announced for Swift Idol 2020
◆ Swift Idol Concert set for April 17 with 2020 competition slated for August 3.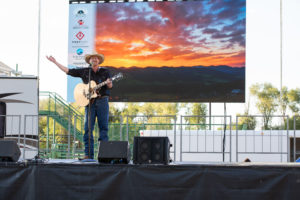 The dust and excitement from the 2019 Swift Idol had not yet settled when plans for the 2020 Swift Idol Season were underway.
"Swift Idol 2019 was a huge success," said Duke Dance of SVI Media. "The competitors were very impressive and the competition was exciting. It was great having our celebrity judge, Alex Boye, involved. Now we are planning for 2020 and for this year's Swift Idol to be even bigger and better than it was last year."
This week SVI Media is releasing the official performance dates so that area residents can make plans to attend.
The Swift Idol Concert will take place on Friday, April 17, beginning at 7 p.m. in the Star Valley High School Auditorium.

"We will be doing our spring concert showcasing the four idol winners who are Melissa Dickey; Case Tippetts; EJ Pauni; and Josh Jardine," said Dance.
The April 17 concert will include a variety of musical presentations including solos and group performances from the past Swift Idol Winners.
"We will also have three local singers competing that night," said Dance. "The winner of those three competitors will walk away with a pre-qualify spot at the 2020 Swift Idol Competition."
The concert competitors will be selected from past auditions of Swift Idol. The Swift Idol winners from previous years will act as judges and will help determine which of the three competitors pre-qualify for Swift Idol 2020.
The concert audience will also be involved with the selection process by voting for the performer they would like to win.
"One of the goals with Swift Idol has been to showcase the incredible talent that is here," said Dance. "This concert allows us to do that as well as feature our past Swift Idol winners. I am working on selecting my signature Emcee suit. I'll see you there!"
The 2020 Swift Idol Competition will take place at the Lincoln County Fair on Monday, August 3 at 7 p.m. in the main arena.
SVI Media will also once again host a Swift Idol Teen competition in July.
Additional details about Swift Idol Teen and auditions for the 2020 Swift Idol will be available soon.
Tagged:
Duke Dance
SVI Media
Swift Idol 2020