Education Spotlight: moving students forward takes some heart and soul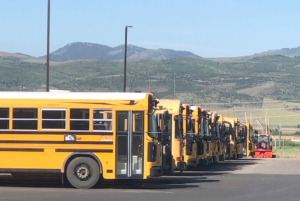 ◆ Lori Smith is a bus driver in LCSD2.
Lori Smith has been transporting LCSD2 students for seven years and is the current bus driver for Swift Creek High School.
Smith first became interested in driving bus while on a field trip with her granddaughter.
"When my granddaughter was in grade school, she invited me on a field trip to the Fish Hatchery. I was very impressed with the bus driver, Teresa. She was great with the kids and so friendly. After talking to Teresa, I decided to get my CDL."
Initially, Smith drove the START bus in Jackson, but wanted to work closer to home and acquired a position with LCSD2 as a substitute bus driver. Within a year, she was hired as the permanent driver of a Special Needs bus, which she drove for a couple of years, loving the students and enjoying working with her bus aide, Donna.
When a position came available to transport SCHS students, she applied and was hired.

"I absolutely love it! I'm so blessed. I not only have the best boss, Ryan [Lyman], and a great team of people to work with at the Transportation Department, but I also have the SCHS family. Tyler [Jack], Julie [Skinner] and all the teachers are so kind and supportive. Of course, I have the best students and I have become very attached to them. I especially enjoy the one-on-one visits with them."
Smith feels particularly fortunate to work in the Transportation Department. She admires her team as she watches them work through challenges that arise as they take responsibility for so many children.
"Watching Cindy [Hillyard] and Sandi [Martin] at the Transportation Office take care of problems and find solutions, or Ryan and the mechanics reacting to difficult situations with ease and diligence is wonderful," said Smith. "All the drivers are so willing to jump in and cover for each other when needed. Most of all, I love how they take such good care of their students. Everyone is working together to keep students safe and get them to their destinations."
"I love being a part of something that's so rewarding," said Smith. "I love when I get a text from a student letting me know how they are doing, or have a student give me a hug and tell me they missed me. I love that my students feel like they can share with me and I can be a positive light in their lives. Some people say being a bus driver is a thankless job, but it is the opposite. It is a rewarding job and I am thankful for it every day."
Tagged:
LCSD#2
Lori Smith
Swift Creek High School