Evanston woman tells of surviving gun accident
By Sheila McGuire
Uinta County Herald
Via Wyoming News Exchange
EVANSTON — It sounds like something from a movie. A freak accident in the midst of a snowstorm. Emergency personnel involved in their own accident while responding. A father fighting for his daughter's life. An air rescue helicopter unable to land at the hospital due to a blizzard and an ambulance instead rushing the victim to the local airport for transfer by plane to a trauma center. A mother and athlete losing her leg and a community rallying around a local family.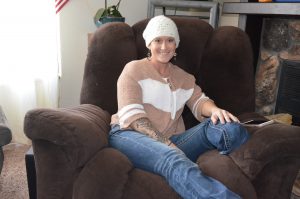 As tales go, it's hard to find one more dramatic. 
Yet it's what really happened to Evanston woman Tara Spero just two short weeks ago. 
Tara, a mother of five, lost her left leg just below the knee following an accidental gunshot wound sustained the afternoon of Feb. 15, when she had taken her rifle to her father's house so he could sight it for her. She had also taken her husband Tom's assault shotgun, unbeknownst to him. The shotgun had fallen off the rear seat of her vehicle and onto the floor during the drive, and when Tara grabbed it by the pump action barrel it went off. 
Tara said she was raised around guns, is comfortable with them, and that she and her family are meticulous in the care of their firearms, keeping them unloaded and stored in a safe. It never occurred to her that the shotgun might be loaded.
"I just never should have taken it," she said, "or I should have called Tom to tell him I was taking it and he would have told me it was loaded." 
Instead Tara found herself at her father's house several miles outside Evanston, in excruciating pain and losing large amounts of blood. She started to remove her own belt to use as a tourniquet but she was losing consciousness. Her screams of pain, though, had alerted her father, Dan, who ran out of his home to see what had happened.
He was able to finish what she started and used the belt for a tourniquet and called for help. 
Tara said the phone calls to 911 kept dropping and it took several attempts to finally get through. Meanwhile, Dan did what he could to keep his daughter alive.
"I wouldn't be here if not for my dad," said Tara. "I kept telling him to tell my family that I loved them, saying goodbye, and he kept saying, 'Not on my watch.'" 
The gunshot had gone through her left lower leg, shattering the bones, exposing the nerves and severing two arteries.
"My nerves were exposed in that cold air, and I can't even describe the pain," she said. 
Little did she or her family know, the day's ordeal had only just begun. The first emergency responders to head to the scene were involved in a T-bone traffic accident on their way out of town. Once emergency personnel did arrive they were uncertain about how to pick her up and get her into an ambulance with what Tara described as "my leg basically hanging on by a thread of tendon." 
"Every time they tried to move me, I screamed with pain," she said. "Finally, they had no choice but to just do it as fast as they could." 
With the snowstorm worsening, a medical helicopter wasn't able to land at Evanston Regional Hospital, so an ambulance took Tara to the local airport, where they met a plane that took her to the University of Utah Medical Center in Salt Lake City. 
Ultimately, Tara spent nine days in the hospital, undergoing four surgeries and 13 blood transfusions. At first, doctors tried to save her leg by placing rods and reattaching severed nerves and vessels. However, after the first day, she had no feeling in her foot. 
Doctors gave her the option of taking bone and tendons from her right leg to put in the left, "but there was no guarantee that it would work, I would have been in the hospital for months, and I would have been facing a lifetime of pain in both legs," she said.
Tara and her husband had a heart-to-heart discussion and decided to just have her lower left leg removed.
"We decided to just cut our losses and take it off," she said.
Throughout the ordeal, Tara said the response and support from the community have been incredible. An auction was held during the Wyoming Sportsmen for Fish and Wildlife banquet in Evanston, where the same gun was auctioned off multiple times to raise money for the family. 
An emotional and teary-eyed Tara said eight different people bought the gun for several hundred dollars each.
"Each time it would get up to about $600, and then the person who won would donate it back and they'd do it all over again," she said.
Tara said she and her family watched the auction live on Facebook and were in awe of the total strangers who were stepping up to help out her family. That auction alone raised about $5,000 to help with the family's medical expenses. 
Tara's sister started a Go Fund Me page to help raise money, as well and Tara said the money is definitely going to be helpful. She visits the doctor soon to see if her skin graft was successful or if she'll need another surgery. Then she'll be fitted for a prosthesis, which she was told would cost anywhere from $7,000 to $50,000, depending on what type of prosthetic is selected. 
Tara, who has been an active member of a local powerlifting team and a competitor in Spartan races, said she hopes to get a blade-type prosthesis for active people so she can get back to her active lifestyle as soon as possible.
"While everybody else is shopping for spring clothes," she said, "I'll be shopping for a new leg." 
In addition to the financial help, she said she's been overwhelmed with the other offers of assistance. She said people have been offering to help with meal preparation, doing the laundry, driving her kids around or anything else that needs to be done. The crew at Stateline Metals, where Tom works, helped construct a wheelchair ramp for her home, and Tom is now working on remodeling the bathroom to make it more accessible for Tara. 
The American Red Cross helped out by getting Tara's son, who is a Marine stationed in Japan, a flight home to be with his mother. 
Tara was again emotional when talking about all of the support.
"I just can't believe it," she said. "My heart is just so full. My biggest treasure would be to be able to pay this forward for someone else who needs it like I have."
Surrounded by her family, Tara rubbed her left leg and said thoughtfully, "My life completely changed in two seconds, but it could have been so much worse. I could have been shot somewhere else and not be here."
Her mom, Debbie, chimed in and said, "There was a guardian angel with her that day." 
Tara said she is determined to overcome all of the obstacles she now faces. Her goal is to be back powerlifting and competing in Spartan races in a year.
"One thing I know for sure is that this disability is now an ability for myself. I'm excited to face the challenges and beat them. This is not going to win."
Tagged:
Tara Spero
Uinta County Herald
Wyoming News Exchange